We argued some time ago that Argentina had made a rather remarkable recovery from its 2001 crisis, when the country had to end the 1:1 fix between the dollar and the peso, and defaulted on massive amounts of debt. As deep as the crisis was, the recovery was rather swift and impressive in several departments.
Growth was almost twice as fast as the much more widely known story of Brazil's economic renaissance, and there was a substantial amount of reduction in unemployment and poverty.
But there were other notable facts. Despite the fact that the growth is widely attributed to the commodities boom, exports have contributed relatively little to the economic growth. What's even more notable was that a decade of very fast growth (8%+ per year) was achieved by very unconventional means.
Argentina isn't exactly your model free market economy, rather the contrary. It is pretty hostile to foreign direct investment (FDI), it manipulates and intervenes in a host of markets, it blatantly lies about inflation and threatens serious legal action against people telling the truth, it has bullied a central bank president out of his job, grabbed central bank reserves, (see below) etc.
The Wall Street Journal was scandalized that the then president Nestor Kirchner (husband of the present president Christina Kirchner) was allowed to ring the opening bell on Wall Street in 2006 and called him "Mr. anti-markets."
Also, the economy has a very small financial sector. People simply don't trust the banks after what happened in 2001, when many lost their savings in the 'coralito,' the freezing of bank accounts that impoverished many savers when they were reopened after a greatly devalued peso. Houses are paid in cash and mortgages hardly exist.
Much of the growth was based on developing the domestic market, especially through social spending. And despite all the disincentives and market interference, this worked. Actually it worked surprisingly well up until now. But we already noted a host of problems in the previous article. These problems are coming to a head.
Nationalization
The market unfriendliness has come to a climax with the nationalization of YPF (NYSE:YPF), formerly part of Spanish oil giant Repsol (OTCQX:REPYF). The rather ridiculous charge is that it under-invested in energy development. The truth is that this underinvestment is a direct result of government policies to keep energy prices low with a myriad of subsidies and price controls:
Producers receive just $42 per barrel for exports and around $70 in the domestic market, whereas the world-market price is over $120. [The Economist]
At first sight, one might even argue that the nationalization of YPF is a good move. It's certainly popular politically. As Will Hutton noted in the Observer, the real reason was probably to prevent Repsol selling YPF to Sinopec (NYSE:SHI), the Chinese state-oil company.
Argentina can probably boast the world's third largest shale gas resources, so potentially this can have a dramatic impact on the energy trade balance, which moved from surplus to deficit in recent years.
However, as the Financial Times argued:
But it is stupid because Ms Fernández has her tactics wrong. The best time to squeeze foreign companies is when the hard work of investment and exploration is over and a state-owned oil company can reap the benefits. It is not when your country has deep fiscal problems, no access to international capital markets and a looming investment challenge.
And a big investment challenge there is. While the YPF oilfields were discovered in 1907 and were slowly running dry (needing new extraction techniques), the real prize in Argentina is the Vaca Muerta ("dead cow") shale oil discovery, potentially the third biggest in the world. This needs capital and expertise to be explored, of which Argentina now lacks both.
YPF estimates that it cost $25B per year for a decade to develop Argentina's shale oil and gas resources. The track record of YPF before it was privatized in the 1992 is pretty awful. It was one of few national oil companies that made losses.
The nationalization of YPF is hardly the first. The country's $30B pension system, the national air carrier Aerolineas Argentinas, the water utility and the national postal service were all nationalized. But since Argentina's standing as a reliable FDI destination was already very dubious, perhaps the biggest threat comes from elsewhere.
Central bank
Here is a list of emerging markets risking an overheating economy: (Click to enlarge)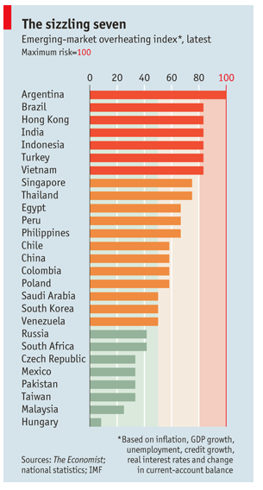 It's not hard to see why Argentina has a "100% risk," inflation is much higher than the official figures suggest and basically out of control. In fact, despite a marked slowdown in growth, things could very well get worse before they get better (if at all).
The government runs a deficit, and since it can't borrow overseas it is really limited in its actions. It's likely that the big popular subsidies for transport and energy will have to go. Metro tickets in Buenos Aires have already more than doubled this year, and energy bills could face even bigger rises

The grip of the government over the central bank has been considerably strengthened, risking rampant money creation.
Now, some readers will undoubtedly argue that we've written stuff in favor of what they would consider "rampant money creation," that is, quantitative easing by the central banks in the developed world. But the situation there is diametrically opposed to the one in Argentina, where the economy is producing at full capacity (or beyond) and there already is rampant (but under-reported) inflation. In contrast, much of the developed world is in a liquidity trap where inflation risks are low.
In 2010, the central bank governor Redrado was forced out after the government grabbed hold of central bank reserves. Today, the government has already used more than $16B in reserves to pay off debt, with a further $5.7B earmarked for this year. But this isn't enough for the government, so they changed the statue of the central bank which allows them access to:
Cash equal to 20% of government revenues plus 12% of the money supply; to use its reserves (of $47 billion) at will to pay government debts; and to play a more active role in regulating banks and in steering credit to favoured industries. [The Economist]
Central bank independence (that is, what was left of it) has gone out of the window altogether, and in the hands of such an opportunistic and short-term oriented government. In an already way overheated economy, this can only mean trouble. How much trouble? Well, in the table above you see that the risk of overheating was estimated at 100%, but that was June last year.
The economy deteriorating
Several things have happened since then. Kirchner got reelected comfortably and doubled down on market unfriendly policies. The economy is cooling markedly, which has tilted government finances into deficit estimated to be 0.7% of GDP this year. [The Economist] The current account is estimated to have a deficit of 1.2% of GDP this year.
These figures don't seem alarming, especially since the public debt is low. The public sector has grown at a very rapid rate, from 23% of GDP in 2003 to 33% last year. Tax receipts have decreased from 28% to 27% of GDP over the same period. The government does have the means at its disposal to reduce public spending, cutting many of the enormous subsidies in public transport and energy:
According to ASAP, a government spending watchdog, subsidies during the first half of 2011 totalled $32.4bn - a 73% increase on the same period in 2010. Some 59.5% of this is spent on energy [Argentina Independent]
Much of these subsidies are ways to placate the Kirchner electorate (public transport and energy and gas bills at a fraction of their real cost). However, the dilemma is that reducing or abolishing these subsidies, which are already out of control, will give inflation a further jolt.
Inflation is above 20%, even though the government stubbornly insists it's less than half that. It's not hard to see why as they save up to $6B on inflation indexed bonds this way. Indexed bonds are linked to the official inflation rate. In case you are wondering who would be so stupid as to buy them, perhaps a useful place to start looking are the nationalized pension funds.
Capital flight is rife and accelerating. According to economist Carlos Melconian from M&S consultants:
In the last four years, 73 billion dollars, openly declared in the framework of the legal system, have left the country for overseas
This is compensated by the $98B of agro exports over the same period, but export volumes or productivity are hardly increasing, this is simply a price effect (soya prices have tripled since 2002). Whether it continues remains very much to be seen. The government isn't waiting:
Claudio Loser, an Argentine who was managing director of Western Hemisphere Department at the IMF from 1994 to 2002, wrote last month: "[Argentina has] introduced 110 restrictive measures since 2009, affecting 174 countries, more than any other country." [Argentina Independent]
This goes to ridiculous lengths. Sushi restaurants in Buenos Aires suddenly found it difficult to source salmon from nearby Chile, electronics are terribly expensive and are usually last year's model (at best). Bananas became expensive luxury items overnight after the imposition of a quota and
the latest protectionist measure requires buyers of books from foreign websites to collect them personally from the airport and pay a fee of up to $80. [The Economist]
People leaving (rather than entering) Argentina now face sniffer dogs in search of dollar banknotes [The Wall Street Journal]
It is sad to see. Argentina did very well in the decade after the financial collapse. And it did so in a way that, as we explained in a previous article, is challenging economic orthodoxy. However, Argentina is taking this approach too far now. It's becoming more like Chavez, and less like Lula.
And in the meantime, Argentina has wasted an absolutely golden opportunity to strengthen institutions, education, and productive capacities, the stuff that is really responsible for long-term economic success.
Investment
A considerable amount of the worsening economy has already been reflected in the Merval (the main Argentinean stock index)
(Click to enlarge)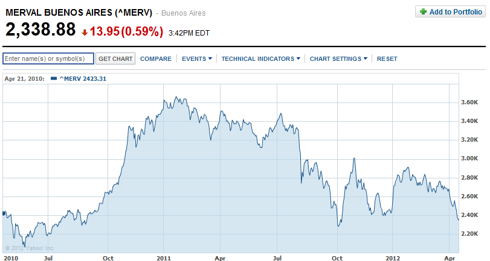 While we don't think that a collapse is imminent, we do see a gradual decline. Although there are country specific ETFs for Brazil, Chile, Colombia, Mexico and Peru, there isn't one for Argentina. However, there are quite a few Argentinean ADR's traded in the U.S. markets:
Alto Palermo (NASDAQ:APSA) NASDAQ Real Estate Inv&Serv

Cresud (NASDAQ:CRESY) NASDAQ Food Producers

Grupo Financiero Galicia (NASDAQ:GGAL) NASDAQ Banks

Banco Macro (NYSE:BMA) NYSE Banks

BBVA Banco Frances (NYSE:BFR) NYSE Banks

Edenor (NYSE:EDN) NYSE Electricity

IRSA Inversiones y Representaciones (NYSE:IRS) NYSE Real Estate Inv&Serv

MetroGas (MGS) NYSE Gas & Multi utility

Nortel Invesora (NYSE:NTL) NYSE Fixed Line Telecom

Pampa Energia (NYSE:PAM) NYSE Financial Services

Petrobras Energia (NYSE:PZE) NYSE Oil & Gas Producers

Telecom Argentina (NYSE:TEO) NYSE Fixed Line Telecom.

Telefonica de Argentina (TAR) NYSE Fixed Line Telecom

Tenaris (NYSE:TS) NYSE Indust.Metals&Mining

Ternium (NYSE:TX) NYSE Indust.Metals&Mining

Transportadora de Gas del Sur (NYSE:TGS) NYSE OilEquip.,Serv.&Dist

YPF NYSE Oil & Gas Producers

Andes Energia (OTCPK:ANEGY) OTC Gas & Multiutility

Banco Hipotecario (OTC:BHPTY) OTC Banks

Banco Patagonia (OTC:BPTGY) OTC Banks

Carlos Casado (OTC:CCASY) OTC Food Producers

Nortel Invesora (OTC:NRTPY) OTC Fixed Line Telecom.

Socotherm Americas (SOCOY.PK) OTC Industrial Engineer.

Sol Petroleo (OTC:SLEOY) OTC Oil & Gas Producers
While we're planning a follow up with some ideas, we would stay clear of YPF for the moment. Apparently there was a bit of a bounce in Argentinian bonds on Friday, but we're not at all sure how long that will last.
Policy makers are in a bit of a bind. The necessary elimination of the subsidies could very well plug the budget deficit, but it's politically unpopular and will boost inflation. An economic slow-down, already well on the way, will deteriorate public finances further and since the government doesn't have access to foreign markets, it could very well have to rely more on money printing by the central bank.
Inflation is way ahead of the pace of the depreciation of the currency, but that erodes Argentinean competitiveness, which has been deteriorating for years. However, the alternative would be a faster depreciation, which is likely to spur inflation even more.
There aren't any easy options left. Argentina had a ten year period of very good growth, based on foreign, but more on domestic demand. Too bad it wasted this golden opportunity to boost domestic supply by investing in education and institutions that underpin successful market economies. If anything, the government has gone the other way, making institutions less transparent and market friendly. Something will have to give.
Disclosure: I have no positions in any stocks mentioned, and no plans to initiate any positions within the next 72 hours.