India ETF products had a positive week as the Reserve Bank of India (RBI) announced a 50bps cut to India interest rates. The size of the cut was a pleasant surprise to investors and showed an aggressive posture from the RBI. Indian interest rates had not been cut for three years as inflation concerns forced the RBI to raise rates before a plateau in later 2011. Here's a recent look back at Indian interest rates, including Tuesday's cut.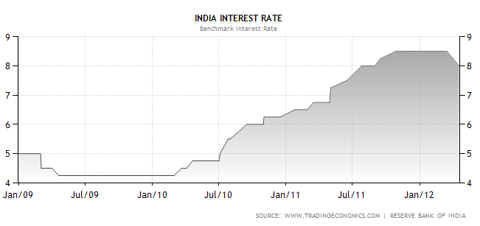 Indian markets rallied off Tuesday's rate cut. As the surprise was digested however, the markets began to scrutinize the RBI's comments and reversed course the following day. The RBI believes further rate cuts are going to be difficult to come by as inflation and the Indian government's fiscal and current account deficit are significant concerns. This disappointed markets and pushed the most popular and best performing India ETFs down from their rate cut fueled rally. Here's a six day performance chart from stockcharts.com showing the three largest India ETFs, the WisdomTree India ETF (NYSEARCA:EPI), the PowerShares India ETF (NYSEARCA:PIN) and the iShares India ETF (NASDAQ:INDY) as well as the best performing India ETF year to date, the Market Vectors India Small Cap ETF (NYSEARCA:SCIF). Their reaction to the rate cut and subsequent digression is evident.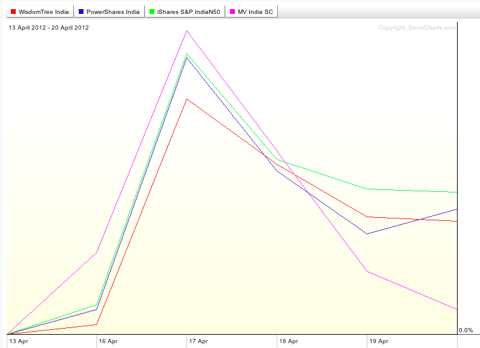 Year to date, all non leveraged India ETFs are well into positive territory despite a slowdown over the last two months. The single India ETN, INP, is also well into the green. The leading India ETF products in 2012 have been the small cap ETFs, SCIF and SCIN. This past week however saw both ETFs under perform most India ETFs, possibly indicating in a market rotation to the more stable larger cap India ETFs. Here's the performance grid snapshot organized by one week performance from IndiaETFs.com. This grid shows all India ETF and ETN products available to U.S. investors.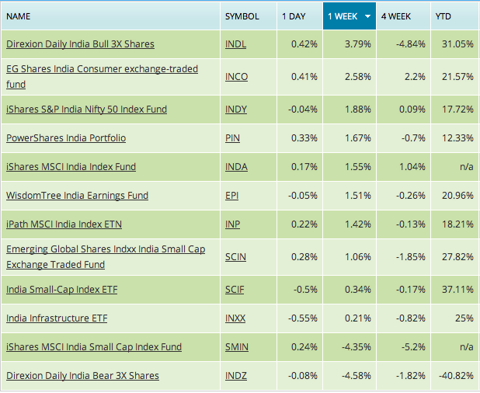 Going forward it appears that Indian markets face a wall of worry. Often bull markets are said to climb walls of worry but the walls India faces are significant. They include an increase in tension with China after an Indian test fire of a nuclear capable missile that has the range to hit Chinese cities, internal inflation concerns, a flare up in the EU debt crisis, new government taxes on short term Foreign Institutional Investor gains, a current account and fiscal deficit for the Indian government, a lower likelihood of further interest cuts by the RBI in the short term, a falling rupee and concerns about oil prices. Each one of these issues are fairly formidable individually and their combination is causing a massive wall of worry to develop.
This past week investment firm UBS cut their outlook on Indian markets from overweight to neutral based off some of the concerns mentioned above. Given the breadth of issues, a neutral to underweight position in India appears prudent while these situations develop further.
Disclosure: I have no positions in any stocks mentioned, and no plans to initiate any positions within the next 72 hours.
Additional disclosure: Christian Magoon publishes IndiaETFs.com.