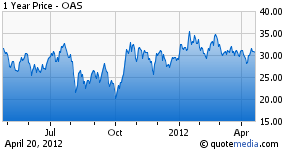 Shale oil and gas production continues to impress. North Dakota, driven by its huge Bakken reserve is producing 500,000 barrels a day and is poised to pass Alaska as the leading oil producing state. E&P outfits continue to announce significant increases in production and reserves in this region. One Bakken focused E&P company that is showing remarkable growth and appears substantially undervalued is Oasis Petroleum (NYSE:OAS).
7 reasons Oasis is a solid growth pick at just $30 a share:
Production is growing prodigiously. The company just announced production rose 16% Q/Q and over 100% Y/Y.
Its sells for just over 11 times forward earnings, which is a 60% discount to its historical average. Its production is 88% oil & liquids and has over 300,000 acres in the Bakken.
Earnings are set to explode. The company made 64 cents in FY2011, and analysts project $1.64 a share in earnings for FY2012 and $2.69 in FY2013.
Projected revenue growth is astounding, over 90% in FY2012 and 50% in FY2013.
It is significantly under analysts' price targets. The median analysts' price target by the 20 analysts is $38.50 a share.
Operating cash flow more than tripled from FY2010 to FY2011.
The reversal of the Seaway pipeline at Cushing will have positive impacts for Bakken producers when it takes effect in May. Bakken producers have generally been getting $10 a barrel less than the Cushing price because of the current glut of oil in the middle of the country.
Disclosure: I have no positions in any stocks mentioned, but may initiate a long position in OAS over the next 72 hours.