Whether you love the company or hate it, thin-film photovoltaic module manufacturer First Solar (NASDAQ:FSLR) is primed for a light rebound in the short-term. The company has fallen 85% since last year as of April 21 to the date, and now priced at $20.65 the stock has seen a bit of support as it nears the $20 range. The company has been in sharp decline as polysilicon prices have plummeted in recent years and failures of First Solar to keep their head in the game when it comes to being competitive have resulted in a losing battle in the war to lower costs.
Yet while fears of a lack of long-term sustainability continue to persist, and with much merit as First Solar is falling short on many fronts, the underlying fact remains that the company is far from dead. After all, this is the industry leader that has experienced multiple years of subsidized growth. While late to adapt to the changing times, the company has since shown its willingness to take drastic measures to place itself back on the road towards a profitable business model.
This was shown to be the case in the company's recent decision to shut down many of its lines including its European manufacturing facility and downsizing of 30% of its workforce. In light of this dramatic move, the company has stopped the current bleeding it would have faced in the midst of deteriorating and foreseeable conditions in Europe. Additionally, now preemptively cutting their losses in light of recognizing their falling position in the race for efficiency, First Solar is essentially strategically withdrawing from the residential and commercial market to regroup into the utility market where they can still effectively carve out a meaningful piece of the pie. As quoted from the First Solar restructuring conference call, the company's evaluation of itself cut through the fear:
Even prior to these actions, we believe that we are the best positioned company in the solar industry. We have the lowest cost structure of any module manufacturing company and our cost will continue to fall. Our kit of capabilities to design, engineer, construct, operate, and maintain large solar electric generation plants and integrate them with the grid will enable us to reduce solar electricity prices to grid parity levels to sustainable markets, and to do so profitably. Our demonstrated success in selling generation plants to leading US utilities will provide customers and new markets validation of our capabilities. Finally, our multi-year pipeline provides us with secured highly-reliable demand while we develop sustainable markets over the medium-term.

Mark Widmar, CFO of First Solar
Undoubtedly, First Solar will likely still face stiff competition in this industry from a limited pool of competitors including growing public entities such as Yingli Solar (NYSE:YGE), Trina Solar (NYSE:TSL), SunPower (NASDAQ:SPWR), Canadian Solar (NASDAQ:CSIQ), Suntech Power (NYSE:STP), and JA Solar (NASDAQ:JASO). But let us not forget the noteworthy struggle it is to compete running uphill that these companies will have to do when compared to waking up and starting to run at a more elevated position that First Solar is now doing. A quick look at the companies current market positions paints a much different picture to proclaimed impending collapse of First Solar that some are predicting:
| Name | Market Cap. | Sh. Equity | Total Liabilities | Fwd. Earnings | Last Price |
| --- | --- | --- | --- | --- | --- |
| First Solar | $1.8 B | $3.6 B | $2.1 B | $4.26 | $20.65 |
| Yingli Solar | $546 M | $1.3 B | $2.4 B | $0.09 | $3.53 |
| Trina Solar | $551 M | $1.1 B | $1.7 B | $0.61 | $6.77 |
| SunPower | $647 M | $1.1 B | $2.2 B | $0.61 | $5.51 |
| Canadian Solar | $148 M | $534 M | $889 M | $0.07 | $3.43 |
| Suntech Power | $471 M | $1.8 B | $3.3 B | ($0.59) | $2.61 |
| JA Solar | $246 M | $1.0 B | $749 M | ($0.02) | $1.40 |
Clearly, there are larger holes that First Solar's competitors need to first climb out of first before the company shows signs of wanting to throw in the towel (if indeed we to ever reach that point). Those predicting a freefall of share prices at these levels, which are already well discounted in relation to what they represent, are simply ignoring the fact that First Solar's project pipeline will continue to support them in the short-term while they strive to improve their competitiveness.
As for the mid- to long-term outlook for the company, let us not discount the nearing of (if not already arrival to) solar's grid parity which is bound to increase utility-sized demand as the alternatives become less compelling. One of the more interesting events to note was California's Renewable Auction Mechanism's latest results which suggest that grid parity may be even closer than many have imagined. As a result, as First Solar moves heavy-handed into an industry where fewer are able to compete, they may be greeted with increasing demand as the world takes greater confidence in solar's viability.
Last of all, while falling polysilicon prices notably served as the catalyst that brought about the large change now facing the solar industry, it's clear that the freefall has reasonably come to an end. While current prices may linger in the mid-$20's for some time, eventually they will rise to a more appropriate level thereby leveling off an already waning momentum. Ironically, China claims that falling polysilicon prices from the US and South Korea have contributed to the closing of 35 of the country's 43 domestic producers and the remaining 8 were operating at a loss. Expectations of an increase to $40/kg to $50/kg sometime in 2012 may help to add stability to the industry according to one advising analyst who's trade group advises to the Chinese government.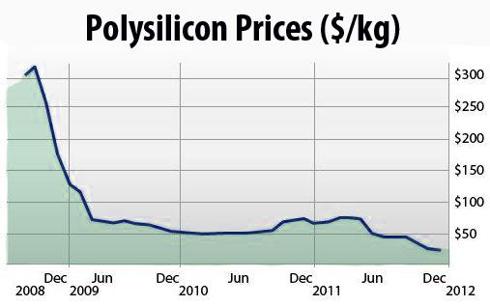 In the end, it appears as if First Solar may finally be reaching that point of capitulation in light of all the cards now appearing on the table. The drastic market movements required drastic action, and while late to respond, First Solar finally came through by conceding markets & personnel in order to redefine itself into a sector it can still effectively compete in. Will the road be more difficult from here? Yes. Will First Solar's leadership be challenged? Likely. Will the company ultimately fail in the long term? Unknown. However, is the company still overpriced? Barring project failures, far from it.
The years of First Solar's $100+ share price tag are likely long gone for some time, and investors may do well to bypass this sector altogether in light of its uncertainty. Yet there is value found here in First Solar and its peers. While some companies may have the current momentum over others, that in itself isn't necessarily reason to presume the destruction of the other. As a whole, and as the industry crosses the line of grid parity, the rising waters of demand may actually end up floating the boats of all the companies that have reached such a level to be thought of as an integrated manufacturer. This is especially so as falling prices secure the viability of solar's future in the eyes of utility companies and the world as a whole.