By: Brendan Gilmartin
Apple (AAPL) is scheduled to report 2Q 2012 earnings after the close of trading on Tuesday, April 24, with a conference call to follow at 5:00 p.m. EST. The actual results are typically released via press release at approximately 4:30 p.m. EST. Recall last quarter, Apple reported blowout results for the 1Q 2012 period, posting the strongest quarter in the company's storied history. The S&P 500 E-Mini Index Futures (March 2012) surged in reaction to the solid numbers, gaining more than 4 handles immediately after the results were released.
Outliers & Strategy
Aside from Apple shares and the index futures (S&P & NASDAQ E-minis re-open after the 4:30 EST release), PowerShares QQQ (QQQ) and related ETFs, along with other technology shares are impacted by the results.
Apple is expected to earn $10.00 per share in the 2Q 2012 period (range is $8.46 to $11.80) (Source: Yahoo! Finance), well above the $6.40 in the prior year period and the conservative outlook for "about" $8.50 per share provided in January. Analysts have been aggressively ratcheting up forecasts headed into the release.
Revenues are expected to come in at $36.63 billion, above the company outlook of "about" $32.5 billion.
More recently there has been talk that Apple could post weaker than expected iPhone sales (current estimate is for 30 mln shipments), due in part to lower than expected activations from Verizon (down 25% q/q).
Keep an eye on Qualcomm (QCOM) (baseband processor) and Broadcom Corp. (BRCM) (Wi-Fi/Bluetooth/Frequency Modulation module) as key sympathy plays off the Apple iPhone results.
Recent News
· 04/19: Piper Jaffray reiterated an Overweight on Apple and $910 price target, according to Benzinga.com. The firm acknowledged lower than expected activations at Verizon, but maintained its outlook for iPhone shipments on international growth.
· 04/19: Canaccord Genuity reiterated a Buy rating on Apple and indicated it expects the company to report strong 2Q results, according to a post on StreetInsider.com. However, the firm reportedly lowered its iPhone estimates in developed markets. (Recall, this note contributed to a sharp drop in Apple shares on 4/19).
· 04/19: A report on StreetInsider.com showed that data from Verizon suggested Apple could miss iPhone sales estimates for the 2Q period. Verizon told investors it activated only 3.2 mln iPhones in the 1Q period. (The estimate is for 30 mln iPhone units).
· 04/18: According to a report in Barron's, Goldman Sachs reiterated a Buy rating on Apple and raised the price target from $700 to $750, citing expectations for a "solid" 2Q earnings release.
· 03/19: Apple initiated a quarterly dividend of $2.65/share and a $10 bln buyback program.
Technical Review
Apple shares are up more than 40% YTD after recently hitting an all-time high of $644 (4/10). More recently, however, the stock has shown signs of weakness, breaking the uptrend going back to late 2011, leaving the shares precariously perched above the 50-Day SMA near $570. Should earnings disappoint, there is potential downside risk to $550, followed by $525. Conversely, resistance is at $600, followed by the 20-Day SMA at $611, and $625. (Chart courtesy of StockCharts.com)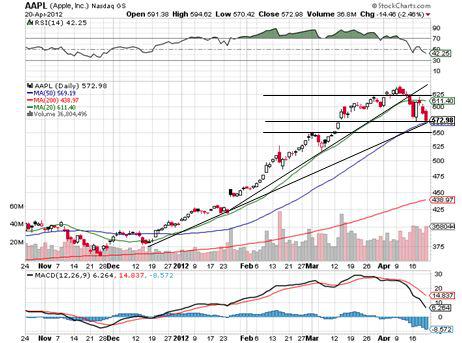 Summary
Apple shares are off about 11% from the recent all-time high of $644, due to concerns over the level of iPhone shipments this past quarter, stemming from fewer than expected activations form Verizon (NYSE:VZ). In light of the recent pullback, Apple is trading at merely 11.24x forward earnings, resulting in a Fwd PEG ratio of less than 1.0, implying the shares are trading at a discount to the growth rate. The company is also buying back shares and recently instituted a dividend. Technically, the shares may have priced in any iPhone weakness, with the stock now sitting on the 50-Day SMA - a key level to watch in reaction to Tuesday's report.

Disclosure: I have no positions in any stocks mentioned, and no plans to initiate any positions within the next 72 hours.