iShares Asia region country-based ETFs regained their upward momentum last week, led by a strong rebound in the iPath ETN India and solid gains across the board.
iShares FTSE/Xinhua China 25 (NYSEARCA:FXI) rose 5% last week to increase its region-best year-to-date return to nearly 88%.
iPath ETN India (NYSEARCA:INP) went from being the biggest decliner two weeks ago, losing 8.6%, to recouping the losses and more in an 11.9% jump last week. INP is now up 57% ytd.
A handful of funds are trading above 40% again for their ytd return levels including Hong Kong (NYSEARCA:EWH), South Korea (NYSEARCA:EWY), Malaysia (NYSEARCA:EWM), Australia (NYSEARCA:EWA) and Pacific ex-Japan (NYSEARCA:EPP).
Singapore (NYSEARCA:EWS) is not far behind at just below 39% ytd.
Japan's (NYSEARCA:EWJ) was the laggard, gaining only 1.8% for the week and is still in the red for the year (-0.5%).
See the chart below for last week's results. There are two sets of returns for each ETF: the past week [light blue] and year-to-date [purple].
Note, the bars for the iShares S&P 500 index (NYSEARCA:IVV) are colored differently for comparative purposes.
Click to enlarge chart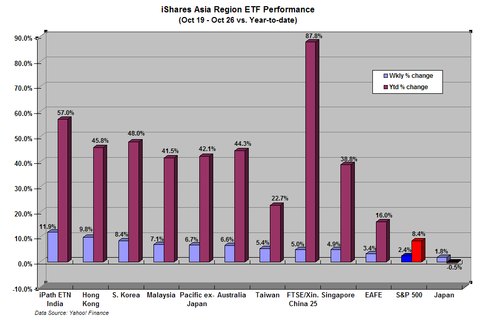 Disclosure: The author does not own shares of any funds mentioned in this article.
In Monday (10/29) trading, the Hang Seng and India's BSE 30 climbed 3.9% and 3.8%, respectively, both setting new all-time highs, with the former surging past the 31,000 level and the latter eclipsing 20k intra-day. A number of other benchmarks hit new all-time closing highs, including the Seoul Composite, Malaysia's KLSE Composite, Taiwan's weighted index and Australia's All Ordinaries. Singapore's Straits Times closed just short of a new high. The Shanghai Composite gained 2.8% to 5,748, while the Nikkei rose 1.2% to 16,698.08.
Here is a list of the relevant ETFs and their tickers.
iShares Australia (EWA)
iShares FTSE/Xinhua China 25 (FXI)
iShares Hong Kong (EWH)
iPath ETN MSCI India (INP)
iShares Japan (EWJ)
iShares Malaysia (EWM)
iShares Singapore (EWS)
iShares S. Korea (EWY)
iShares Taiwan (NYSEARCA:EWT)
iShares EAFE (NYSEARCA:EFA)
iShares Pacific ex-Japan (EPP)
iShares S&P 500 (IVV)