Share of speculative Chinese Internet companies Renren Inc. (NYSE:RENN) and E-Commerce China Dangdang Inc. (NYSE:DANG) have both been great picks so far in 2012. While I have been bullish on both Renren and Dangdang, there are three reasons why I believe Renren is the better buy.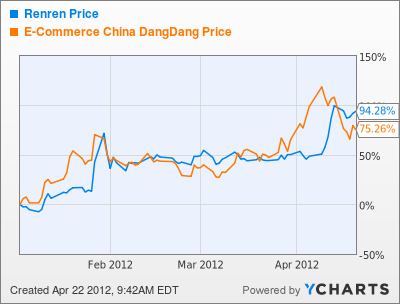 Facebook IPO
The upcoming IPO of social media giant Facebook (NASDAQ:FB) is likely to be a major catalyst for Renren. With estimates for the value of Facebook currently around $100 billion, Renren should easily be worth more than the current $2.8 billion. While Renren is not as big as Facebook, it certainly has more room to grow as Chinese social media growth is much stronger than social media growth in developed nations where Facebook operates. Fast Money trader Pete Najarian agrees and points to the heavy options activity as the reason why. While the Facebook IPO might have some impact on Dangdang, it is not likely to be impacted as much as Renren.
Dangdang CFO Resigns
Dangdang CFO Conor Chia-huang Yang unexpectedly resigned last week. This news sent Dangdang shares 15% lower. The resignation of a CFO is always a sign of caution, but in this case the resignation is especially important because of the history of fraud at Chinese companies. While it is naive to think that the resignation means there must be trouble, it is certainly a sign of concern. Renren is not facing a similar situation.
Cash
Renren has $1.04 billion or $2.65 per share in net cash. This cash could be used in a few different ways to boost the stock. One potential use for Renren's cash is to increase the share buyback program or start paying a dividend. However, I believe it is more likely that Renren uses its cash to acquire other smaller social media companies in China. Arguably, this could be more beneficial for shareholders than an increase in the buyback or initiation of a dividend. Smart acquisitions would likely set the company up for a stronger hold in the Chinese social media marketplace. Similarly, Dangdang has $2.38 per share in net cash. However, this is slightly less than Renren's cash hoard and significantly less as a percentage of stock price given that Dangdang shares are over a dollar more expensive than Renren shares.
Conclusion
While both Dangdang and Renren remain compelling speculations, Renren is the better of the two. The Facebook IPO, Dangdang CFO resignation, and cash-per-share figures all favor Renren over Dangdang.
Disclosure: I am long RENN.