IMF Gets Bigger Umbrella
The IMF managed to garner some $430 billion in additional funds from member nations last week. Has anyone else noticed how even these giant amounts of money don't really look like much anymore? What are they going to do with $430 billion? Naturally the IMF bureaucracy is well pleased: it definitely stays in business.
"It is nice to have a big umbrella," IMF managing director Christine Lagarde said.

She and other officials said the new money should reassure financial markets troubled recently by the prospect that Spain could be the next to come to the IMF for emergency loans to escape a default.

The IMF has already provided rescue programmes for Greece, Portugal and Ireland. Spain, however, is a much bigger economy and would require much more financial assistance were it unable to sell its government debt to private investors."
It is definitely raining, so an umbrella comes in handy one supposes. However, they already want more:
Two days after the IMF secured $430 billion to deal with economic spillovers from Europes debt crisis, IMF Managing Director Christine Lagarde said her next focus was to raise funds for the IMFs Poverty Reduction and Growth Trust, which provides low-cost loans to poor countries in Africa, Asia and Latin America.
We take from that the the $430 billion will bypass the poor. On the other hand, for Spain it seems not really enough, especially as it is conceivable that if Spain were to require a bailout, contagion would eventually ensnare others in euro-land as well.
Reluctant ECB
Meanwhile, the best laid plans of the IMF and Tim Geithner continue to meet with skepticism in Europe – it sounds like they want the ECB to print even more money, an idea the central bank rejects (for now, anyway).
European Central Bank officials led by President Mario Draghi resisted calls from the International Monetary Fund and U.S. Treasury to do more to stem the debt crisis roiling the euro-area economy.

As talks of global finance chiefs ended yesterday in Washington, euro-area central bankers from Draghi to Bundesbank President Jens Weidmann argued they have done enough by cutting interest rates and issuing more long-term bank loans.

"None of the advice that the IMF is offering has been discussed by the Governing Council, in recent times at least," Draghi said on April 20 while attending IMF meetings in Washington. Weidmann said in an interview that "the problems in Europe can't be solved by monetary policy measures."

Officials in Europe and around the world are bickering about additional crisis-calming steps, as turmoil returns to the continent's bond market amid concern that Spain may need a bailout. While Draghi says Spain and Italy need to agree further action, Prime Minister Mariano Rajoy's government wants the ECB to reactivate its bond-buying program.

Spain and Italy have made "remarkable" progress on structural changes, Draghi said. [not remarkable enough, ed.] Even so, the process is far from complete for both countries, he said.

"The ECB is drawing a line to keep pressure on governments to make the necessary adjustments," said Megan Greene, head of European economics at Roubini Global Economics LLC, who was in Washington. "If push came to shove the ECB would step in, but they'll hold the line for now."
(emphasis added)
It sounds like Weidmann casts a shadow of monetary rectitude over Draghi. IMF proposals? Not even discussed!
We would side with Mrs. Greene's opinion: they want to keep the pressure on, but if the crisis gets out of hand again, the printing presses will be reactivated pronto.
Meanwhile, the idea that Spain may require a 'bad bank' to house all the delinquent assets currently on the banks' books seems to be gaining some ground lately. It is apparently still in the 'suggestion stage.' not yet in the 'planning stage,' but eventually a solution will have to be found before the whole house of cards comes tumbling down. Speaking of Spain, the IBEX has been probing the 2009 lows last week: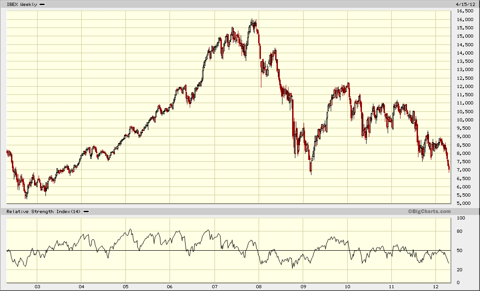 Madrid's IBEX index tested the 2009 crash low last week. This chart – beginning with the 2007 top – is oddly reminiscent of the Nikkei following the top of the 1980s bubble. In fact, it looks like an almost exact replica. Not a particularly good omen one would think.
The weekend pow-wow in Washington meanwhile went along familiar lines:
A day after advanced and emerging countries agreed to double the firepower of the International Monetary Fund to help contain the crisis, the IMF's governing panel said on Saturday that the 17-nation euro area must cut government debt burdens further, push bold economic reforms and stabilize financial systems.
(emphasis added)
Oh, OK, if it's only that…why didn't you say so before?
Unless stronger growth is restored and investor confidence returns, the IMF and finance chiefs from around the globe said the world will not break out of a vicious debt-driven cycle.

"What was really critical in all our minds was to get back to normal growth over the medium term and preferably sooner rather than later, in other words within two to three years," Tharman said at a news conference on Saturday. "If we don't get back to normal growth, if we don't get GDP back to its potential levels, then fiscal sustainability is not possible either," he warned.
And if you were a sailboat, Katie Melua would sail you to the shore.
We wonder why they're not simply teleconferencing. They're meeting for that? We have heard this same song and dance a thousand times by now.
"If the time that liquidity can buy is used to address the growth, solvency and institutional problems, fine," economists at Morgan Stanley wrote. They worried, however, that policy-making complacency might set in.

Political developments are clouding the picture. In France, a presidential election could bring to power Socialist Francois Hollande, who has vowed to renegotiate a German-inspired budget discipline treaty. Support for the pact is also waning in the Netherlands, where budget talks collapsed on Saturday."
There probably won't be a hell of a lot of time for 'policy-making complacency,' which in a way is unfortunate, given the surfeit of 'policy-making' that has brought us to this sorry juncture. Maybe they should all resign and leave things to the markets? Just an idea. If you don't try how would you know it won't work? But then of course the vaunted planners wouldn't have anything to do, and there would be no more shrimp-fests all over the world they'd get invited to.
The picture is of course always clouded, but currently perhaps a little more so than usual. As it were, the Netherlands may well be getting ready to become headline material soon, given that the country's housing bubble is deflating of late - you heard it here first. As an aside to this, Denmark has serious bubble trouble as well.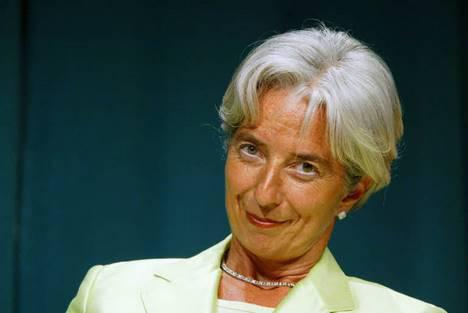 Meet Christine Lagarde, happy camper: she's got now 430 billion smackers more in good money she can throw after bad.
(Photo via RTL)
Credit Market Charts
Below is the customary collection of charts: CDS on various sovereign debtors and banks, bond yields, euro basis swaps and a few other charts. Charts and price scales are color coded (readers should keep the different scales in mind when assessing 4-in-1 charts). Prices are as of Friday's close.
Slowly but surely, contagion is spreading from Spain and CDS spreads in the euro area and the CEE nations are re-correlating.
(Click charts to enlarge)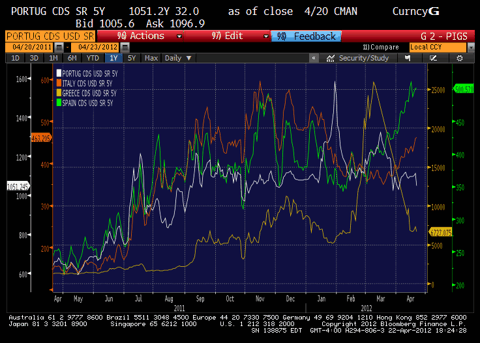 5-year CDS on Portugal, Italy, Greece and Spain – CDS on Spain have found a new home above 500 basis points, and we note Italy's are busy catching up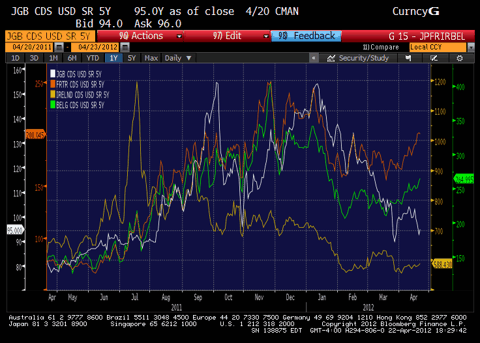 5-year CDS on France, Belgium, Ireland and Japan – contagion is moving to France and Belgium as well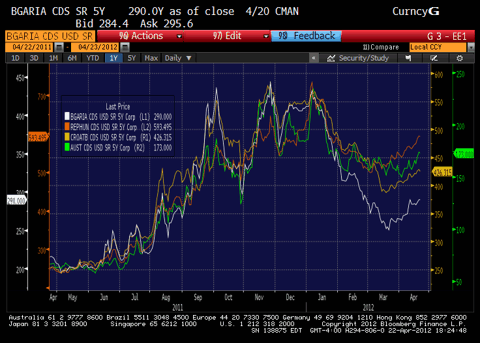 5-year CDS on Bulgaria, Croatia, Hungary and Austria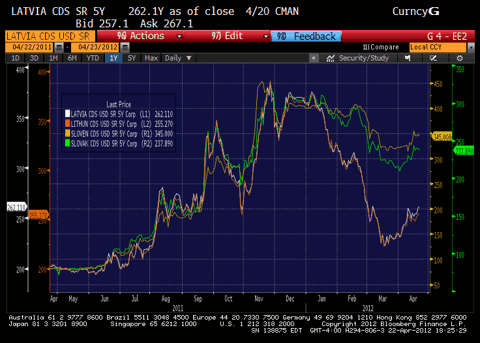 5-year CDS on Latvia, Lithuania, Slovenia and Slovakia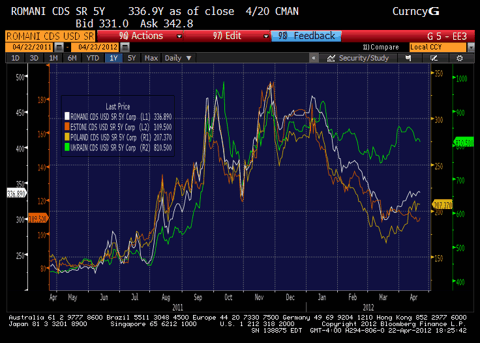 5-year CDS on Romania, Poland, the Ukraine and Estonia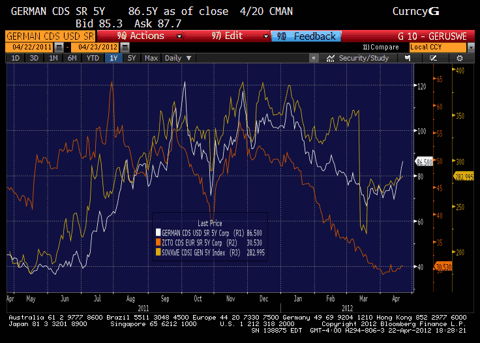 CDS on Germany, the U.S. and the Markit SovX index of CDS on 19 Western European sovereigns. Even CDS on Germany are back in fashion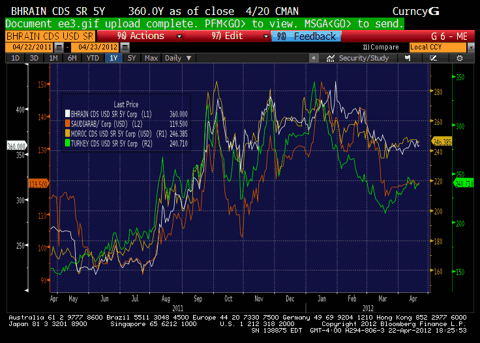 5-year CDS on Bahrain, Saudi Arabia, Morocco and Turkey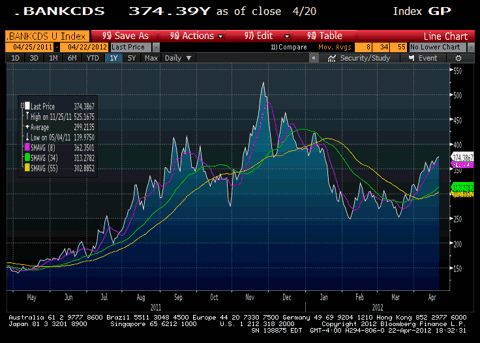 Our proprietary unweighted index of 5-year CDS on eight major European banks (BBVA, Banca Monte dei Paschi di Siena, Societe Generale, BNP Paribas, Deutsche Bank, UBS, Intesa Sanpaolo and Unicredito) – another new high for the move on Friday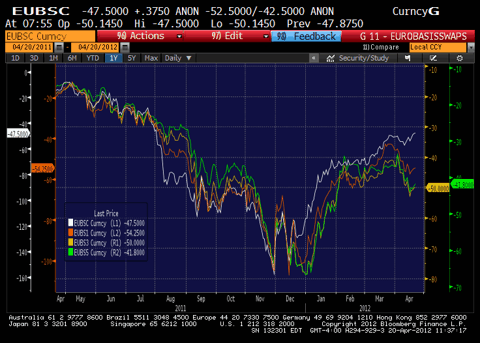 Three-month, one-year, three-year and five-year euro basis swaps – this are recovering again and oddly diverging lately, with the shorter maturities doing better. Probably this is due to the availablity of the Fed-ECB dollar swaps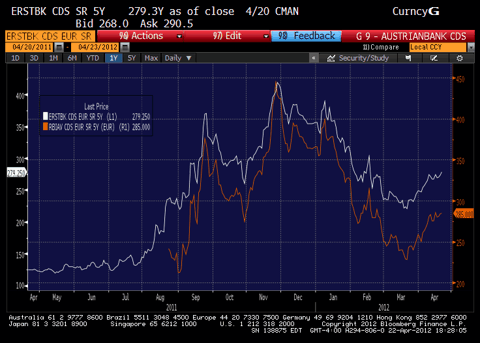 5-year CDS on two big Austrian banks, Erstegroup and Raiffeisen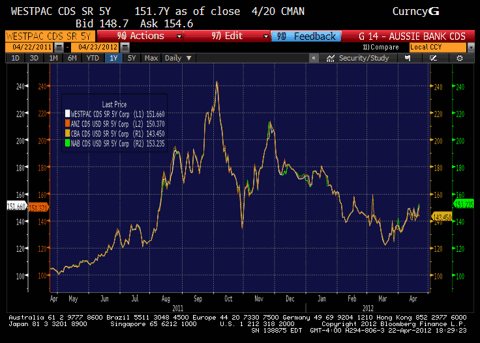 5-year CDS on Australia's 'Big Four' banks – a new uptrend my be forming here as well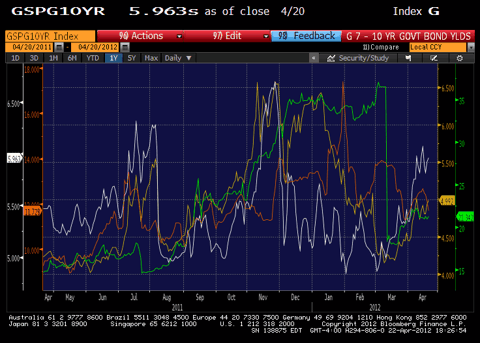 10-year government bond yields of Italy, Greece, Portugal and Spain – the new look Bloomberg charts lack a legend, so we'll provide it: Spain= white, Italy = yellow, Greece = green (the break indicates the move from old bonds to post PSI bonds), Portugal = orange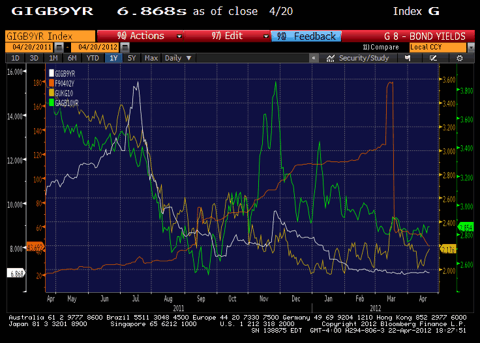 Austria's 10-year government bond yield, Ireland's 9 year yield, UK gilts and the new Greek two year note yield (UK = yellow, Ireland = white, Austria = green, Greece = orange)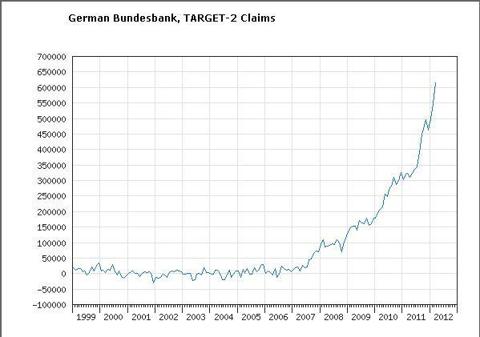 And lastly, here is the latest update on the BuBa's TARGET-2 claims – they're over € 600 billion now. These exponential charts have a habit of not portending anything good
Charts by: BigCharts, Bloomberg, Bundesbank