In my previous article I wrote about the fact that The Future is Mobile Payment and the trending explosive growth in mobile smartphone users over the next few years. This time I want to focus on the embedded "twin" that will grow along with mobile phone growth: Mobile Advertising.
Remember those "annoying" pop up ads that appear on your smartphone at the most inconvenient time? The ads you weren't asking for when you downloaded your favorite smartphone app? Well...they aren't going away.
As a matter of fact, mobile advertising is only growing (along with the whole smartphone market growth). And although these ads often are annoying, they seem to also be effective for the marketer (retailers).
Mobile Apps have now become a main distribution method for advertising on mobile phones. According to research firm Strategy Analytics, In-app spending by advertisers is set to overtake ads on static mobile websites this year. The writing has been on the wall for newspaper print ads over the last number of years. Some analysts predict that mobile marketing and advertising spending will grow to $29 billion in 2014 when the number of mobile phones is expected to surpass the number of desktop PCs and TVs. Mobile internet is expected to surpass desktop internet users as well.
InMobi, the world's largest independent mobile ad network, recently published a report stating that the number of ads seen by consumers on mobile phones grew 21 percent (between January-March 2012) over the previous quarter to 283 billion. Strategy Analytics estimates that $2.9 billion with be spent by advertisers on in-app advertising while reaping in $26.1 billion from consumers buying them.
Here are some additional highlights of InMobi's report:
A staggering growth in tablet advertising impressions of 771%, led by Apple's (NASDAQ:AAPL) ground-breaking iPad
Global smartphone impressions up by 488%
Android was the top operating system on the network during the fourth quarter, with 21% of impressions
iOS carried a 17% share of the market. However, these statistics were up-ended in North America where Apple squeezed ahead to 33.1%, thanks to the release of the iPad2 and the iPhone 4S
This trend will only grow - while the smartphone trend continues to grow at a rapid pace, the mobile app growth comes along with it. More smartphones mean more apps (many of which are free), more app downloads and more mobile advertising. As a matter of fact, the number of apps downloaded globally this year alone is expected to grow 38% to more than 32 billion downloaded apps.
So how does an investor take advantage of this mobile advertising trend? Here are a few headlines and ticker symbols to keep up to date on:
Facebook (NASDAQ:FB): With its highly anticipated IPO around the corner, rumors are that Facebook may be rolling out "location-specific advertising." Going to the Mall? Be prepared to see advertising from your local retailers pop up on your FB mobile site. After all, once you "Check-In," FB knows where you are.
Google (GOOG): Advertising rates falling - a 12% drop in its cost per click for the first quarter to a shift to cheaper mobile advertising rates. Benchmark analyst Clayton Moran comments that ""Mobile is increasingly an area of concern. Google has roughly 90 percent share of mobile search, but this revenue must be shared with OEM handset manufacturers and carriers." Google plans to acquire Motorola Mobility Holdings (NYSE:MMI) - a smartphone maker.
Millennial Media (NYSE:MM): This leading independent mobile ad network provider recently went IPO March 2012. The company owns a proprietary tech and data platform known as MYDAS, that determines which ad to deliver in real-time. In February 2012, the platform reached 300 million unique users worldwide (140M users in the U.S.). The company has a 16% market share in the mobile display advertising sector which ranks them just behind Google and just ahead of Apple (OTC:APPL).
Velti (VELT): Velti is the leading global marketing platform that enables companies to engage with and reach consumers through mobile marketing and advertising campaigns. The company went public in 2011. Velti's customers currently connect with 1.4 billion consumers. Their client list includes Vodafone (NASDAQ:VOD), AT&T (NYSE:T), China Mobile (NYSE:CHL), Microsoft (NASDAQ:MSFT), Intel (NASDAQ:INTC), Ford (NYSE:F), and Dell (DELL). Velti won the prestigious 2011 OMMA (Online Media, Marketing and Advertising) Global Award for its Integrated Online Campaign for National Geographic's documentary, "The Last Lions," resulting in over a quarter million mobile consumers engaged.
Velti's Global Reach
(Click graphics to enlarge)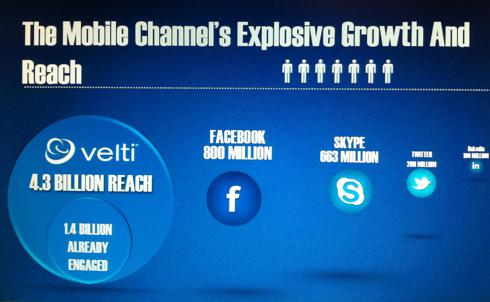 Velti's Advertising Campaign Revenue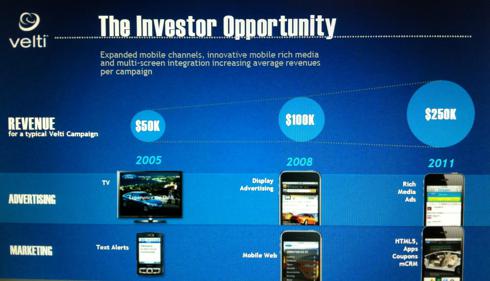 An example of this growing Mobile Advertising Business trend can be seen in Velti's Fiscal Year 2011 presentation:
Announces fourth-quarter revenue of $87.1 million and full-year revenue of $189.2 million, a growth of 52% and 63%, respectively;
Announces fourth-quarter Adjusted EBITDA of $43.1 million and full-year Adjusted EBITDA of $53.1 million, a growth of 92% and 95%, respectively.
"We are very pleased with our fourth-quarter and fiscal-year results. We continued to expand our presence across numerous geographies. This past year we have had considerable successes throughout the United States and Asia, diversifying our global business. Our revenue growth was characterized by a significant increase of our customers across brands and advertising agencies, with existing customers spending in 2011 44% more dollars for Velti software solutions that allow them to access the mobile market in a targeted and measurable way," said Alex Moukas, Chief Executive Officer.
Disclosure: I am long VELT.