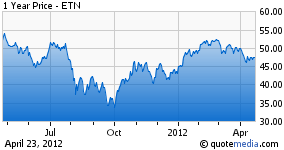 With first quarter earnings rolling in, it's pretty clear that conditions in the industrial world aren't much better than "alright". In a market with normal valuations and expectations that would be okay, but with a lot of analysts expecting a strong second half and ongoing margin expansion that thesis is looking a little wobbly. Eaton (NYSE:ETN) remains a solid industrial play, but the valuation today puts it in the difficult gray area between "good hold, but not a great buy".
Decent First Quarter Results, With Some Caveats
Eaton's first quarter revenue rose about 4% this quarter, which was just a bit shy of expectations that may have gotten a little overheated in the enthusiasm after the company's analyst day.
Revenue in the electrical business rose about 2%, as surprising strong U.S. sales were offset by surprisingly weak overseas sales. Hydraulics was also a bit soft at 7% growth, while aerospace rose nicely (above 10%). Truck revenue growth of nearly 10% was solid, while auto sales declined 5%.
Margins came in okay. A one point improvement in gross margin was a solid performance, but some of that momentum was lost in the operating results. The company outspent a bit on SG&A and while operating income was up more than 7%, the company's progress in that peak margin hypothesis was a little unsteady.
A Different Market Make-Up
Early-cycle businesses like truck and hydraulic were a bit soft, and coupled with Honeywell's (NYSE:HON) results that looks like a potential emerging theme. Investors would do well, then, to keep a close eye on what companies like Cummins (NYSE:CMI) and Parker Hannifin (NYSE:PH) have to say with their respective earnings - particularly as numbers on Cummins have been moving up.
It's also interesting to note that sales to China and Brazil aren't looking quite as strong. That sales to China aren't great now may not be such a big surprise with all of the articles about economic issues in China, but the Brazilian performance is a bit more of a surprise. Here too investors will want to pay a little extra attention to Cummins. All in all, this could be an emergent concern as emerging market demand has been propping up a lot of industrial growth stories.
On the flip side, the U.S. economy seems stronger than most analysts want to believe - a data point that would seem to fit in with the results reported recently by companies like Fastenal (NASDAQ:FAST) and Grainger (NYSE:GWW). It's also worth noting that Eaton saw improving demand in non-residential construction, and that bodes well for companies like Emerson (NYSE:EMR), Siemens (SI), and ABB (NYSE:ABB).
The Bottom Line
I'm a big believer in building margins of error into investment decisions, so Eaton slots in as one of those companies that's a pretty compelling hold but not yet a compelling buy. I do believe that Eaton can deliver sustainable improvements in its free cash flow conversion rate and that this, coupled with ongoing incremental acquisitions (Eaton added a business in Korea and Turkey recently), can fuel double-digit free cash flow growth for some time to come.
Below $45 I'd be a buyer of Eaton, but for here and now I think investors can find other solid global growth stories with better valuations.
Disclosure: I have no positions in any stocks mentioned, and no plans to initiate any positions within the next 72 hours.