This article reports results for the NYSE International 100 Index as of April 17, using a once per year trading system triggered by yield called the "Dogs of the Index", to determine the best of the best dividend stocks.
Previous articles in this series reported results from 3x9 sectors and 1x9+1 sectors, the Russell 1000, and S&P 500 indices. Upcoming articles this week report Dog Metrics applied to four additional indices: S&P 500 Aristocrats; NASDAQ 100; Dow 30 Industrials; JPMorgan New Sovereigns.
Dogs of the Index Metrics
Two key numbers determined the yields that ranked the stocks in each index: (1) stock price; (2) annual dividend. Dividing the annual dividend by the price of the stock declared the percentage yield by which each dog stock was ranked. Investors selected portfolios of five or ten stocks in any one index by yield to trade. They awaited the results from their investments in the lowest priced, highest yielding stocks they selected and prayed that the price of every stock they now owned climbed higher (having locked in a high yield percentage at purchase).
This Dogs of the Index strategy, popularized by Michael B. O'Higgins in the book "Beating The Dow" (HarperCollins, 1991), revealed how high yielding stocks whose prices increase (and whose dividend yields therefore decrease) could be sold off once each year to sweep gains and reinvest seed money into higher yielding stocks in the same index.
Investor Empowerment from the NYSE International 100
Listed below are the top thirty NYSE International100 stocks by yield as of 4/17/12 per Yahoo Finance data.
The NYSE states:
The NYSE International 100 Index tracks the largest 100 non-U.S. common stocks listed on the New York Stock Exchange. As of year-end 2004, the companies represented have a combined market capitalization (float-adjusted) of $4.3 trillion. Together they represent over one-quarter of the total market capitalization of all common stocks listed on the NYSE.
Click to enlarge: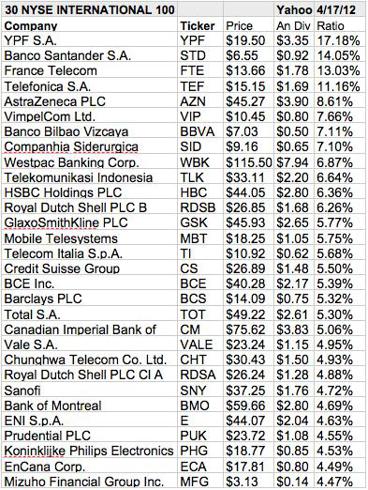 As of April 17, four of the top ten stocks showing the biggest dividend yields in this index were technology firms. Three more were financial companies. Top dog YPF Sociedad Anonima (NYSE:YPF) was one of two basic materials firms. One top ten stock was in the healthcare sector. Of the top 30 NYSE International dividend payers, eight technology companies, one consumer goods, ten financial, no services, eight basic materials, no industrial, three healthcare, no utilities, and no conglomerates represented the sectors.
Up and Down Moves for NYSE International 100 Index Stocks
Since January, three different firms exchanged places, earning the yellow tint awarded the dog at the top of the list: YPF Sociedad; Nokia (NYSE:NOK); Telefonica, S.A. (TEF).
Color code shows: (Yellow) firms listed in first position at least once between December 30, 2011 and April 2012; (Cyan Blue) firms listed in tenth position at least once between December 30, 2011 and April 2012; (Magenta) firms listed in twentieth position at least once between December 30, 2011 and April 2012; (Green) firms listed in thirtieth position at least once between December 30, 2011 and April 2012. Duplicates are depicted in color for highest ranking attained.
Click charts to enlarge:
Bullish upward price moves since March 13 were made by just four of the top ten NYSE International 100 dogs: VimpelCom Ltd. (VIP), a Dutch wireless firm, dropped onto the list in eighth place. Though Yahoo finance credited VIP with a dividend amount sufficient to put it in second place by yield, the company goal annual dividend $.80 amount placed it eighth. Westpac Banking Corp. (NYSE:WBK) share price gained 4.22% to move it from sixth to ninth; P.T. Telekomuikasi's (NYSE:TLK) share price increased 10.04%, dropping it from fifth to tenth place; GlaxoSmithKline plc's (NYSE:GSK) share price hyped 1.03%, pushing it off the top ten list by yield since March.
Bearish downward price moves for the same period hit the rest of the dogs of the NYSE International 100: Top dog YPF Sociedad Anonima shares dropped 26.83%; Banco Santander, S.A. (STD) gained seven positions by yield as its price decreased 19.83% for the month; France Telecom (FTE) held its position but experienced an 8% price swoon; Telefonica, S.A. fell two slots in rank though shares declined 8.84%; Astrazeneca PLC (NYSE:AZN) dropped a place even as its price sagged .615%; Banco Bilbao Vizcaya Argentaria S.A. (NYSE:BBVA) shares caved 18.26% as its estimated annual dividend increased 25%- propelling it up this list eight slots; Companhia Siderurgica's (NYSE:SID) share price melted 11.84%; HSBC Holdings plc's (HBC) price dropped 2.89% since March but exited the top ten.
Dividend vs. Price Results for the NYSE International 100 Index
Relative strengths of the top ten NYSE International 100 Index stocks by yield was graphed as of April 17, 2012. Projected annual dividend history from $1000 invested in the ten highest yielding stocks each month and the total single share prices of those ten stocks created the data points for each of the past five months shown in green for price and blue for dividends.
Click to enlarge: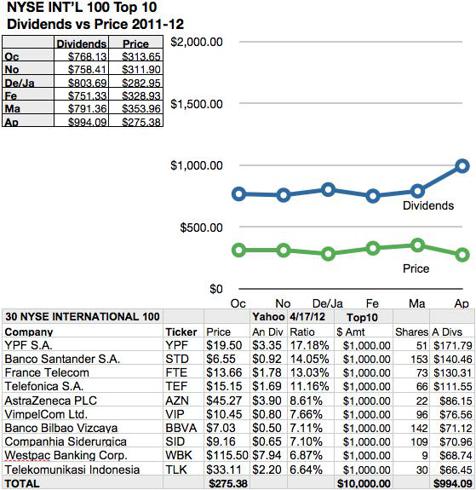 NYSE International 100 Index top ten dogs showed an 29.42% increase in projected dividends from $1000 invested in each of the top ten, and a 12.2% decline in aggregate total single share price over the past six months. Between March 13 and April 17, however, dividends increased 25.62% while single share prices dropped 22.2%
Will the NYSE International 100 Index price gains return in May or will eurozone bears hold sway? Stay tuned.
Disclosure: I have no positions in any stocks mentioned, and no plans to initiate any positions within the next 72 hours.