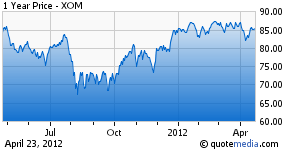 Dropping off the top spot as most profitable corporation, a title earned in 2008 when it had earnings over $45 billion, Exxon Mobil (NYSE:XOM) is comfortably seated as the top Western oil company today. The company has taken the time away from the top spot to buy extremely attractive assets and smaller rivals, putting itself in a good position for future growth once certain positions in the market begin to rebound. This giant of an energy company is not your father's oil business. With smart plays throughout the world causing it to strengthen even more with each new strategic move, I firmly believe this company to be a smart investment that can do no wrong.
As the world's largest publicly traded oil company, Exxon reported net income of $9.4 billion for the last quarter of 2011, up from $9.25 billion the year before, and the company posted revenue of $121.6 billion, up 16%. With acquisitions galore over the past several years, the company continues to expand its holdings. In 2009, the company gobbled up XTO Energy, then the second-largest gas producer with a substantial portfolio of gas fields, and expertise in extracting gas shale, for an all-stock deal valued at $31 billion. The strategy for the purchase and future purchases was summed up by CEO Rex W. Tillerson when he said at the time of this purchase, "This is not a near-term decision, this is about the next 10, 20, 30 years. We think there will be significant demand for natural gas in the future."
In 2011, Exxon made an agreement with Russia's state oil company, Rosneft (OTCPK:RNFTF), giving the company some of Exxon's assets that included land in Texas and deepwater zones in the Gulf of Mexico. This deal opened exploration for Exxon in the Russian portion of the Arctic Ocean. Revisited again, a new deal was signed this month that will form joint ventures in the Kara Sea north of Siberia and the Black Sea, with the Kara Sea prospect estimated to hold 36 billion barrels of recoverable reserves.
Because many of its wells are beginning to show signs of aging and losing productivity, Exxon Mobil continues its creative expansion through acquisitions and new exploration. One deal expected to close the end of April is the purchase of 58,400 net acres of leases in Oklahoma's Texoma Woodford play for about $590 million in cash from Chesapeake Energy (NYSE:CHK), the nation's second-largest natural gas producer.
While other companies have cut down on the amount of natural gas produced, Exxon is frolicking in the world of fracking. The company actually produces roughly 50% natural gas and 50% oil. Since CEO Tillerson was a young engineer at Exxon, he marveled at what fracking can do, which explains his faith in the promise of fracking, resulting in a 77% rise in the company's stock since he took the helm in 2006. As with others patiently waiting for the renewal of natural gas demand, Exxon's revenues are expected to soar even higher once the gates are opened. Holding the number one spot as gas producer, the company has been expanding its search for prospects in the Woodford formation with 31 wells completed last year. Picking up the pace, it already had nine wells drilling in February.
While Exxon remains the leader of the pack, its closest competitors, including BP (NYSE:BP), Chevron (NYSE:CVX), Total (NYSE:TOT), ConocoPhillips (NYSE:COP), and Royal Dutch Shell (NYSE:RDS.A), are striving to keep pace. Royal Dutch Shell is sitting only slightly lower than Exxon with proved reserves of 14.1 billion barrels of oil equivalent. Royal Dutch Shell, operating in 90 countries, also produces refined products and chemicals at 30 refineries, trades gas and electricity, transports natural gas, and develops renewable energy sources. However, Exxon has retained its leadership role because of its consistency in producing the highest revenue, income and returns.
Exxon is expected to once again outperform the market. With a market cap of around $409 billion, the company trades at just above 10 times trailing twelve month earnings, and has a price to earnings growth ratio of 1.48, with a price to book of 2.64. The company's return on equity is 26.93%. Quarterly year-over-year revenue and earnings growth were 15% and 1.60%, respectively. It has a debt to equity ratio of 10.60 and a current ratio of 0.94. The company provides a dividend yielding 2.2%, with a payout ratio of 22%, or $1.85, representing a 6.32% increase over previous year.
The company reported fourth quarter 2011 earnings of $1.97 per share exceeding last year's fourth quarter results by 6.49%, and reported annual earnings of $8.42 per share. Exxon had fourth quarter 2011 revenues of $121.61 billion, with revenues for the full year 2011 of $486.43 billion, 26.93% above the prior year's results. The company generated $10.7 billion in operating cash flow when excluding $6.9 billion from asset sales.
It helps to be big. Exxon is usually top dog in bidding wars, being the highest bidder in the Gulf of Mexico, where it expects to expand as it continues to search for new energy reserves. Internationally, the company's upstream earnings account for $7.6 billion, which is up $1.5 billion just one year ago. Domestically, earnings faded slightly because of aggressive exploration of crude and natural gas, down about 10% to $1.2 billion.
In existence since 1882, Exxon is an old company, but in a state of constant renewal in several forms. The company is not one to sit on its laurels. It is in a constant state of seeking new territories with new and better opportunities to provide great returns for stockholders. It is easy to see why this company has proved itself over and over again. It learns from its mistakes (1989 Valdez), putting in place measures to assure to not repeat them. Bottom line is that a well-run company with good cash flow, a hefty dividend and a stockpile of reserves in natural gas is naturally a safe bet.
Disclosure: I have no positions in any stocks mentioned, and no plans to initiate any positions within the next 72 hours.