Apple (NASDAQ:AAPL) may have fumbled its initial roll out of the iPhone but no such misstep has befallen Nintendo Co. Ltd. (OTCPK:NTDOY) when it introduced the Wii. Pricing came down on the iPhone early on leaving some egg, and rebate paperwork on the face of Apple. All may now be forgiven based on sales but the memory lingers.
Rumors of a price decrease for the Wii are not just exaggerated, they are unfounded.
NTDOY.PK has a lot on its plate including the approaching selling/key holiday season, and its launch in China along with its new interactive web-based features.
The company shipped about 3.9 million Wii units around the world in the last three months, according to its most recent earnings report, bringing the total since launch to 13.2 million units. This breaks down regionally as 5.5 million in North America, 3.7 million in Japan and 4.0 million in other markets.
According to a report on CNN Money, adding to the pressure are newly announced Wii accessories which include: a floor pad for exercise and dancing, a steering wheel for driving games, and a gun-shaped "zapper" for shooting.
It appears the pressure is to keep the shelves stocked not to lower prices.
The quote coming from Nintendo president Satoru Iwata says it all:
We're still focusing on how to meet booming demand, we're absolutely not considering a price cut.
NTDOY.PK 1-yr chart: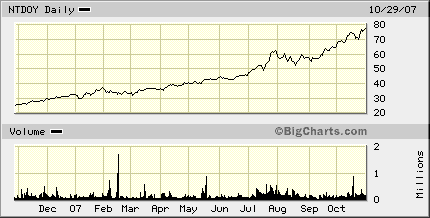 Disclosure: The author has no positions in the stocks mentioned.