By G C Mays
When Potash Corporation (POT) released its fourth quarter and full year earnings in January, the company essentially said two things, that it expected 2012 sales and earnings to "mirror" 2011, which could be construed as saying that revenues and earnings will be flat year-over-year, and that it expected softer first quarter sales followed by strong second, third and fourth quarters. Lets take a quick look at 2011 revenues and earnings per share by quarter.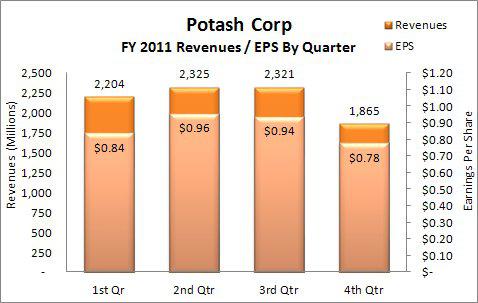 Source: The Mays Report
In the first quarter of 2011 73% of all fertilizer sold was Potash. The company expects lower potash shipments in the first quarter of this year than a year ago. The company has not provided any specific guidance on tons sold. However, for a solid but imprecise estimate we can use Mosaic's (NYSE:MOS) first quarter numbers as a proxy since Potash Corp., along with Agrium (AGU) have fixed allocations of tons sold though Canpotex, the Canadian potash exporting and marketing firm. Potash Corp. receives a 54% allocation of all potash shipments, Mosaic receives a 37% allocation and Agrium receives the remaining 9%.
The following estimate is rough because Mosaic's fiscal year aligns with the marketing year for wheat while Potash Corp. and Agrium's fiscal year follow a calendar year. In Mosaic's third quarter, which ends a month earlier than Potash Corp.'s, the company sold 1.09 million tons of potash and produced 1.8 million tons. This translates into Potash Corp selling roughly 1.6 million tons of potash and producing 2.6 million tons in Q1 of 2012.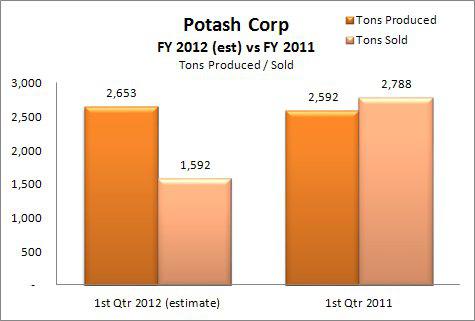 Source: The Mays Report
As the above graph illustrates, there is a wide gap between the estimated allocation of tons produced and sold, which is why both Potash Corp. and Mosaic announced production cuts during the quarter. Presently I am unable to estimate phosphate and nitrogen production or tons sold. However, we can see pricing during the quarter. Price trends can and sometimes do vary depending on the data source. Where possible I prefer data sources that are independent.
Potash prices have been firm during the calendar year first quarter, with increases ranging from 0.8% to 1.2%. Diammonium phosphate or DAP prices have declined over the same period, falling somewhere between -5.2% and -6.6%. Broad based price indexes show overall nitrogen prices down by -7.6%. However, UREA prices, which represented 25% of Potash Corp.'s nitrogen sales in Q1 of 2011 have risen by 11.5% over the quarter while ammonia prices tumbled -8.8% over the same period. Ammonia sales were 38% of the company's nitrogen sales in Q1 of 2011. There is sparse data available for specific nitric acid/ammonium nitrate pricing, which represented 37% of Potash Corp.'s sales in the same quarter a year ago.
Analyst estimates of $0.49 to $0.75 per share in the first quarter are a little wider than company estimates of $0.55 to $0.75 per share. I expect the company's actual earnings to come in at the low-end of those estimates.
Disclosure: I have no positions in any stocks mentioned, and no plans to initiate any positions within the next 72 hours.