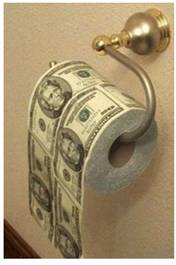 Do you find the above image disturbing? Recent Fed and Treasury actions and policies have some negative consequences including the debasing of Uncle Buck. This destroys wealth and purchasing power, forcing investors to seek protection in gold and stocks with high earnings.
Today reminds me very much of 1979-80 when gold, energy, farm land, natural resources and tech stocks were the inflation shelter investors sought.
The Dollar Index chart below demonstrates that Buck reached a low point in 1980 as gold was taking off. You can readily see we're back at lows once again.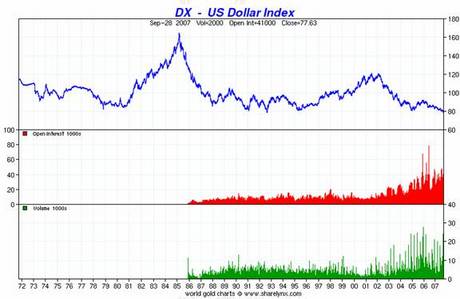 Next is a long term chart of gold which well demonstrates the noncorrelation between Buck and gold: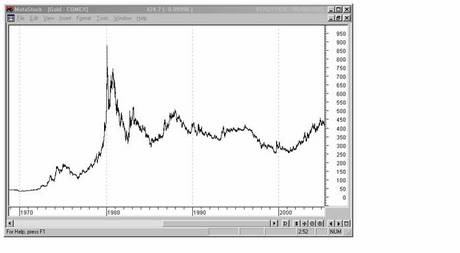 Next is crude oil which you can readily see spiked higher during the 1979-80 period.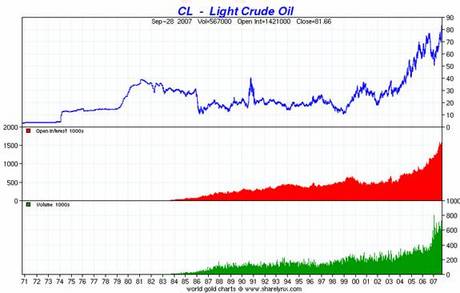 Then there's the CRB [Commodity Index] which is also illustrative of the mid-late 1970s to early 1980s price spike and high inflation.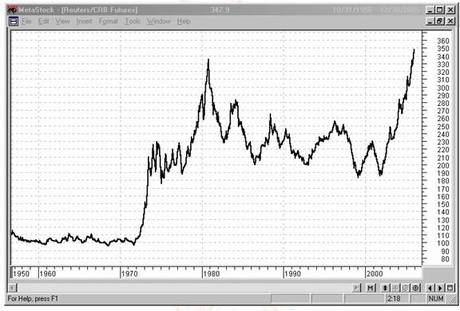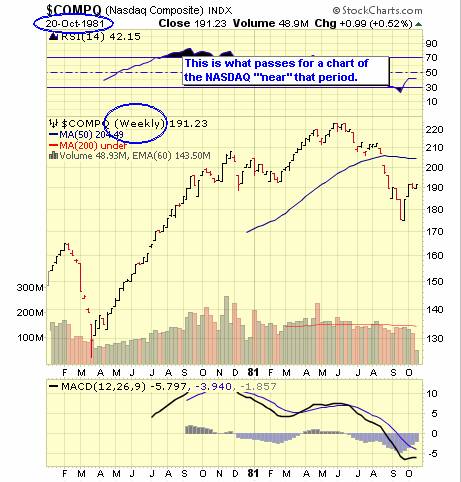 So that's the basic picture. I'm old enough to have experienced these previous markets and have a "deja vu / all over again" feeling about it. The riddle remains why bonds would rally against this fundamental backdrop. I can only think it has to do with supply/demand forces, where bonds are a necessary investment component for pension plans and insurance companies for example. But, bonds have also been heavily purchased in the past with surpluses U.S. trading partners from Asia to the Middle East. Should the latter slow down their purchases then yields would increase, perhaps dramatically.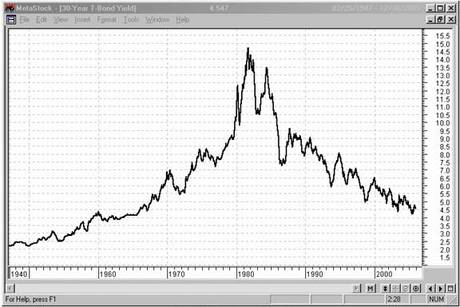 The chart of the day belongs to the Hang Seng Index. We discussed this at length in our podcast posted on our homepage with the brilliant folks at the Emerging Markets Monitor [London]. Give a listen if you wish to know more about that situation.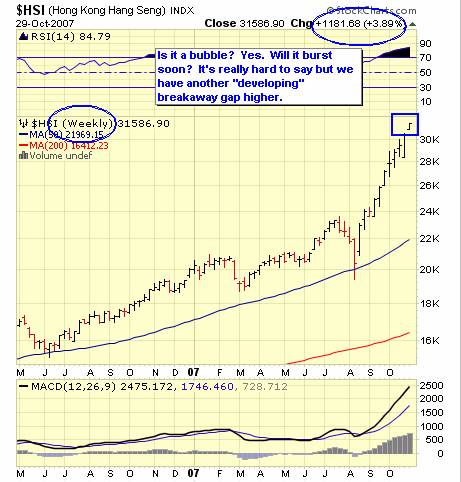 Unless something unusual happens Tuesday, there will be no posting until Wednesday after the Fed announcement.
If bulls get the 1/4% rate cut that's already baked-in current prices, will they sell the news? Or, if the Fed gets some backbone to defend their monetary management integrity by doing nothing, how would investors react?
Let's see what happens.
Disclaimer: Among other positions the ETF Digest maintains positions in: PowerShares DB US Dollar Index Bearish (NYSEARCA:UDN), streetTRACKS Gold Trust ETF (NYSEARCA:GLD), PowerShares DB Commodity Index Tracking Fund (NYSEARCA:DBC), iShares Lehman 1-3 Year Treasury Bond ETF (NYSEARCA:SHY), iShares Lehman 7-10 Yr Treasury Bond ETF (NYSEARCA:IEF), NASDAQ 100 Trust Shares ETF (QQQQ), United States Oil Fund ETF (NYSEARCA:USO) and $HSI.