When the last Fed rate cut occurred, it set off a rapid chain reaction in all of the four markets: currencies, commodities, bonds and stocks. For example, the Canadian dollar jumped to par with the U.S. greenback, gold broke out of its 12-month consolidation, U.S. bonds reversed their three year slide and utilities started to climb again. Will the Fed cut the rates again at the next meeting on Wednesday? The markets are certainly suggesting that.
After the last Fed rate cut in September, the U.S. dollar (chart 1) plunged below $0.80 for the first time in over 30 years. In October, the currency has found brief support at about $0.78. However, in recent weeks, the U.S. greenback has been displaying increasing weakness. Technical models suggest additional downward pressure can be anticipated by year-end and a new low is expected in late December with $0.76 as the target.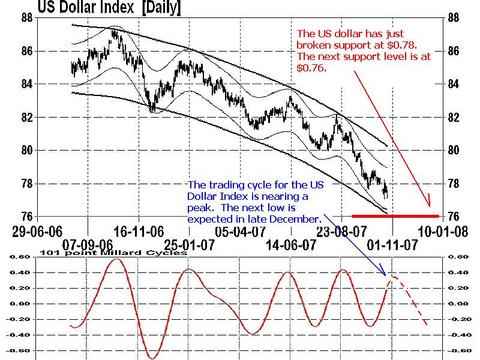 The movement in bonds is often a forecast of the direction of the Fed. A hawkish approach by the FOMC often sees bond prices retreat just before important meetings. Conversely, the expectations of lower rates will bond prices firm. In chart 2 of the 10-year U.S. Treasury bonds, technical evidence indicates growing strength throughout September and October as bond prices stabilize above $108.50. In the lower portion of the chart, the 8-week trading cycle has reached a low in late October. Increasing upward pressure can be anticipated in November.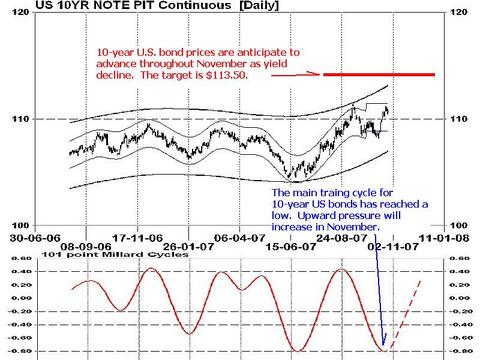 Utilities are the most interest rate sensitive equity sector. Due to their fixed income leverage, this group of stocks often moves with anticipation of rate adjustments. In chart 3 of the Dow Jones Utilities Average, recent market action has pushed this sector back up toward the resistance level of 520 again. New buying pressure and technical evidence in late October supports expectations of additional advancement. Projections place the first target at 540.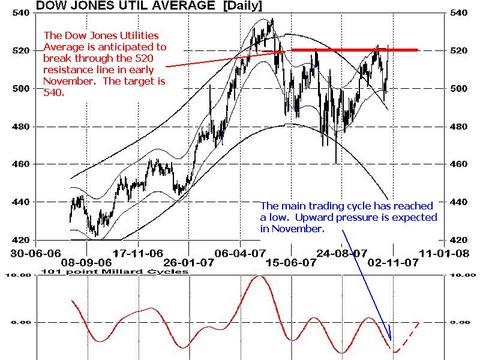 Bottom line: The continuing downward slippage of the U.S. dollar, through ongoing fundamental weakness and interest rate reductions, will effect many elements in the four markets. The first response of a lower USD will equal higher numbers for many global currencies. With the USD at $0.76, the CDN dollar should be at $1.05, the AUS dollar at $0.95 and the Euro at $146.50.
Lower values for the U.S. currency also points to higher gold prices. As increasing downward pressure is expect for the dollar over the next 6-8 weeks, gold has an upper target of $800-$820 by year-end.