Crocs (NASDAQ:CROX) investors, both longs and shorts, have become increasingly anxious while waiting for Q3 2007 results to be released. Given the results of competitors such as Skechers (NYSE:SKX) and Deckers Outdoors (NASDAQ:DECK), it's not surprising that anticipation is building. I expect that CROX will beat the low Q3 estimates, and guide up for the entire year which is actually the reason why I've initiated a recent short, albeit hedged, position on the Company.
Its current valuation seems to suggest that a beat is already priced into the stock. While it won't surprise me to see a short-term gain if positive Q3 results are released, I suspect that many institutional longs will take the opportunity to lock in gains for 2007, particularly when it comes to an overvalued, risky company like CROX.
I generally prefer to short companies that have the potential to be "broken" which has led me to companies like Downey Financial Corp (NYSE:DSL), and Jo-Ann Stores (NYSE:JAS) in the past. Shorting momentum stocks like CROX requires expensive, and time-consuming hedging via options, but I believe the short case on CROX is so compelling over the coming 12 months that it's well worth shorting, and sustaining any short-term losses. It's not a significant portion of my portfolio because I want to give myself room for error and more importantly, if the short side does provide a material gain, I won't need a massive position to make a contribution to my long-biased portfolio.
CROX has grown tremendously in recent years as the Company has penetrated new doors worldwide. The Company has expanded its product offerings to include apparel, and has upscaled its footwear offerings with the limited launch of You by Crocs. However, the main growth driver has been door growth and current fashion acceptance for its clogs. Despite offering a variety of "models" such as the Mary Jane, Capri, Athens, Alice, and Cleo, the majority of CROX footwear and sales are based on the clogs, and continued sales will be determined by how accepting consumers continue to be towards the Company's flagship design. Investors should keep in mind that 30% of sales are still generated from sales of classic models, while the long-term trend looks for this to eventually approach 20%.
At its current valuation, investors are paying an extremely expensive price for management to execute its new initiatives. CROX management has already stated that door count in the U.S. will moderate in 2008, so growth in door count is unlikely to grow at 25+% as it did in Q2 when it had 12,000 doors at the end of Q2 2007 which was up from 10,000 in Q2 2006, or even the triple digit growth from 2005 to 2006. With about 13,000 doors in the U.S., and approximately the same amount internationally by the end of 2007, the Company's growth will be highly dependent on consumers returning for new purchases along with expanding CROX's product offerings to a larger group off its existing door base. New products may be accepted by a larger customer base but with CROX's valuation, the speed of new product acceptance and the size of new product revenue must be enormous in order to avoid a large correction.
CROX investors should keep in mind that children's sales account for 30% of U.S. sales, and more than 30% of international sales according to a September 2007 research report by Cowen & Company. Children can be notoriously fickle regarding their tastes, and product reversals in children's categories are often times violent, and quick. This simply means that CROX may need to fill a $240-$300MM revenue gap (assuming CROX achieves sales of $800-$900MM in 2007) if children's appetite for CROX footwear ebbs heading into 2008. Investors should also keep in mind that CROX has generated second-order revenue from its current popularity with children through CROX backpacks and Jibbitz. In addition, the Mary Jane is generally targeted to teenage girls, and is vulnerable to changes in fashion trends that may result in reduced interest in that product line.
Why does this matter? Well, CROX may become even more dependent on its children's product sales than investors and the Street realize. The Q2 2007 Shoe Carnival (NASDAQ:SCVL) conference call shed some interesting light on Crocs sales when CEO Mark Lemond stated:
It's (Crocs) working very well in the kid's business, kid's department, very well. And it's working okay in the women's department. It's selling through at about half the rate in women's that it's selling through in kids...
SCVL operates over 250 stores in the Midwest and Southern regions of the U.S., and while it may not be indicative of the majority of CROX retailers it demonstrates the Company's dependancy on children sales, and ancillary revenues from the children segment (Jibbitz).
Management knows that its children's revenues will eventually be vulnerable and in an attempt to diversify have gone into apparel, You by Crocs, and has also acquired Bite Footwear and Ocean Minded. However, if you visit the websites of the acquired companies, the footwear does not appear that impressive, irrespecitve of any Croslite integration, and the purchase prices for these businesses suggest sales have not been that impressive. I suspect the game plan with Bite Footwear and Ocean Minded will be to pump its SKU count through the Company's existing door base, and then hope for a decent sell-through which would drive revenue growth over moderating door expansion. This may be successful but at current prices, it still may not be enough to support CROX's valuation.
CROX commands some lofty multiples and what's interesting is the two-sided game that is occurring with the Street and CROX management. Management specifically stated that after 2007 gross margins will trend to around 55% during its Q2 2007 conference call and even as recently as its September 2007 investor conferences. Street research for 2008 projections by Cowen & Company (Sept 2007), Baird & Company (Aug 2007), Think Equity (Aug 2007), and Wedbush Morgan (Sept 2007) all incorporate gross margins of 58.6-59+% for their 2008 estimates despite management specifically providing 55% gross margin guidance. The Street may just be guessing and using 2007 numbers to come up with 2008 estimates because they've routinely underestimed CROX's growth. In response to underestimating a company's growth, the Street inevitably creates a hurdle rate that can't be exceeded and shares correct. In this case, while CROX management is being specific about its guidance, the Street is largely ignoring it, possibly because CROX management has historically been conservative in its guidance.
So having spoken about CROX's valuation, here are some real numbers. Table I presents comparable peer multiples for CROX, and clearly illustrates that the Company commands the highest valuation amongst its competitors. Even fast growing DECK trades for significant discounts to CROX's multiples.
TABLE I: CROX PUBLIC COMPARABLES

Valuation premiums are earned for high growth and CROX has grown very rapidly but that growth is not as certain as it was just 1-2 years ago when the Company's growth could be driven by new door penetration. Further, current prices seem to impound truly best case scenarious for CROX into perpetuity. Table II is a discounted cash flow analysis based on what the Street is using - 59% gross margins, and takes that into the future. This is an aggressive analysis assuming 25% annual revenue growth, sustained 59% gross margins, significant achievement of operating leverage, and a static share count resulting in over 30% EPS growth annually. In addition, no working capital drawdowns are included to drag down cash flow.
Table II: DISCOUNTED CASH FLOW ANALYSIS - 59% GROSS PROFIT MARGINS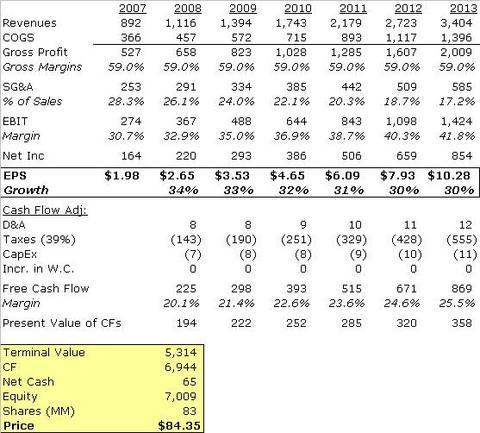 Table II makes some very aggressive assumptions. The discount rate used to value CROX's cash flows was 16% based on a risk free rate of 4.75%, a risk premium of 4.25%, a CROX beta of 2.6, and 0 debt alongside a 4% perpetual growth rate. Even with these aggressive, perfect world assumptions, CROX can be valued at roughly $7 billion.
Table III takes all of the same assumptions as in Table II but uses management's 55% gross profit guidance to derive a valuation for CROX.
TABLE III: DISCOUNTED CASH FLOW ANALYSIS - 55% GROSS PROFIT MARGINS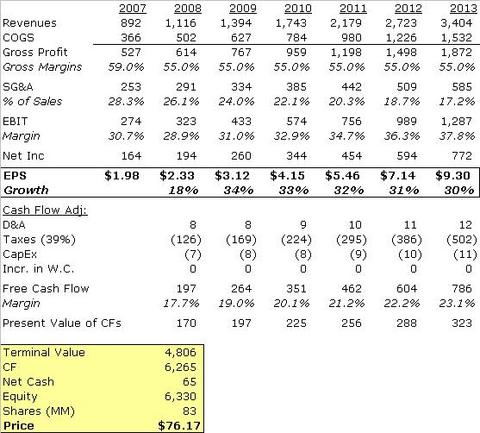 As Table III illustrates, a change in gross profit margins can have a very material impact on the Company's valuation. Further, Table III like Table II still incorporates optimistic long-term revenue growth, operating leverage, and EPS growth. Investors should realize that even an excellent operating performance in the coming quarters may fall significantly short of the expectations impounded in CROX's valuation which would result in a serious correction, and subsequent multiple compression across EV/Revenues, EV/EBITDA, P/TBV, and P/E. With an equity valuation of approximately $5.5 billion, and some valuation targets suggesting an equity valuation as high as $7 billion, CROX is placed in the general vicinity as Activision (NASDAQ:ATVI), The Blackstone Group (NYSE:BX), Whole Foods Market Inc. (WFMI), Abercrombie & Fith (NYSE:ANF), Virgin Media (NASDAQ:VMED), Tiffany & Co. (NYSE:TIF), Hertz (NYSE:HTZ), Wimm-Bill-Dann Foods (NYSE:WBD), Western Digital (NYSE:WDC), and the NASDAQ Stock Market (NASDAQ:NDAQ).
Ultimately, CROX investors are forgoing allocating capital to some premiere brands/companies that still offer tremendous growth (WBD for example) for a rubber shoe company with little competitive advantage that is prone to a significant adverse change in interest for the bulk of its products. Some may cite the patented Croslite and the litigation threat, but comparing the Cali line from SKX along with imitations available at Collective Brands (NYSE:PSS), and mass market retailers suggests that the threat of litigation is doing little to prevent the inflow of cheap imitations. Some would cite the comfort factor and appeal to healthcare workers and cooks, and the closed hole line of shoes as new "models."
Ultimately, the current "investor" appeal for CROX is based on backfitting a rationale to the stock's tremendous momentum in recent years. In the short-term there may be some money to be made on the long side playing off beating the whisper number, and running up any management or Street upward guidance revisions but after being essentially a 5 bagger, at its current valuation. One miss by CROX (and a miss could still be a slight beat and offer a very commendable quarterly performance in terms of financial metrics) in the coming year can easily correct even a 50% run up on a short position.
DISCLOSURE: The author manages a hedge fund that is short CROX, long CROX call options, and long DSL puts.