Corning Incorporated (NYSE:GLW) is due to report earnings before the opening bell on April 25, 2012. Below we can see the results of Corning Incorporated over the last few earnings periods.
Who They Are:
Corning Incorporated produces specialty glasses, ceramics, and related materials worldwide. The company operates in five segments: Display Technologies, Telecommunications, Environmental Technologies, Specialty Materials, and Life Sciences. The company was founded in 1851 and is headquartered in Corning, New York.
Book Value: $13.91
Float Short: 1.67%
What To Expect:
On average, 19 Analysts are expecting a drop of $-0.05 in earnings per share compared to last quarter's results of $0.33. Wall Street is expecting $0.28 per share based on earnings estimates. Wall Street is expecting results within $0.26 and $0.31 per share.
Here is a look at the fiscal year revenue for Corning Incorporated:
Recent Stock and Valuation Performance:
Looking at the price movement over the last month, the stock has fallen in price -5.99%, and changing from last year at this time -35.36%.
When comparing to the S&P 500, the year to date difference is -7.37%.
Revenue growth relative to last year appears to be problematic for management. Comparing year-over-year fiscal years, revenue has declined to $7.89 billion for 2011 vs. $6.63 billion for 2010. The bottom line has falling earnings year-over-year of $2.81 billion for 2011 vs. $3.56 billion for 2010. The company's earnings before interest and taxes are falling with an EBIT year-over-year of $1.69 billion for 2011 vs. $1.80 billion for 2010.
The short interest is relatively low at 1.67%.
Here are the last few quarters to get an idea how well they perform compared to estimates: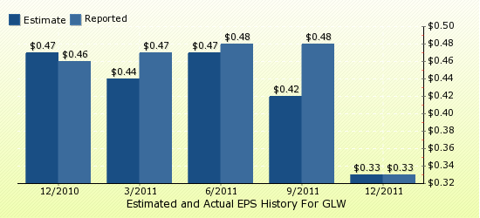 Reported earnings per share compared to the mean estimate. Differences are rounded.
Disclosure: I have no positions in any stocks mentioned, and no plans to initiate any positions within the next 72 hours.
Disclaimer: Robert Weinstein uses information believed to be correct, but is not guaranteed and is not independently checked for accuracy You may wish to use this article as a starting point of your own research with your financial planner.