Banco Santander (STD) continues to make headlines as its stock has fallen 26% since mid-March.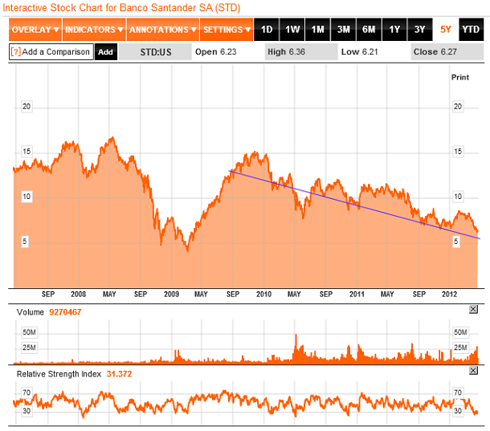 Source: Bloomberg
The case for the bank (and the European banking sector) has been hotly debated in recent months given the renewed focus on Europe and Spain in particular.
Santander, on the surface, looks extremely compelling as it trades at approximately 60% of book value, has a dividend yield of 13%, a P/E of 7.7x, a PEG ratio of 0.51 and strong core capital ratios.
About that dividend:
Recall that during the Q4 earnings call, the CEO made the following statement regarding dividends:
Right, our payout or shareholder return policy is already set, and I will confirm that there will be no changes. We will continue with the same percentage of scrip dividend we've had until now. If change were to be proposed, it would have to be approved by the AGM. But for now, this will continue to be our payout policy. As the Chairman also reported during our Investor Day, it will continue to be EUR0.60 per share and there's not really very much else I can add to that.
Now, many will say "the best laid plans of mice and men", and they might be right. If Banco Santander increases scrip dividend, it dilutes shares, if it cuts the dividend, the yield will fall. If the dividend yield was cut in half, it would still be above the large US based banks and if they dilute the shares with scrip, it will not be significant enough to constrain future growth.
And the capital: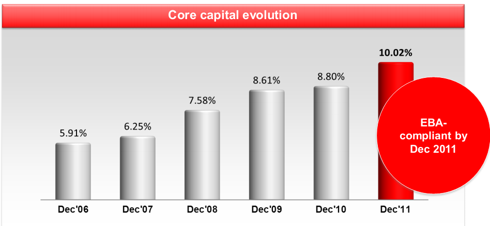 Source: Banco Santander
As the chart above shows, the bank has raised core capital ratios 141bps since December 2009 and 244bps since 2008. The operating ratios from the bank's 2011 annual report are:

As the above table shows, ROE, ROA, ROTE (return on tangible capital) and RoRWA (return on risk weighted assets) have all decreased - as we might expect - but are still at relatively healthy levels versus peers.
But what about real estate...
While Spanish real estate markets have been slammed as the bubble popped, the bank has been increasing provisions to cover the potential problems: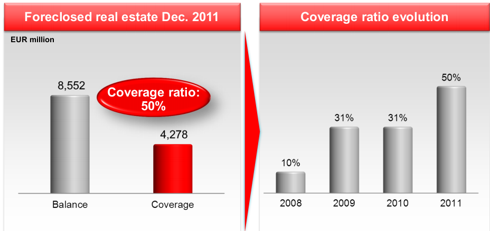 Source: Banco Santander
The coverage ratio, at 50%, is stronger than peers and the bank has been increasing their coverage levels significantly over the last three years. One of the arguments against the bank and against their real estate provisioning is that we have heard this song before from some global banks in the US and yet they had to keep increasing provisions. That may well be the case, but their coverage level is significantly higher than US banks as they work through their issues.
It is also important to remember that unlike their US peers, Banco Santander is not looking at staggering put-backs, MBS lawsuits and servicing debacles.
Liquidity:
One of the primary concerns with banks in troubled regions or economies is liquidity. An over reliance on short-term funding can bring the house down. So what about Santander?

Source: Banco Santander
While I would prefer a loan to deposit ratio closer to 100%, 117% is not outrageous nor do I think it presents a significant risk (excluding, of course, a run on the bank scenario).
What drives shares higher?
1. While I almost hate to include this, it is relevant and can move shares. I read today that:
Banco Santander Added to Conviction Buy List at Goldman Sachs; Raised to Overweight at JPMorgan.
Many who have read my articles know how I feel about the "sell side" recommendations as they seem to come well after the run (up or down) has started. In this case, however, I find the recommendations compelling in that they are contrarian views and none too popular.
2. Banco Santander has options to raise more money and hence bolster its balance sheet. As reported today in the Wall Street Journal:
MADRID (Dow Jones)--Spain's Banco Santander SA is drawing up plans to sell a chunk of its fast-growing Mexican unit within a year, people familiar with the plans said Monday, in what is set to become the largest initial public offering on record in Latin America's second-largest economy.

The deal would free up billions of dollars in cash for the acquisitive Spanish lender, and would be the latest of a string of stake sales by the banking giant in several Latin American subsidiaries. Santander has been using the proceeds from these sales to strengthen its solvency at a time when loan losses are close to all-time highs at its businesses in southern Europe.

It isn't yet clear how much Santander would want to sell in the offering, nor what valuation it can get for it, but two people familiar with the matter said a valuation of above $15 billion but below $20 billion would be "realistic."

For Santander, a Mexico listing builds on a long-running strategy of having units trade on local stock exchanges. In 2007, the banking giant raised roughly $8 billion by selling 15% of its Brazilian unit, Banco Santander Brasil SA (BSBR). It had planned to list the U.K. unit last year, but that plan has been put on ice at least until next year amid difficult market conditions. It also recently shelved a plan to sell a stake in its Argentine unit.

It also has proved a nifty tool when it needed cash in recent months, allowing Santander to sell small chunks of listed subsidiaries in Chile (BSAC) and Brazil without losing control over the units. While other European rivals had to issue new shares at deep discounts to meet higher capital requirements, Santander met its needs by selling assets in emerging markets that still high valuations.
3. The bank has been labeled a Spanish bank although the majority of its profits come from higher growth (and lower immediate risk) areas outside of Spain (and Portugal):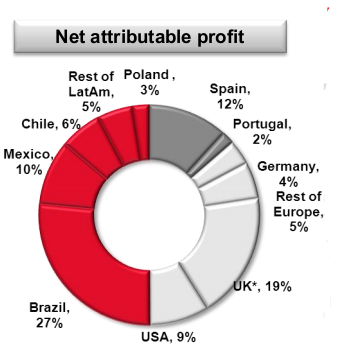 Source: Banco Santander
As the above chart details, Spain and Portugal (and, heck, the rest of Europe ex-Germany) account for less than 20% of net attributable profit. This is less a Spanish bank than it is a Latin American bank headquartered in Spain. This fact is too often overlooked.
Bottom line: Santander is well positioned to grow within Spain when the economy recovers (yes, this is longer-term) and will continue to grow in the rest of its higher growth markets in the interim. I believe that the bank is in a better position than most of its peers and is not confronted with the same issues its US counterparts were/are since the financial crisis. The bank has solid capital levels and decent return figures although its equity is trading at approximately 50% of book value. Ultimately, I believe that this bank's stock presents value in the near to long-term given its exposure to high growth markets and what I believe is manageable exposure to Europe.
Disclosure: I have no positions in any stocks mentioned, but may initiate a long position in STD over the next 72 hours.