Encana Corp. (NYSE:ECA) is one of the bigger natural gas producers in the US. With US natural gas prices at historic lows, especially versus oil, that may not be a good thing. ECA says it gets a 9% internal rate of return on its natural gas at a price of $3/Mcf ($3/mmBTU). This means it is profitable down to a price of about $2.73/Mcf. The current US Nymex price is approximately $2/mmBTU (NYSEMKT:MCF). In 2011 ECA had hedges on approximately 1.8 Bcf/d (50% of its production) at $5.75/Mcf. It has hedges on approximately 2.0 Bcf/d on FY2012 production at $5.80/Mcf. The value and the amount hedged probably drop off for FY2013. However, there will not likely be a resurgence in US natural gas prices in 2013 without Congressional action on a natural gas for transportation bill. Remember the first US LNG liquefaction terminal (export terminal) is not set to go online until 2015 at the earliest. Some have been saying that the first one will not go online until 2016.
EnCana is a big dividend payer (4.40%). Some may feel that they should ride out the storm in ECA. They feel happy to collect the good dividend. Eventually US natural gas prices will go up. Plus ECA has already halved its stock price since last summer.
The above may seem like a reasonable strategy on its face, but ECA currently trades at a PE of 104.24. It has a non-existent FPE. In other words it is not expected to make money in FY2013. Its average analysts' EPS growth for FY2012 is -25.90%. For FY2013, it is -135%. For the next five years per annum, it is -13.00%. If it is going to lose money in FY2013, is there any guarantee it will make money in FY2014?
There is too much risk associated with this stock over the next several years. The dividend is by no means guaranteed, if it is going to keep shrinking its earnings (and lose money in FY2013). This stock is a sell even at its reduced price. We are heading into a serious European recession. The preliminary manufacturing PMI numbers from Europe today solidified this thought, if one wasn't already sure. The EU preliminary manufacturing PMI was 46.0. The EU services PMI was 47.9. The French manufacturing PMI was 47.3. The German manufacturing PMI was 46.3. All of these indicate contraction, and they are significantly worse month over month. The Chinese Flash PMI was 49.1, which was an improvement over the Flash PMI of last month. However, China will ultimately follow the EU and the US as those are its two big export markets, and it is still an export driven economy.
All this means that ECA is looking weak on its own. Plus the overall world economy is looking negative. The idea that ECA will somehow overcome all of this does not seem realistic. It is a sell even at its current price. Yes it has a great price/book ratio of 0.81. However, that book value may be written down soon on low US natural gas prices. Plus the threat to the dividend is acute. Most will not want to own a stock with a negative outlook in a troubled market. If the dividend is reduced, many will sell automatically.
The two year chart of ECA below may lend some technical direction to this trade.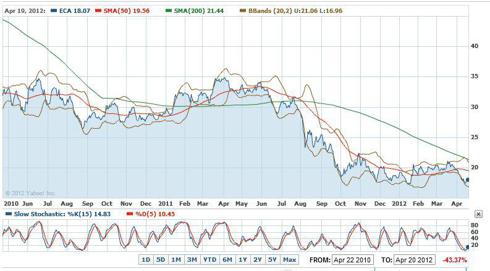 The Slow Stochastic sub chart shows that ECA is over sold. Both the price and the 50-day SMA are below the 200-day SMA. There don't seem to be many positives for this stock. You could see a minor technical bounce. However, the down trend still seems very strong. ECA is a sell or a short.
Good Luck Trading.
Disclosure: I have no positions in any stocks mentioned, but may initiate a short position in ECA over the next 72 hours.