Don't take a short blip up in share price last week on news that was already known surrounding Pandora (NYSE:P) to be any more than a mistake. While the share price did appreciate nearly 10%, it quickly lost nearly all of its gains by Friday's close, and looks ready continue its tumble lower despite a bit of volatility now introduced into the share price.
Both my short and long term bearish opinions on Pandora remain intact moving into the week of April 23rd, and I am holding fast to my May $10 put position as well as my June $9 put position I entered into when Pandora was priced at around $10 per share. My April put position was sold on Friday for over 200% profit.
Beyond the fundamental reasons for my bearish position on Pandora as illustrated in this article here such as:
On the fundamental side, I simply do not believe that Pandora has long term staying power, and I recognize that it has short term hurdles to overcome in what is an impatient market. Pandora does take music and mix it up for the user, and give it back to them in ways that generally enhance the listener's experience. If Pandora was the only game in town, this would be great, but it is not. With the various competitors out there-- such as Spotify on the IP delivered side, Sirius XM (NASDAQ:SIRI) with satellite and IP delivery and dominant in the "pay radio" space, and terrestrial radio with the lion's share of the "free" radio market both over the air and through IP-- Pandora certainly has a lot of competition.
The technical reasons still remain intact even after last week's jump up.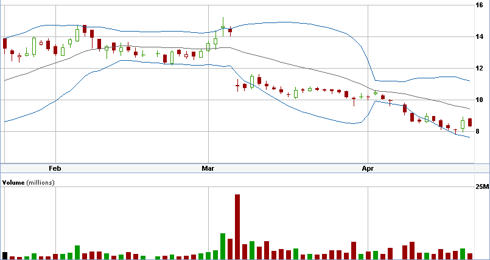 Before earnings were announced, Pandora appeared strong in early March, but since the disappointing numbers were released, Pandora has trended lower. Eventually the share price broke through the $10 level which had served as support on numerous occasions since the IPO less than one year ago. Since breaking through support the stock has been on a steady decline from $10 into the $7 range.
While it is quite obvious that investors and traders are waiting on the sidelines for the slightest bit of news to capitalize upon, it is unlikely that any news will be forthcoming that can push the stock over $10 again any time soon. The company will need a conference call which exceeds guidance, or an unexpected announcement that places the stock back in bull territory again. While Pandora continues to trade in the lower end of its bollinger bands, and absent any catalyst to return it to bull territory, it will likely trend down towards my target of $5 per share.
What investors and traders alike need to be aware of is that the stock can and will move quickly on even small bits of news, as evident by the stock's 10% movement last week on news which was already known. This makes choosing a short or long position at this point a risky venture.
I'm currently holding on to my May $10 puts and June $9 puts, as I am bearish on this stock. I'd lean to the side of opening newer short or put positions, or staying clear if you are bullish until you can buy in at much lower levels. Right now is certainly not the time to be opening a long position in Pandora.
Disclosure: I am long SIRI.
Additional disclosure: I am long SIRI May and June $2 calls. I am long P May $10 puts and June $9 puts.