Noble Energy (NYSE:NBL) is a leading independent energy company with operations in the Marcellus Shale, DJ Basin, Gulf of Mexico, West Africa, and Eastern Mediterranean. The company is a $16.28 billion large-cap explorer, developer, producer, and marketer of crude oil, natural gas, and natural gas liquids.
Noble should prove to be a winner as a long-term investment in energy. Its operations are balanced among the United States and International markets and are diverse among oil and natural gas. All five of its core operating areas is expected to experience significant growth.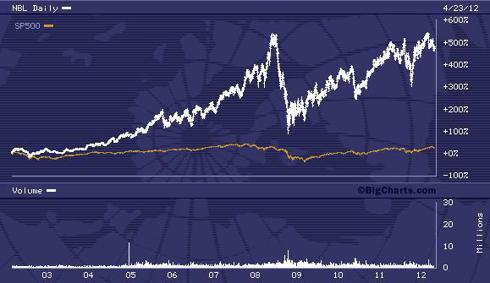 The company is clearly undervalued with a forward P/E ratio of 11.11, a PEG of 0.59, and a price to book ratio of 2.28. This places the stock in a good position for future growth.
Noble has a double digit profit margin of 12.7% and an operating margin of 15.86%. It has an operating cash flow of $2.17 billion and free cash flow of -$164.88 million. Cash totals $1.46 billion with debt totaling $4.47 billion. The company has 1.07 times more current assets than current liabilities.
The company exceeded earnings estimates in all four quarters last year. Noble will be reporting earnings for Q1 2012 on Thursday April 26, 2012. EPS is expected to be $1.39 for the quarter. It should be interesting to see if the company achieves another positive earnings report.
Noble Energy is expected to grow earnings annually at a healthy 25.43% for the next five years. Given its current undervaluation, if these expectations are achieved, the current stock price of $92 could reasonably grow to $286 in five years.
Projected production increases of 40% year-over-year are expected for crude oil and condensate. The chart shows a breakdown of projected annual growth production rates by region.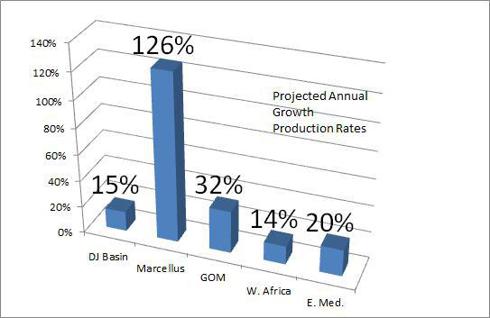 By 2016, the company is expecting a production compound annual growth rate (CAGR) of 17%; $1.4 billion in free cash flow, and reserves up 20% CAGR to 2.7 BBoe.
Noble Energy's combination of a high quality diversified portfolio, sustainable industry leading exploration, ability to execute for results, and solid financial footing make it a compelling investment for at least the next five to ten years.
Disclosure: I have no positions in any stocks mentioned, and no plans to initiate any positions within the next 72 hours.