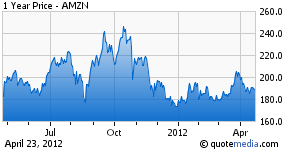 No matter what one's personal feelings are regarding Amazon.com (NASDAQ:AMZN), there are some certainties regarding this company and its stock. First, Washington-based Amazon is one of the survivors of the dot-com era. While many of its e-commerce rivals went the way of the dodo bird when the tech bubble burst, Amazon not only survived, it has since thrived.
Second, Amazon is one of those once in a lifetime growth stocks that investors dreamed of getting their hands on. The shares have surged more than 1,200% in the past decade. Third, there's no doubt that Amazon has changed the way people shop for books, electronics and a whole host of other discretionary items. Thanks to Amazon, there's no need to get in your car and head to local bookstore for latest bestseller or brave the crowds at Wal-Mart (NYSE:WMT) for the hot, new video game. Amazon will ship those things to you with just a few clicks of the mouse.
Along those lines, Amazon has spelled bad news for some its rivals. Since Amazon went public in 1997, the stock has jumped a staggering 10,900%. Over the same period, Barnes & Noble (NYSE:BKS) has fallen 39%. Then there is the case of Borders. It's not all attributable to Amazon, but Borders has gone out of business. So when it comes to selling books, the advantage is clearly Amazon's.
What about electronics? That's an integral part of Amazon's business model as well. Amazon's got it all from cell phones to MP3 players to laptops to printers to video games. Again, it's not all on Amazon, but Circuit City went bankrupt a few years ago and many analysts question how Radio Shack (NYSE:RSH) is even still in business.
Amazon is arguably also having an adverse impact on Best Buy (NYSE:BBY), many calling it the Amazon's showroom. For a while it looked Best Buy, Amazon and Wal-Mart would fight for electronics retailing supremacy. Due to a variety of external and internal factors, Best Buy has fallen on hard times. The shares have lost 54% in the past five years while Amazon has seen its stock quadruple. Now, Best Buy's problems run so deep that some analysts and investors believe the only that can save the company is a takeover maybe by even Amazon.
That's not to say all is well with Amazon. The company is locked in a losing tablet with Apple (NASDAQ:AAPL). Despite the fact that the Kindle Fire is far cheaper than Apple's iPad, the iPad still trounces its Amazon rival. Return rates on the Kindle Fire, meaning the number of customers that buy it, don't like it and bring it back, are alarmingly high. Worse yet, Amazon makes no money on the Kindle Fire. The company sells the tablet at a loss just to say it has a competing product to something Apple makes.
It's not going to get any better for Amazon on the tablet front. "Apple is reportedly going to launch a 7-8 inch tablet form factor iPad at a lower price point later this year. Google (NASDAQ:GOOG)/ASUS is reportedly going to launch a 7" tablet in the coming months for $199-249 to compete directly with the Amazon Fire tablet," according to FirstAdopter.com.
Meanwhile, the company is investing heavily for future growth, which might pressure profits and disappoint investors short-term. Additionally, Amazon might be facing the prospects of more States looking to recoup lost revenue and start taxing Internet sales only e-commerce sites, which will reduce the advantage the company enjoys over the retailers with brick & mortar presence
In the case of Amazon, it's clear the company can win some battles, but can't be undefeated.
Disclosure: I have no positions in any stocks mentioned, and no plans to initiate any positions within the next 72 hours.