A protected covered call or collar search performed using PowerOptions tools, seeking to find the highest returning position for profitable companies with a stock price near the lower Bollinger band and a stock price in an up trend produced Apple (NASDAQ:AAPL) as shown below:

Following closely behind Apple were network security company Fortinet (NASDAQ:FTNT) and the online travel company Priceline.com (PCLN).
A protected covered call investment may be entered by selling a call option against a stock and using a portion of the proceeds from selling the call option to purchase a put option for protection. The Apple protected covered call has a potential return of 4.1% (57.6% annualized) with a maximum potential loss of 7.8%, even if the price of the stock drops to zero, the maximum potential loss is 7.8%.
The highest returning positions as shown above were found by selecting to sort by the highest returning positions. Companies in an up trend were found by selecting to search for a 100-day moving average greater than the 200-day moving average. Profitable companies were included by selecting to search for a Price-to-Earnings (P/E) ratio greater than zero. The 8% maximum loss search parameter was used, as a loss of 8% or less can often be recovered fairly quickly using income investing strategies via options. Searching for companies with a stock price near the lower Bollinger band produces stocks for companies that have had a pull-back in price and may be basing for a leg up in price as shown for Apple below:
With Apple's rise to fame, the city of New York, may soon be required to relinquish its status as 'The Big Apple.' Apple has earned the right to the challenge by virtue of its stellar growth and recent dramatic growth in market capitalization. Apple's 2011 revenue of $108 billion exceeded the revenue of the other two technology giants, Google (NASDAQ:GOOG) and Microsoft (NASDAQ:MSFT), combined. Its iPhone, iPad, iPod and iTunes products have become household names, while its worldwide retail stores (360+ and counting) have embedded it even more deeply in consumer consciousness and stolen a march on its competitors.
Now best described as a consumer electronics company (it removed the word 'computer' from its corporate name in 2007), it still sells traditional Macintosh desktop and notebook computers, the iOS and Mac OS X operating systems, desktop computer applications, multimedia software and hardware, a web browser, and mobile applications plus other digital content through its various app stores. In October 2011, it launched its iCloud digital content storage service. Sales are conducted globally through its own retail and online stores, and through its direct sales force, mobile network carriers, wholesalers, retailers and value-added resellers. Apple also sells third-party products and accessories compatible with its iPhone, iPad, Mac and IPod products. Its customers range from individual consumers, through small and mid-size businesses, to major corporate, educational and government organizations.
Apple's business strategy is to lead the market with innovative, feature-rich products that are easy to use and integrate seamlessly with existing systems and equipment. This requires a heavy investment in both R&D for product development, and marketing and advertising to promote customer awareness and resulting sales. Apple retail stores, located in high-traffic shopping areas, are a key component of its strategy, and are staffed by trained and knowledgeable personnel who demonstrate products face-to-face and offer advice and assistance. In addition, Apple fixtures and merchandising materials are placed in the retail outlets of selected third-party resellers. The company also offers a high level of after-sales support. The reward comes in the form of extreme brand loyalty among committed users, with long lines of customers often forming to await the opening of a new retail store or new product releases.
Inevitably, compelling success attracts both imitators and fierce competition, in a market distinguished by rapid technological advances and constant introduction of new products. Competitors frequently engage in aggressive price reduction in an attempt to win market share from Apple, creating a downward pressure on profit margins detrimental to the entire industry. Apple's wide product range creates a long list of competitors, though many of them specialize in a more limited market area. Competitors include Hewlett-Packard (NYSE:HPQ), Microsoft , Google , IBM (NYSE:IBM), Nokia (NYSE:NOK), Dell (DELL), Sony (NYSE:SNE), Taiwan's HTC and Acer, and Korea's LG and Samsung.
The company also competes for a sometimes limited supply of components for its products, especially as demand for mobile devices is exploding. Manufacturing of hardware products is almost entirely outsourced to production plants in Asia. Apple has received significant criticism about grim working conditions in these factories, particularly those of iPod manufacturers FoxConn and Inventec in China. The company responded with an immediate investigation and has attempted to force suppliers to improve conditions in order to retain Apple business, but the problems are ongoing. The 2011 earthquake and tsunami in Japan and flooding in Thailand also impacted on the company's supply chain, but it believes it has overcome the majority of the difficulties presented. Apple itself has over 60,000 employees.
Apple's total sales in FY 2011 (year ended September 24 2011) were $108 billion, a major increase over 2010's $65 billion, and more than four times greater than its sales five years ago. (Revenue even increased during the economic downturn years of 2008-2009.) Net income of $26 billion translated into $27.68 per diluted share. The company reports results in five mainly geographic segments: Americas, Europe, Japan, Asia Pacific and global Retail. In 2011 35% of revenue (excluding retail) came from the Americas, 26% from Europe, 21% from Asia Pacific (excluding Japan), 5% from Japan and 13% from Retail. iPhone and related products accounted for the largest share of revenue (43%), while Mac products scored 20% and iPad 19%. Asia Pacific generated the largest segment revenue increase (+174%) and iPad (launched in 2010) the largest product increase (+311%). Cash and marketable securities totaled $82 billion at year end, and Apple has announced that in 2012 it will pay its first dividend since 1995. (Form 10-K 2011)
Results for the (14-week) first quarter of FY 2012 were announced in a January 24 2012 press release. Record quarterly revenue of $46 billion was accompanied by record quarterly net profit of $13 billion. Revenue increased 73% and net profit by a stunning 118% compared with the year-ago quarter. Gross margin of 44.7% showed a significant improvement on Q1 2011's 38.5%. The company is forecasting revenue of $32.5 billion for the second (13-week) quarter.
CFO Peter Oppenheimer led Apple's Q1 2012 earnings conference call. He revealed more record achievements: all-time highs for quarterly iPhone (37 million units), iPad (15 million) and Mac (5 million) sales (although iPod sales are declining). Mac sales were boosted by the new Mac App store. The company was particularly pleased by the scale of iPad's adoption by business users, and it has recently announced the iBooks textbook platform.
Apple has about 32% of the U.S. smartphone market, but it is gaining rapidly on the market leader, devices using Google's Android operating system. Apple's iPad has a 73% share of the tablet market. The rapidly expanding technology giant appears to have more than merely survived the passing of Steve Jobs and is worthy for an investment, although a protected one.
Apple is scheduled to report earnings today (April 24), which is a part of the reason for the high potential return for the protected covered call as shown in the table above. The premium for options of companies about to release earnings often increase just prior to a release.
The specific call option to sell for the highest returning protected covered call shown in the table above is the 2012 570 at $29.90 and the put option to purchase is the 2012 may 505 at $6.15. A profit/loss graph for one contract of the protected covered call is shown below: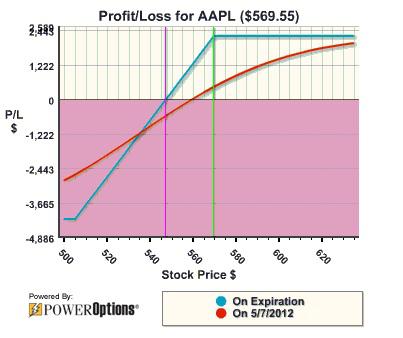 For a stock price less than the $505 put option strike price the position is protected and the maximum loss than can be experienced is 7.8% (at expiration). If the price of the stock increases to around $630, the position can most likely be rolled in order to realize additional potential return.
Disclosure: I have no positions in any stocks mentioned, and no plans to initiate any positions within the next 72 hours.