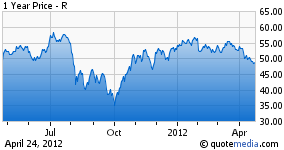 Ryder Systems (NYSE:R) reported earnings Tuesday. It was a solid report for the logistics and fleet management company. This should bode well for the stock going forward.
Highlights from the earnings report:
The company beat earnings expectations by a penny a share, and revenue topped estimates by $20mm.
Earnings rose an impressive 36% Y/Y.
This was the fifth straight quarter of double digit growth in earnings.
Ryder expects second-quarter profit of $1.07 to $1.12 a share, compared to the analyst forecast of $1.07 a share.
4 additional reasons Ryder is undervalued at under $49 a share:
Ryder is selling substantially under analysts' price targets. The consensus price target on R by the 11 analysts that cover the stock is $65 a share. S&P has a "Buy" rating and a $69 price target on Ryder.
The stock has a forward PE of just over 10, which is substantially under the historical average of 15 times forward earnings.
This quarter marked the fourth quarter of five that the company significantly beat estimates. Consensus estimates for FY2012 are for $4.04 a share and $4.75 a share in FY2013. Based on this earnings report, I would look for these numbers to be revised up in the near future.
The stock is selling for just 40% of annual revenues, produces operating cash flow north of $1B/year and has a very reasonable five year projected PEG (1.25).
Disclosure: I have no positions in any stocks mentioned, but may initiate a long position in R over the next 72 hours.