With Abu Dhabi National Energy (Taqa) buying U.S. production assets, one wonders why they haven't made a bid for Ensco (NYSE:ESV) to garnish their acquisition smorgasbord with offshore rig operations technology.
While ESV peaked in July this year (around $64), after issuing a Q3 earnings alert towards the end of August, the stock sank to the $55 level. Q3 wasn't that bad, up only (!) 24% YOY. When expecting a 40% increase, well, maybe it is a disappointment. The real question is was the market really expecting a 40% increase? The answer is a resounding no!
In March 2007, ESV completed a $500M buy-back at an average price of around $52.50 (from memory - check). Afterwards the stock soared to $63 and no new buy-backs were announced. Then came the earnings warning and the stock sank to $55. Following was another $500M buy-back announcement. In short, ESV wants to buy as much stock as possible at the lowest possible price and for good reason.
Coinciding with the earnings warning was the revelation that leases in the Gulf of Mexico were soft, a replay made when announcing Q3 earnings. From a quick check in the Edgar database, according to ESV filings as of 10/15/2007, the following unveils;
1) Daily rig rates worldwide, excluding the Gulf of Mexico collectively generate revenue in excess of $4.4M.
2) Daily rig rates for the Gulf of Mexico collectively generate revenue in excess of $970K.
3) There is approximately $200K potential additional revenue (not net) from rigs idling or undergoing repairs and 'harder' rates.
4) There is an undisclosed amount of deferred income from two rigs, to hit the books in 2008. Currently, these two rigs are chalking up expenses, so when the income is weighed in, it is pure profit. This is a clever accounting normality that reduces profit in 2007, providing for a profit burst in 2008.
5) ESV is constructing new semi-submersibles, currently relying on jack-ups. The first semi-submersible is due to begin earning its keep in Q2 2008. Another two come on line in 2009. Once that happens, ESV will no longer enjoy the lonely orphan status and will join Transocean (NYSE:RIG) in the spotlight of 'rigging' the limelight 100+ million barrel bores.
All of the above beget the following findings;
6) Simple math; 0.2M over 5.37M in revenue does not yield an additional 16% in net earnings. No one expected 40% YOY quarterly growth.
7) Forward P/E ratio was way too low for the 40% figure both then and now.
8) Until 2009, a worse case scenario suggests another $300K for idling, assuming that Mexico's PEMEX doesn't pick up the slack replenishing dwindling production while awaiting Schlumberger (NYSE:SLB) to develop the Chicontepec region (a $1.4B contract). Also there is always the refurbish/transformation/transportation option for other locations, including the North Sea.
9) ESV has to do all of its buy-backs before Q1 2008, otherwise it is too late and the stock has already appreciated.
10) Buy low, like now and hold.
As an aside, disregard managements lowball Q4 spiel as the market is looking beyond at 2008. If the market heeds managements chatter, ESV would trade in the high 40s.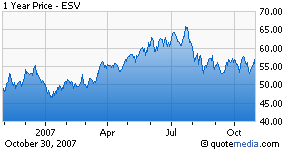 Disclosure: No current conflicts.