The first exchange-traded fund with exposure to small-cap emerging market stocks is set to begin trading today. I thought it would be wise to explore the potential benefits of exposure to this unique combination of market capitalization and geographical region.
After a quick glance into the fund, I am set to make an allocation to the WisdomTree Emerging Markets SmallCap Fund (NYSEARCA:DGS).
The fund has strong performance (based on back-tested data provided by WisdomTree) over the last one-, three- and five-year periods, outperforming both the MSCI Emerging Markets and the MSCI EAFE (international developed markets) indexes during the same timeframe. Year-to-date through Sept. 30, the back-tested index returned 36.71 percent; equally impressive are the one year return (63.26%), three year return (+40% annualized), and five year return (+43% annualized).
In comparison, iShares MSCI Emerging Markets Index (NYSEARCA:EEM) returned 54.84 percent over the last year and 37.44 percent over the last three years, while iShares MSCI EAFE Index (NYSEARCA:EFA) returned 24.87 percent and 23.24 percent, respectively, in those time periods. Investors are most familiar with these two international ETFs, pouring $23 billion into EEM and $49 billion into EFA (the entire WisdomTree family only has about $4.5B).
The following are one and three year charts graphing annualized performance (y-axis) and downside deviation (as opposed to standard deviation). Downside deviation only looks at downside volatility, while stripping out upside volatility from the more familiar standard deviation.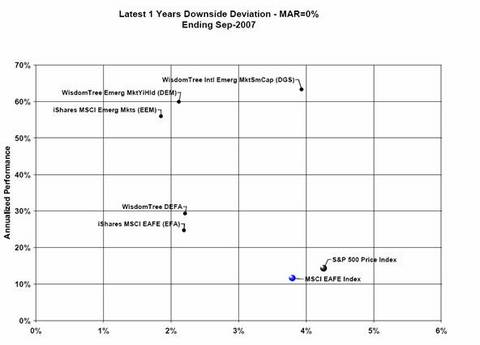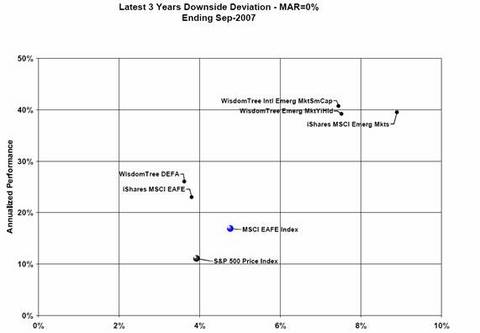 The new international small-cap ETF is highly diversified by both country and sector. It contains 369 holdings and sports an impressive dividend yield of 4.82 percent. The countries with the highest allocations are Taiwan (24 percent), South Africa (13 percent), Korea (12 percent) and Thailand (11.5 percent). The sectors with the highest weightings are industrials (24 percent), consumer discretionary (18 percent), financials (14 percent) and materials (13 percent).
The fund complements WisdomTree's line-up of fundamentally weighted indexes, and holdings are weighted based on annual cash dividends paid. While some fundamental measures vary from country to country, this metric appears to be the best way to compare fundamental metrics across broad geographic regions.
The fund's volatility (measured in the chart above using downside deviation) is on par with WisdomTree's other emerging market fund, but outpaces all of the other international funds and is nearly two times the level of the S&P 500. This serves as fair warning to the risky nature of investing in emerging markets.
As such, I recommend making a 5 percent to 10 percent allocation to this fund based on historical returns and the strong outlook for continued growth in emerging markets moving forward. Since this index has made a significant move to the upside, you may only want to buy a partial position now and look to become fully invested over the coming months.
This strategy is safe but not without risk: The markets are in the strongest six-month period of the year and -- while there may be some bumps along the way -- I expect global markets to be measurably higher come spring 2008.
To date, there is not much competition for the WisdomTree fund. After running a fund screen on Morningstar's Principia, the only funds I located were DFA's Emerging Markets Small Cap (MUTF:DEMSX) and Templeton's Emerging Markets Small Cap Fund [TEMMX]. It appears Barclays is not far behind WisdomTree, as it filed a registration for the iShares' MSCI Emerging Markets Small Cap Fund. An alternative, more diversified, approach would be to use the WisdomTree Emerging Markets High-Yielding Equity Index Fund (NYSEARCA:DEM).
For now, the time is right to jump aboard WisdomTree's Emerging Market SmallCap Dividend Fund as it pulls out of the station.
Disclosure: Kenjol clients and/or employees currently maintain long positions in EFA, EEM, and DEM.