It wouldn't be Halloween without a little fear.
Drybulk shippers were slammed Tuesday, on no apparent news. Check out three stocks that I own: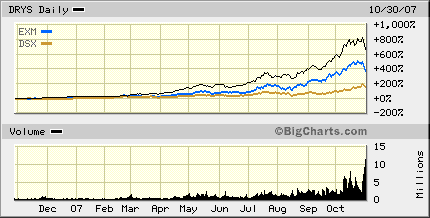 Yeah, ouch. Forbes did a good job of summarizing the possible reasons for the drop. For your convenience, here's a summary of the summary:
The Case for Fear

A dip in shipping rates.
Chinese unhappiness with high shipping rates.
Momentum investors bailing.
A Motley Fool article questioning stock valuations.
So, should you be afraid of the dip in shipping rates? Not yet--rates are near all-time highs and you can't expect them to go straight up. How about Chinese unhappiness? No--happy or sad, they need what these boats are shipping. Loss of momentum? Well, look in the mirror. If you are a momentum investor yourself, maybe you're spooked. If you've been in the sector for a while, you have big gains and hopefully took some profits on the way up. When stocks become "momentum plays," corrections like this do happen. Motley Fool? Not at all. They've been skeptical of the sector (i.e. mostly wrong) for months. Nothing has changed, not just in my opinion but also according to the analysts who cover the sector.
Taking Advantage of Fear
Losing 20% in one day isn't fun, but fear often creates inefficiency in the market. There hasn't been a great buying opportunity in the drybulk sector for months. Shipping rates may pull back further, but the supply/demand picture hasn't changed overnight. Therefore, I think this could be the moment many investors have been waiting for.
I would be careful this week because the Fed is in play and the market could be very volatile in the next few days. That said, I wouldn't be surprised to see a quick bounce back for drybulk shipping stocks. A good trading strategy should be flexible. One possible move would be to set a buy stop 5-10% above current prices. If these stocks snap back quickly and aggressively, you'll catch the upswing; if they continue down, you will preserve your cash to buy at still lower levels.
If you are too afraid to buy after a day like this, I respect that--sell until you can sleep, and perhaps consider other investments. This much is clear: a psychological event has taken place, and one side of this trade will be right and one side will appear foolish. In my opinion, those who can keep a cool head could benefit from the fear.
Disclosure: The author holds Long positions in DRYS, DSX, EXM