LDK Solar (NYSE:LDK), a leading manufacturer of multicrystalline solar wafers, served notice yesterday that they will not be pushed any further. Recently the company was the subject of allegations from a disgruntled former employee (Charles Situ) that there were improprieties concerning scrap inventories carried on the books longer than 180 days. The company was subsequently victim of a massively coordinated naked short selling [NSS] campaign resulting in a 50% reduction in market capitalization since the allegations first became public.
To date there have been three rounds of heavy short selling, each commencing within minutes of sensational headlines being released by one of several "news" organizations under a single corporate umbrella. One round of NSS actually came simultaneously with a re-post of an old article with a misleadingly new headline that would lead a reader to think new and damaging information had surfaced. While the headline has been retracted, the damage done by the NSS campaign has not. In what would have been the final chapter in the trilogy for most companies, there were multiple class action lawsuits, filed by predatory law firms, not privy to any actual information, filed in several states.
In response, LDK Solar has contracted two of the world's top law firms to handle the different aspects of this attack against them. First, in response to the felonious conduct of Mr. Situ in making public allegations concerning company inventories, and purportedly making public the private records of the company (albeit only partial records), LDK has hired the law firm of Simpson, Thacher and Bartlett, LLP. [STB] The firm is a top litigator and advisor for firms such as U.S. based private equity firm Blackrock. They were brought in by the independent directors of LDK to run the independent audit of inventories. STB in turn independently hired an unnamed Big 4 firm to perform the audit. STB will function as lead counsel for the audit.In response to the multiple class action suits prematurely filed against them, LDK has hired Latham and Watkins, one of the top 4 law firms in the United States, to handle any and all litigation that arises as a result of these suits.
The company maintains their original position that the claims of the disgruntled Mr. Situ, and therefore the suits filed in conjunction with those claims, have no merit.Given this quality of response, it would appear that LDK is supremely confident of their position. As an investor given all available information, this company appears to be a lump of coal being exposed to intense heat and overwhelming pressure, becoming a diamond before our eyes. Had the company done any less in defending themselves against this blatant attack, the residual doubt already created could have eroded investor confidence over time, driving the company to obscurity.
As it now stands, the company not only stands to emerge with a newfound credibility, but investors will be forced to consider what else LDK Solar has been telling us. According to Mr. Jack Lai, LDK will grow capacity at an annualized 100% for the next two years. New contracts in place, just in the last several weeks, will bring in an additional $2.3 billion US over the next three years in addition to already outstanding guidance. In the face of newfound credibility, we have to place credence in the margins the company is currently reporting (30.8%), making them almost twice as profitable as their nearest competitor and trading at much lower P/E. That's a $708.4 million net over three years on recent contracts alone – before their new facility is online (which will inevitably create much higher margin).
For a high growth stock in what will be a hot sector for years to come, this company is trading at a deep discount.LDK has served notice: they are substantial, profitable, and reputable and they are here to stay. The writing is on the wall for those willing to read. This company is going to weather this storm and emerge stronger with better controls in place to deal with issues like this when they arise, as they inevitably do for large fast growing multinationals. I'm not going to wait the few weeks to see how this turns out – I'm getting in now, with the fast money.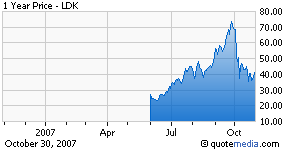 Disclosure: Author has a long position in LDK