This is part one of a series of reports on Cullen/Frost Bankers (NYSE:CFR). In this report, we will focus on the recommendation, overview, and valuation analysis of the company.
We are initiating an Accumulate recommendation on Cullen/Frost Bankers common stock based on strong deposit growth and growth in wealth management segment. Our fair value share price estimate is $65.04, approximately 13.62% above current levels. We expect continued strong net revenue growth and for the company to generate earnings per share of $3.86 a share in 2012 and to increase EPS by 9%-10% annually over the following three years.
Company Overview
Cullen/Frost Bankers is the holding company for The Frost National Bank (one of Texas's largest independent banking institutions) and its subsidiaries. Frost provides traditional banking and lending products through over 110 branches in the Austin, Dallas, Fort Worth, Corpus Christi, Houston, Rio Grande Valley and San Antonio regions. Other subsidiaries provide investment and insurance brokerage services, corporate financial advisory solutions, institutional asset management and high-net worth wealth management solutions.
Cullen/Frost Bankers' operations are managed along two reportable business operating segments; Banking and Frost Wealth Advisors (formerly the Financial Management Group). The Banking operating segment includes both commercial and consumer banking services; Frost Insurance Agency and Frost Securities, Inc. Commercial banking services are provided to corporations and other business clients and include a wide array of lending and cash management products. Consumer banking services include direct lending and depository services. Frost Insurance Agency provides insurance brokerage services to individuals and businesses covering corporate and personal property and casualty products, as well as group health and life insurance products. Frost Securities, Inc., provides advisory and private equity services to middle market companies. The primary revenue driver for this segment is net interest income, as of 2010, NII accounted for 74.6% of the Banking segment's revenue. Frost Wealth Advisors includes fee-based services within private trust, retirement services, and financial management services, including personal wealth management and brokerage services and its primary revenue is trust and investment services fees, which accounts for 93.2% of segment revenue.
Richard W. Evans, Jr. has been chairman and CEO since 1997 and has been with the company since 1971. Evans was the first CEO who was not a member of the Frost Family, who founded the bank. Patrick B. Frost, the great-great grandson of Colonel Thomas C. Frost, the founder of Frost Bank, is president of Frost National Bank (the primary operating subsidiary of Cullen/Frost Bankers).
5.5% of the outstanding stock is held by Executive Officers and directors, including 780,000 shares (1.28% outstanding) by Richard Evans and 915,000 shares (1.5%) by Pat Frost. Another 8.5% is held by Frost National Bank as a fiduciary for client investment accounts, including 5.25% held by Cullen/Frost employees as part of the employees' 401k plan.
Summary of Observations
We believe that improvement in the firm's net interest margin is achievable. The company's net interest margin of 3.81% for the Q4 2011 period is higher than the industry average, though it has declined from 3.97% in the prior year period. Cullen/Frost Bankers' gross interest margin of 3.92% is below the company's peer group's (defined by the FDIC as banks with $3 billion-plus in assets) gross interest margin of 4.37% however the bank's interest expense margin is a razor thin 0.11% vs. 0.63% for the peer. Cullen/Frost Bankers's interest expense margin of 11bp was among the third lowest percentile in the large banks peer group.
This can be explained by the low percentage of loans relative to interest earning assets. Loans only accounted for 40.5% of the company's total end of period earning assets as of Q4 2011 (down from 47.7% in Q4 2010) and provided a 5.02% average annual yield. Cullen/Frost Bankers decreased outstanding loans by 1.3% for 2011 from 2010 and increased the bank's cash and investment securities (which yielded 3.20%) by 33.85%. One way Cullen/Frost Bankers can increase NIM is to use a combination of cash on hand, bank deposits and sales and maturities of investment securities to make new loans (while maintaining prudent credit standards).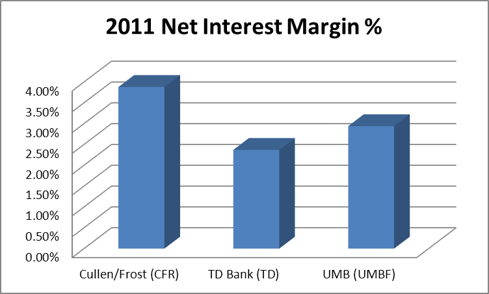 Source: Standard & Poor's Capital IQ.
During the year, Cullen/Frost Bankers held an average balance of $6.5 billion in low-risk taxable, primarily investment-grade government agency and mortgage-backed securities, which yielded 2.04%. The company's $2.2 billion of tax-exempt security holdings generated a 6.97% tax-equivalent yield. Nearly 80% of Cullen/Frost Bankers' average deposits receivable and securities are either mortgage backed securities or have a maturity of less than five years. The firm could also easily achieve NIM increases by steadily replacing maturing U.S. government/agency securities with municipal and corporate securities that offer a similar credit risk profile and higher yields to maturity. The most attractive aspect of Cullen/Frost Bankers is that this bank's net interest margin exceeds than of UMB Financial (NASDAQ:UMBF), which is one of our holdings and once of the strongest regional banks in the U.S. Both banks were able to avoid being forced to take the Treasury's TARP Preferred Stock Investment. We like that Cullen/Frost Bankers has generated about one-third of the company's total revenue stream from fee based income, which is higher than most banks, though less than the 56.6% generated by UMB Financial. Cullen/Frost Bankers has a higher return on average assets than the 170-plus per banks as determined by the FDIC from at least the last six years and a slightly higher ROE vs. UMB Financial (10.01% vs. 9.35%).
Valuation and Projections
Our $65.04 value is based on applying a 17 times price to earnings multiple to estimated 2015 earnings per share of $5.09 and discounting the terminal value back to 2012 at a cost of capital of 11%. Although Cullen/Frost Bankers' forward PE, P/B and price-to-tangible book ratios are higher than the average banking institution, we believe it is justified due to its superior franchise and strong and growing presence in fee-based businesses, particularly investment management and insurance brokerage. Also we believe that the multiple used is justified considering that the firm has grown faster than the industry and traded at a multiple of 17-20 times trailing earnings before the 2007-2009 financial crisis.
Click to enlarge image.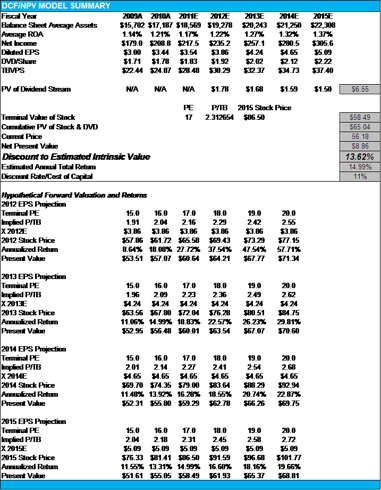 Source:Saibus Research forecasts.
We believe that the company will continue to grow its fee-based revenues faster than its net interest income. In our model we estimated that Cullen/Frost Bankers would see just under 5% annual growth in the bank's average interest bearing assets and liabilities from 2012-2015. We estimated that the firm would be able to generate an increase in net interest income of 5.5% because we feel the firm has the capacity to steadily increase the weighted average duration of the bank's holdings, as well as take steps out on the credit risk curve by reinvesting Cullen/Frost Bankers' portfolio of low-yielding U.S. government and mortgage-backed securities into higher yielding municipal and corporate issues that still offer highly rated credit quality, generating a positive yield pickup without sacrificing credit quality.
We also believe that the firm can reduce costs as a percentage of revenue by about 40bp a year due to the increased revenue in Cullen/Frost Bankers' high-productivity fee-based businesses, which should allow a greater percentage of incremental revenue to fall to the bottom line instead of being utilized to hire new employees or buy new (in)tangible assets, as well as offering higher potential profit margins and require less capital than the banking business. In particular, we expect the investment trust and securities processing fee revenue to increase by 15% annually, based on the steady investment performance of Frost's Mutual Funds, a benefit from increased market returns on client AUMs and also work to prudently expand the wealth advisory business to gain a greater share of the client wallet. Cullen/Frost Bankers could also decide to sell the asset and wealth management business to another firm that offers greater scale in the business, as the business has low capital asset requirements (average assets deployed for this segment from 2009-11 have ranged between $26 million and $32 vs. $15.6 billion and $18.5 billion for the bank in 2009-11) but requires operating scale -- and Cullen/Frost Bankers only generated a 14.2% pre-tax operating margin in this business in 2011, up from 12.73% in 2010 but down from 14.3% in 2009. To put this in comparison, the banking unit had a 24%-27.6% after-tax net income margin during the comparable time period.
In the second part of our report on Cullen/Frost Bank, we will discuss the keys to investment thesis, risks, and industry outlook.
Disclosure: We do not own CFR, we own UMBF.
Disclaimer: Saibus Research has not received compensation directly or indirectly for expressing the recommendation in this report. Under no circumstances must this report be considered an offer to buy, sell, subscribe for or trade securities or other instruments.