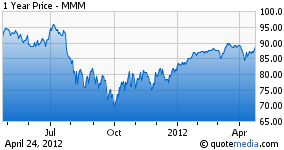 I don't envy Thulin Inge the job as CEO of 3M (NYSE:MMM). Although 3M has an enviable record of strong internal product development and consistent (if not steadily improved) execution, it seems like it's never quite good enough for the Street. The bigger question I have, though, is whether 3M needs to become more aggressive to be a more compelling conglomerate investment.
Q1 Results Good, But Arguably Not Good Enough
To its credit, 3M did a fair bit better than sell-side analysts expected. Although revenue growth was pretty modest compared to Honeywell (NYSE:HON), Dover (NYSE:DOV), or General Electric (NYSE:GE) (the industrial side, that is), it was at least still positive at 2% organic growth.
Where 3M did incrementally better was with its profitability. Gross margin was steady from last year, which was better than expectations. Likewise, 4% operating income growth is not all that extraordinary in its own right, but it was better than expected and fueled a bottom line earnings beat.
Not Too Many Surprises, But Solid Execution
Looking at the moving parts in 3M's business, nothing really jumps out as surprising. The industrial/transportation business did well (7% organic growth) with strong performance in the U.S., particularly aerospace, abrasives, and autos - pretty consistent with the feedback from the likes of DuPont (DD), Honeywell, and PPG (NYSE:PPG).
Healthcare was decent (up 2%), but stronger on the bottom line. As DuPont telegraphed with its own earnings, revenue in display/graphics and electronics was weak.
3M Absent From Some Key Markets
When comparing the growth momentum of 3M to the likes of GE, Honeywell, Eaton (NYSE:ETN), and Dover, 3M clearly comes up short. I argue that the "why" is quite important and has a real bearing on the long-term future of the company and stock.
If you look at where these comparables are getting their strength, its from markets like aerospace, power, and energy (oil and gas). 3M's participation in those markets is pretty minimal. Where GE has been spending aggressively to build an oil/gas business and expand its power generation business, and Danaher (NYSE:DHR) expanded its healthcare business with the Beckman deal, 3M makes deals for businesses like Avery Dennison's Office and Consumer business. Maybe the Avery Dennison deal is a low-risk tuck-in with good marginal profit potential, but it brings very little growth to the party and certainly nothing transformational.
Does 3M have the corporate DNA to do better? 3M is legitimately excellent at internal product development, but I'm not sure there's any significant business segment here with exciting above-average growth prospects. The flip side of this is that the management and board of 3M may feel that the risk of screwing up a good thing with aggressive expansion outweighs the benefits of offering a more exciting growth profile.
I argue that good companies can have both, and 3M's apparent sluggishness in this regard is something investors should consider.
The Bottom Line
I'm no 3M hater; I've owned the stock for a while and it's done pretty well for me. Moreover, the company is a very good candidate for patient investors who want to own shares in a company where steady execution will translate directly into higher dividends.
That said, there are a lot of other fish in the industrial/conglomerate sea. With mid-single digit free cash flow growth prospects, I think 3M is about 10% undervalued today. At these levels, then, Eaton, GE, Illinois Tool Works (NYSE:ITW), ABB (NYSE:ABB), and Siemens (SI) are all worth at least a serious look as alternatives to 3M.
Disclosure: I am long MMM.