In mid-March, we wrote an article titled: Settlement Creates Buying Opportunity In BP. A settlement had recently been reached with the thousands of individuals and businesses affected by the Deepwater Horizon explosion and subsequent Gulf oil spill, and we believed BP's (NYSE:BP) valuation was attractive given that it was on its way to resolving many of the outstanding legal liabilities it faced.
Since that article, the energy sector has experienced a correction, with BP following suit approximately in-line with industry peers. The chart below demonstrates BP's price action over the prior three months as compared to the SPDR Energy Select Sector ETF (NYSEARCA:XLE).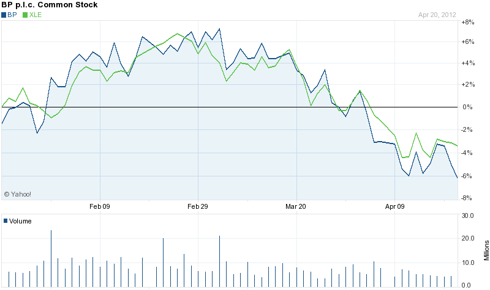 (Click to enlarge)
Chart from Yahoo Finance.
Still An Attractive Value Play
In March, we estimated BP carried a 40% discount to fair market value. We maintain this view. Our previous article highlighted the technical picture - and we encourage you to examine the chart presented - but a closer look below at several key fundamental data points also confirms in our view BP's relative attractiveness at current levels:
BP trades at five times its trailing earnings, and (not pictured, but as reported by Yahoo Finance) six times its forward 2013 earnings, giving it the cheapest P/E multiple in its peer group after Lukoil (OTCPK:LUKOY). BP has the lowest price/sales ratio in its peer group, at 0.35, rivaled only by Lukoil at 0.38, ConocoPhillips (COP) at 0.40, and Total SA (TOT) at 0.49. Petrobras (PBR) also has a low price/sales ratio at 0.61, as does Statoil ASA (STO) at 0.72.
Also of note is BP's price/book ratio of 1.18, which puts it at the lower end of the industry, bested only by state-run companies Lukoil at 0.73 and Petrobras at 0.90, as well as Transocean (RIG) at 1.12. The companies in BP's peer group that trade at comparable valuation multiples are both state-owned - Lukoil and Petrobras. State-owned PetroChina (PTR) and Statoil ASA , meanwhile, are less comparable as they trade at healthier multiples.
BP has shown positive earnings and revenue growth over the prior three years and a healthy return on equity (which helps absolve its rather low profit margin). It also trades at multiples that are well below its three- and five-year averages, implying shares may be underpriced.
Looking at dividends, BP has the third highest projected dividend yield in the profiled group, which Morningstar calculates at 4.6%, or roughly double Exxon Mobil's (XOM) 2.2% and Occidental Petroleum's (OXY) 2.4%.
Bottom Line
BP has put $37.2 billion aside to pay for liabilities associated with the Gulf oil spill, and while there are outstanding issues to be resolved and risks related to the ongoing legal proceedings, we stand by our March assertion that BP will come out of its troubles intact.
Assuming this outcome, BP looks very attractive at current levels. Its technicals paint a picture of a heavily discounted stock, while its fundamentals indicate it is trading at low historical multiples and cheaply relative to its peers. Therefore, we maintain that BP is a buy, and our twelve-month price target for the stock is $61, or approximately 45% above current share price. A 45% recovery would place BP's valuation multiples within the ballpark of their 5-year averages (and its share price close to pre-spill levels). We do, however, see upside from this target, particularly in the event of an improving macro environment or a better-than-expected legal outcome.
Disclosure: I have no positions in any stocks mentioned, and no plans to initiate any positions within the next 72 hours.