On October 17 of this year, Morgan Stanley Investment Management sold its 7.2% stake in the New York Times Company (NYSE:NYT), ending its two-year effort to "encourage" management to cut costs and become more shareholder friendly. I bought NYT just before the battle for Dow Jones erupted this year and I was hopeful that if one newspaper company with a dual class shareholder structure could be taken over, then perhaps another one could either be taken over or at least take steps to help all shareholders - not just the controlling ones. I felt somewhat comfortable knowing that despite the company's weak fundamentals (the newspaper industry is in secular decline according to most analysts out there), the Morgan Stanley portfolio manager would be doing all in his power to pressure the company to consider his recommendations.
In the wake of his apparent capitulation, we are now left to consider NYT on its merits alone. Let's take a look at the stock's:
1) performance
2) valuation
3) potential triggers for revaluation.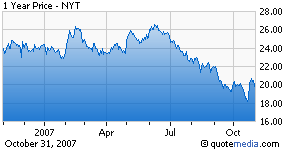 Performance. For 2007, the stock is down about 14% versus the S&P 500 which is up a little more than 8%. Normally for me, this kind of performance is attractive. I rarely buy stocks that have beaten the market (I expect them to do that after I buy them) and I tend to look at stocks that have underperformed. Over the last four years however, NYT's underperformance is more striking; the stock is down over 57% from the end of 2003 versus a market that has risen nearly 40%. This kind of weak performance over a longer period of time, in my opinion, calls into question whether or not the stock can ever be a significant outperformer again.
Valuation. The stock trades at roughly 3 times book value, which is on the low side for media companies, but is not necessarily a huge bargain. The stock's P/E is about 18.8x the consensus EPS estimate for 2007 and around 16.6x the estimate for 2008. Over the last four years, the stock's P/E has ranged from 17x to 26x, suggesting that the current valuation is right at the low of the range. Why the stock would ever trade to the high end of that range is a great question, one for which I do not have a great answer. Still, the valuation is clearly on the cheapish side and I like that. The dividend yield of 4.6% is also as high as it's been in long time.
Revaluation. Soon after Morgan Stanley Investment Management sold its stake, the company reported better-than-expected third quarter results. Revenues grew, operating margins expanded and costs were well contained. Although the company admitted that the operating environment remains challenging and ad revenues are still hard to predict, I was encouraged by these results. Often we look at an underperforming stock and quickly conclude that no good news will come from it. So, I think it possible that NYT's management will be able to reduce costs, figure out how to monetize its peerless print content on the Internet and find ways to increase advertising as the shift to the Internet continues. If this happens, I can see a modest improvement in the valuation. For a more dramatic shift in the stock's value, I think we need to see some kind of corporate drama as happened to Dow Jones. To date, the controlling shareholders have been rock solid in their determination to leave everything just as it is. I have no reason to believe otherwise.
However, there was a time in the not-too-distant past when "content was king" and a company like NYT was valued as a crown jewel. These days the portal companies and enabler companies are the ones pulling in all the dough. I think we all know this. In the market the big surprises often come from things we don't know.
I think it's possible that the stock will trade back to its 4-year average P/E of roughly 20x if the US economy avoids recession and the company doesn't shoot itself in the foot. On the consensus 2008 EPS, that implies upside to $24 or so, roughly 20% above the recent level. With the dividend, I can see total return approaching 25%. I have seen some analysts with price targets as high as $28 based mostly on higher-than-consensus EPS estimates.
Conclusion. Although the company operates in a tough industry and the stock has been a huge disappointment for many years, I can create plausible scenarios for a modest re-rating of the shares, with the possibility (slight as it may be) of some corporate drama which might lead to a sharper rise.
Disclosure: As of this writing, NYT represents about 6% of my portfolio.