China Auto Rental Holdings Inc. (CARH), China's largest car-rental company, expects to sell 11 million American Depositary Shares (ADS) at a price of $10.50 to $12.50 each in its initial public offering. It is expected to be listed on the Nasdaq on April, 26. In my opinion, CARH has an excellent growth prospect, especially in view of the coming high-speed rail (HSR) era, but its IPO price is way too high.
CARH may be unknown to most American investors, but its sister company Lenovo is well-known here. That fact that Lenovo's parent company Legend Holdings being CARH's major shareholder is CARH's most important attraction. The reason behind Legend's investment in the low-tech car rental business gives a hint on CARH's growth potential.
Legend Holdings invested into CARH in mid-2010, less than one year after China's first long-distance HSR route, the 968km Wu-Guan line (Wuhan in central China to Guangzhou in southern China) started service. I put these two events together because Chinese tourism industry has predicted that the arrival of HSR will result in a new way of domestic travel - "train plus car", on contrary to "plane plus car" in the US. The car mentioned here is of course rented car. The website of CARH also describes its mission as "to promote green travel and a new type of car consumption culture".
To estimate the car rental market potential to be provided by HSR in China, I take Japan's Shinkansen HSR (from Wikipedia) as an example, and found that each km of Shinkansen carried 147, 500 passengers last year. With this as the base of projection, when China completes its present HSR buildup by 2020, it would have a network of 18,000 km of HSR and should carry 2.655 billion passengers annually. Even if only 1% passengers rent cars after taking HSR, there will be a market of 2,655 million rental car trips annually!
Click to enlarge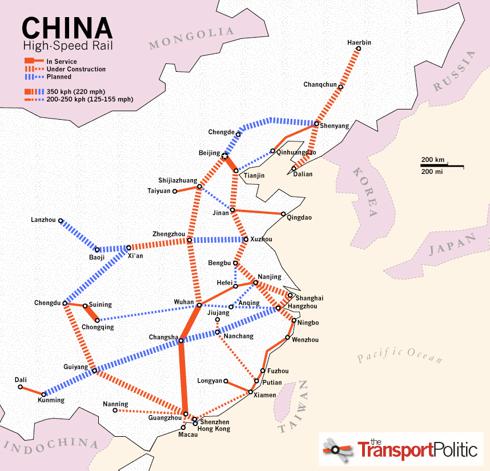 Note: All the HSR routes planned or under-construction will be in service by 2020
China's rental car market for sure is the fastest growing in the world, partly because of China's booming economy and partly because the car rental market is just in the beginning phase. But is it the right time to invest in the largest player CARH?
The answer is No. Firstly, CARH's IPO offer price is too expensive compared with its US counterparts. I compare CARH with Hertz (NYSE:HTZ) and Avis (NASDAQ:CAR) in Enterprise Value Multiples (EVM) and Price/Sales Ratio (P/S). CARH's EVM and P/S are 26.62 and 6.88 respectively. HTZ's ratios are 3.07 and 0.74, while CAR is 1.61 and 0.27.
We know that the US car rental market is mature and has been stagnant since the recession of 2008-09, while China's economy is expected to expand at least 8% for the next two decades and its car rental market is just beginning. It is then reasonable that CARH's EVM and P/S are 4-5 times that of its US counterparts. But the actual figures are way too high.
| | | | |
| --- | --- | --- | --- |
| | China Car Rental (CARH) | Hertz (HTZ) | Avis (CAR) |
| EVM | 26.62 | 3.07 | 1.61 |
| Price/Sales | 6.88 | 0.74 | 0.27 |
Secondly, car rental is still a young industry in China with very low entry threshold-any company with a telephone and a few dozen cars can start a car rental business. Any big enterprise of any business can make a big bang in the industry if it has an easy access of funds. It is no wonder that according to Roland Berger, there were over 10,000 car rental companies in China with an average fleet size of no more than 50 vehicles as of December 31, 2010. At the same time, the aggregate market share of the top five car rental companies (with CARH being the largest) was only 9%.
Due to the reasons cited above, any major consolidation of the rental car industry is very unlikely in the foreseeable future. Even CARH itself confessed that it may not be profitable in the near future. For the year ended December 31, 2011, CARH reported its net loss widened to CNY151.4 million, or $24.1 million, as higher expenses offset an increase in revenue. It recorded revenue of CNY775.8 million, or $123.3 million.
CARH may be a better investment target and able to consolidate its market leadership if it meets two criteria: (1) it has signed an exclusive partnership agreement with the Railway Ministry of China on HSR-car rental linkup; and (2) its market share has reached the 20% threshold.
Disclosure: I have no positions in any stocks mentioned, and no plans to initiate any positions within the next 72 hours.