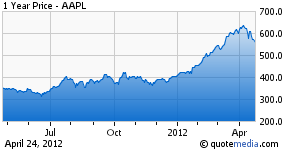 The Street consensus for Apple (NASDAQ:AAPL) is that it will sell around 30.5 million iPhones, and the iPhone represents around three-fourths of Apple's gross margins. This generally means that if Apple misses the iPhone sales number, the likelihood is high that it will miss earnings estimates as well.
Since Verizon (NYSE:VZ) and AT&T (NYSE:T) have already reported their iPhone sales, and these stood at 3.2 million and 4.3 million, respectively, versus 4.2 million and 7.6 million in the previous quarter, we already have a significant part of the universe reporting iPhone sales below expectations. Indeed, these two carriers represented 31.9% of the 37 million iPhone sold in the previous quarter. If they were to somehow be a representative sample for this quarter, then iPhone sales would be running at a rate of just 23.5 million units. Granted, there were new markets and sales of subsidized phones were initiated in China during the quarter, but as it stands the gap between these 23.5 million units and the 30.5 million units consensus is just too big for those new markets to compensate for the number.
And worse still, the unpublished expectations - the whisper numbers - were, until recently, racing ahead of the 30.5 million units consensus.
So, in short, with the iPhone representing three-fourths of Apple's margins and with it seeming likely that the iPhone sales in general will miss the street consensus, it seems highly likely that Apple will miss the $10.06 EPS estimate this time, even though the estimate already incorporates unfavorable seasonality (it's down from the $13.87 EPS Apple reached the quarter before).
Disclosure: I have no positions in any stocks mentioned, and no plans to initiate any positions within the next 72 hours.