Thankfully, we now live in an on-demand world. After decades of the media consumer getting shafted at the hands of cable, satellite, sports, entertainment and telecommunications conglomerates, we now hold the cards. Rarely do we face the predicament of needing to be somewhere at a certain time to see or hear some event live.
There's nothing worse than two NHL Playoff games that start at the same time. Back in the day, I had no choice. I watched one and taped the other on a clunky VHS tape. There was a problem with this approach. While watching the live game, I would not be able to avoid what was happening in the game I was taping. Those days are gone. I just DVR both of them, use that time to work or hang with my family and zip through both games later in the evening in less than three hours total.
I face a similar sort of conundrum today. It's the type of "problem" only an investing geek would care about.
Apple (NASDAQ:AAPL) reports earnings today and hosts a conference call at 2:00 p.m. PT. Relatively unknown Rogers Communications (NYSE:RCI) also releases quarterly results today. As luck would have it, Rogers will conduct their call at 2:00 p.m. PT as well. As media savvy as the Canadian giant is, they certainly botched this one. Everybody knows that you do not schedule your program at the same time as the ratings king!
Back in the day, I would have had to have a telephone receiver to each ear to catch both reports. Or I would have had to settle for a transcript of one or the other. While I love transcripts, there's nothing like hearing the call. You can pick up a lot when you listen to a CEO or CFO speak. In fact, every shareholder or prospective investor should be listening to every call a company they own or might own puts on.
Thanks to the beauty of on-demand and the streaming Internet, I can listen to one call live, stop down for a cup of tea and then catch the replay of the other call. Just as I usually opt to watch Canadian hockey teams over American ones, I will tune into RCI's call live and catch AAPL's on Memorex.
Call me unAmerican. Call me a hoser. I can take it, eh.
Frankly, I just think the Rogers call will be a heck of a lot more stimulating than Apple's.
It's rare that this happens, but I actually agree with notorious Amazon.com (NASDAQ:AMZN) bear Paulo Santos, who writes ahead of Apple's report:
So, in short, with the iPhone representing three-fourths of Apple's margins and with it seeming likely that the iPhone sales in general will miss the street consensus, it seems highly likely that Apple will miss the $10.06 EPS estimate this time, even though the estimate already incorporates unfavorable seasonality (it's down from the $13.87 EPS Apple reached the quarter before).
Santos connects Verizon (NYSE:VZ) and AT&T's (NYSE:T) comments on iPhone sales activity to his prediction of an AAPL miss. As much as I like Apple and often take exception with Santos, re: AMZN, I have to agree.
Miss or not, do not expect the blowout performance we saw last quarter. And this sets up what will turn out to be a defining moment for Tim Cook. There's no question, if AAPL misses or disappoints in some other way, he will handle it smoothly and like the pro that he is. And there's no better CFO on a conference call than Peter Oppenheimer.
That said, the allure of "one more thing" is gone; Apple will need to follow up the device it refuses to call iPad 3 with something equally as exciting. It sounds strange to say, but between iPhone 5, the possibility of a mini-iPad and iTV, 2012 might be a make or break year, at least with regards to Apple's dominance and its stock price.
North of the border, we could be in for some excitement on Rogers' call. The company faces the same types of pressures as telcos in the States do, ranging from battles for spectrum to the increasing costs of securing new customers. They also reap similar rewards, such as rapid smartphone adoption and exponentially rising data use.
But, there's so much more to Rogers' story that makes it equally as appealing and exciting, if not more so, than anything happening in the United States. As I have detailed in several Seeking Alpha articles, Rogers, along with BCE, Inc. (NYSE:BCE), not only dominates the telecommunications space in Canada, it is building a sports, entertainment and media empire.
What's really incredible (OK, maybe not) is that, even in Canada, nobody seems to care. Scour the business section of the Globe and Mail and you'll be hard-pressed to find any mention of Rogers, but you'll find Apple at the top of the list: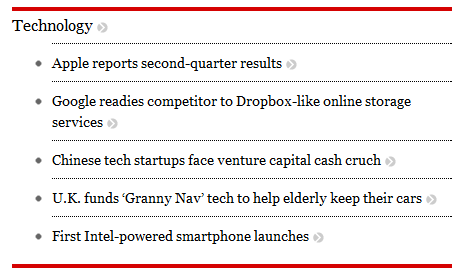 I might be the only one listening to the call this afternoon, but I hope to hear Rogers' executives provide some color on the process of closing their joint deal with BCE to buy Maple Leaf Sports and Entertainment (MLSE). Investors across the continent are underestimating the magnitude of this multi-platform powerhouse in the making.
I will make a prediction of my own. Tomorrow morning when the market opens, RCI will be up, AAPL will down and, for good measure, the Florida Panthers will have advanced to the second round of the hockey playoffs.
Rocco. Limb. Limb. Rocco. Nice to meet you.