By Paul Carton
Heart disease is the number one killer of U.S. women, with 500,000 moms, grandmothers, sisters and aunts losing their lives annually.
And yet, ChangeWave's August survey of 208 doctors on Women's Health issues reveals that weight concerns drive more women to their offices than heart disease – which ranked well behind in 6th place among women 50-and-over.
According to doctor respondents, the most commonly reported health concerns among their female patients 50-and-over are Obesity (46%), Breast Cancer (41%), Arthritis (35%), Menopause (29%) and Osteoporosis (25%).
Here's how women 50-and-over compare with women-under-50, when it comes to their top health concerns: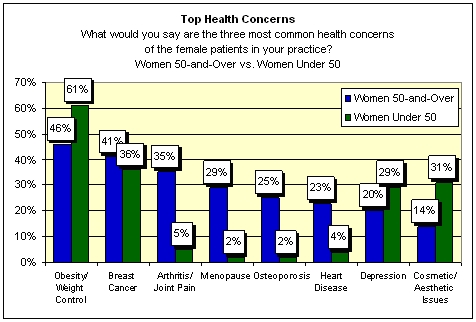 Among other things, the chart shows Cosmetic/Aesthetic issues are far more important to the younger-than-50 set, while Arthritis/Joint Pain is far more important to their 50-and-over counterparts.
Top Medical Products for Women
In line with the strong emphasis on appearance, doctors rank Cosmetic Products/ Procedures (16%) as the number one women's medical product with regards to gaining market share over the next 12 months.
In commenting, doctor BIG97721 writes, "Cosmetic laser procedures appear to be effective, and the demand for anything perceived as useful in the fight against aging skin is huge." Doctor JBU95960 adds, "Laser varicose vein treatments are now reimbursed by Medicare and most insurance companies. Although not specific for women, the majority of patients are female."
The HPV Vaccine (14%) and Digital Mammography (11%) also ranked second and third respectively in terms of gaining market share over the next year.
Other Women's Health Tests and Treatments
Of the 10 million Americans estimated to have osteoporosis, eight million are female.
So we asked doctors to tell us which tests and treatments they believe will have the most momentum in their practices over the next 12 months.
DEXA (Dual Energy X-Ray Absorptiometry) ranked as their top diagnostic test for osteoporosis, followed by MRI (Magnetic Resonance Imaging).
Doctors also believe Boniva (Roche Pharmaceuticals (OTCQX:RHHBY)) is the osteoporosis treatment that will have the most momentum in their practices in terms of recommendations over the next 12 months. In addition, Actonel (Sanofi-Aventis (NYSE:SNY)) appears to have momentum going forward.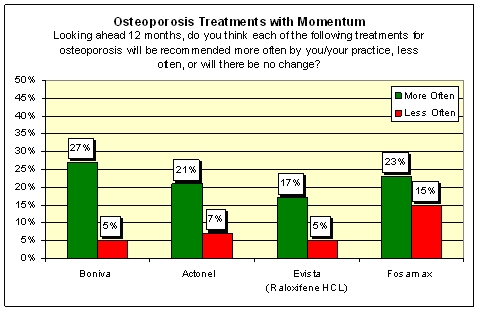 Another Women's Health area we focused on is mammography procedures – where doctors report that while they most recommend breast ultrasound to diagnose breast cancer, they believe Contrast MRI has the most momentum over the next 12 months.
As Doctor STR52545 writes:
The evidence is starting to mount that more and more patients need breast MRI, and a specific coil has to be added to an MRI of 1.5 Tesla or better to add this function. Companies that make and sell these breast coils are going to see a steady rise in sales.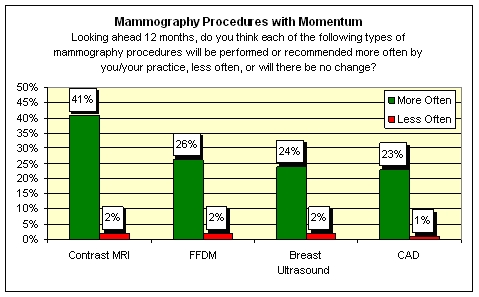 FFDM (Full-Field Digital Mammography), Breast Ultrasound and CAD (Computer-Aided Detection) also look strong going forward.
During 2008, we will continue to focus on women's health trends. Will extra pounds still weigh as heavily on women's minds next year? Will the popularity of cosmetic procedures continue to grow? Will doctors continue to shift from Breast Ultrasound to Contrast MRI to diagnose breast cancer?
Stay tuned to find out.
Paul Carton co-wrote this article.
-----------------------------------------------------------------------------------------------------------------------------------------
This article summarizes the results of a recent ChangeWave Alliance survey. The Alliance is a research network of 11,000 business, technology and medical professionals who spend their everyday lives working on the front line of technological change. For more info on the ChangeWave Alliance, or if you are interested in joining, please click here.