MasterCard Incorporated (NYSE:MA) is a global payment solutions company that provides a variety of services in support of the credit, debit and related payment programs of nearly 25,000 financial institutions. Through the Company's three-tiered business model as franchisor, processor and advisor, it develops and markets payment solutions, process payment transactions, and provide consulting services to its customers and merchants.
The Company manages a family of payment card brands, including MasterCard, MasterCard Electronic, Maestro and Cirrus, which it licenses to its customers. MasterCard's general purpose card brands include MasterCard, Visa, American Express, JCB, Diners Club and Discover. MasterCard generates revenues from the fees that it charges its customers for providing transaction processing and other payment-related services (operations fees), and by assessing its customers based on the dollar volume of activity on the cards that carry its brands (assessments).
FUNDAMENTALS:

Plastic payment providers such as Mastercard are a virtual money tree in that they make money on every transaction out there, with very little change in the margins. It's not a perfect world though. Lawsuits from large merchants are a constant threat to the profit machine, as Mastercard saw in 2003 when it lost 2.90/share after large settlement costs.
However, since then the company has been able to avoid large legal costs and returned to profitability in 2004 with earnings of 1.76 share which rose 34% in '05 to 2.35/share, 45% in '06 to 3.41 and is expected to rise another 46% here in '07 (but those estimates need to be revised - looks like earnings will end up being closer to 55 - 60% higher over '06 when it's all said and done).
So there you have it. Three years in a row of accelerating earnings growth and over the past year revenue growth has been picking up. With net margins (19%) and ROE (28%) spiking over the past year this is clearly a company hitting on all cylinders.

TECHNICAL:
Mastercard was certainly the headliner yesterday with a 20% surge out of a cup with handle base to new all time highs. It's too bad it couldn't breakout like this AFTER the Fed announcement because I decided not to initiate any new entries so may have missed out on a good entry point in what will be a great core holding in any portfolio. That's OK.. nothing wrong with staying disciplined. If you didn't catch this one at the open and are waiting for an entry like I am, I'd look to start nibbling at 185 or lower with a small position and then add to a long term position along the way.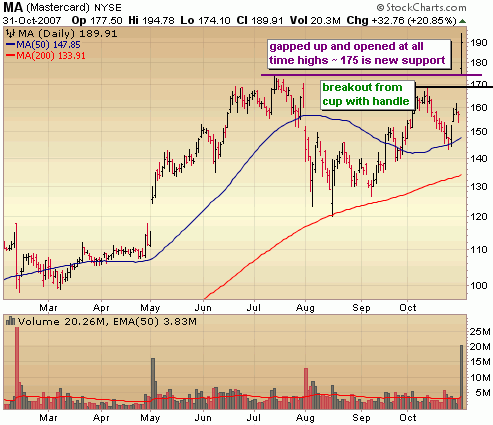 Full Disclosure/Disclaimer: The stock of the day is by no means a buy recommendation. Please do your own research and make a personal decision based on your own tolerance for risk. I currently do not own a position in Mastercard.