A little over a year ago, there were high expectations in the Niobrara. Samson Oil and Gas (NYSEMKT:SSN) entered the spotlight with what was thought to be a Bakken-like play. It would seem every unconventional play would want to be Bakken-like, especially if it had Niobrara-like costs. Chesapeake (NYSE:CHK) and Marathon (NYSE:MRO) were willing to pay top dollar for this acreage. I will now go over the reasons why this area is attractive.
Most investors do not understand that the Niobrara is a fragmented play. By this I mean it is not consistent throughout, but rather an area of specific hot spots. The natural fracturing has some to do with this, but we can expect inconsistent results. In the map below, you can see the types of production to be expected from the Niobrara, with Silo Field being oil prone and Wattenberg Field a mixture. Samson's acreage is in the Silo Field area, and Wattenburg Field is to the south.
Click to enlarge all images.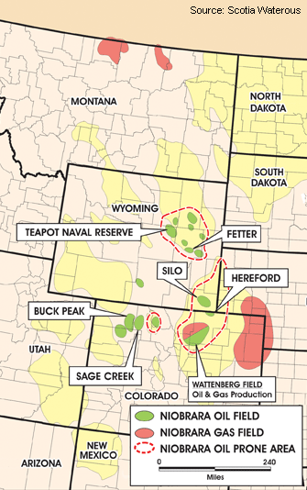 Samson's Goshen County acreage was a surprise as most didn't believe this play was economic this far north. Instead, this acreage happened to be on a resistivity anomaly. There are some questions about Samson's acreage as there have been difficulties in production. It's been rumored that Chesapeake has offered its entire acreage for sale. If this is true, Samson got a steal of a deal for its acreage that CNOOC Ltd. (NYSE:CEO) paid $4,150/acre in a joint venture with Chesapeake. The fact that Samson took these proceeds to purchase (in my opinion) much better acreage in Montana might have been one of the better moves of this past year.
Samson has 18,000 acres north of Silo Field in Goshen County. Its completion method uses 15 stages and 4,500-foot laterals. This conservative type of completion is fairly normal given the play is new. Production problems have nagged Samson, but this is seen a lot in smaller oil producers getting comfortable in a new play. Its Defender well experienced this, but had a good IP rate of 288 Bo/d once production was initiated. On a more positive note, seismic processing shows an even better area to the west, so there is uncertainty as to where the next well will be drilled. This acreage is not only prospective the Niobrara, but also the Permian/Pennsylvannian.
Samson's Spirit of America well also has experienced some problems, but a re-drill is currently scheduled. Expected EURs (Estimated Ultimate Recovery) for these horizontal Niobrara wells are 300 MBo and 200 MBo for the Permian. It is thought these two pay zones could possibly be drilled from the same location, decreasing costs. Current expectations are for 320-acre spacing for the horizontal Niobara and 40-acre spacing in the Permian, although 20 and 160 can conservatively be expected. Samson has been frustrating, as it has been plagued by production issues, but has economic acreage. It will be interesting to see what is ahead for this company.
Marathon, like Chesapeake, paid a premium for its acreage north of Silo Field. Unlike Chesapeake and Samson, it has had much better well results. At this point we are waiting on Corn Creek #1 to start production. This should give an idea of how good Marathon's acreage is in Wyoming. Its Colorado horizontal Niobrara wells have had results from 215 Boe/d to 730 Boe/d, with respect to IP rates. Marathon is using two rigs in the play, as both its Eagle Ford and Bakken acreage are taking precedence. It has plans for 17 to 24 wells in 2012 and have six waiting on completion. It will continue to focus on Weld County, but should de-risk the Silo Field area as well. Well costs are just $4.3 million with EURs of 250 to 300 MBoe.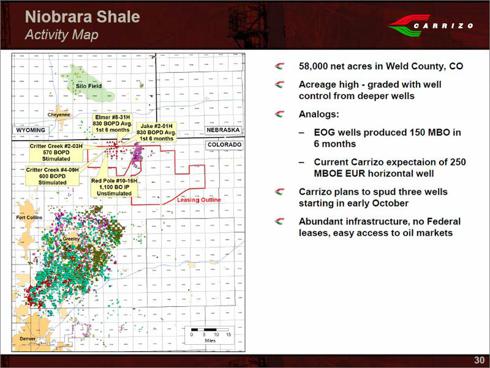 The picture above shows production from wells between Silo and Wattenberg Fields. It proves production increases to the south. SM Energy (NYSE:SM) has been performing well in the northern D-J Basin. Early in 2010, #1-19H Atlas was drilled 8,000 feet vertically and 4,000 feet horizontally for an IP rate of 1700 Bo/d. The Atlas well is in Laramie County, Wyo. Its Polaris well had a seven-day IP rate of 950 Boe/d. A more recent completion in north Silo Field produced 800 Bo/d. It has 25,000 net acres in Wyoming's D-J Basin. SM Energy has done very well in the Niobrara, but has warned this play can vary significantly from one well to the next.
Bill Barrett (BBG) has 33,400 net acres in the D-J Basin. 18,600 net acres are in Silo Field with the remaining in Wattenberg Field. It has production of 800 Boe/d and completed five vertical wells in Wattenberg Field. Bill Barrett is more interested in its Colorado acreage as economics are better.
I will be covering more names in this area in future articles. There are several conclusions to draw from activity in both Silo and Wattenberg Field, including the Wattenberg extension area. The first is that Wattenberg has been quite successful based on decent production, but more importantly low costs. Silo Field has not proven as good, but we are very early, and none of the bigger players are saying much about its results. Current expectations have 4,500-foot laterals producing IP rates in the 250 to 400 Bo/d with EURs of 300 to 350 MBoe.
Disclosure: I have no positions in any stocks mentioned, and no plans to initiate any positions within the next 72 hours.
Disclaimer: This is not a buy recommendation.