Natural gas (NYSEARCA:UNG) entered the injection season with the highest inventories on record. This created fears of storage exhaustion and a deep plunge in natural gas prices, also helped by a very mild winter.
This incredibly low natural gas price, in turn, meant that natural gas became cheaper to use in electricity generation when compared to the usual baseload fuel, coal (NYSEARCA:KOL). Unsurprisingly, this lead to massive dispatch switching from one fuel to the other, producing statistics such as January's 24.5% plunge in electricity generated by using coal, versus a 22.5% increase in usage of natural gas for the same purpose.
But now, what do these developments mean for the rest of 2012, regarding natural gas? I have already stated that given several market and physical dynamics, 2013 might produce a surprise. However, seeing the incredible increase in usage with natural gas to generate electricity, I feel compelled to attempt to quantify whether we might be on the verge of surprise even during 2012. To understand what might be in store, I will try to estimate the rest of 2012's natural gas production and consumption patterns and see what those might imply.
Data Used
EIA, Natural Gas Gross Withdrawals and Production
EIA, Natural Gas Consumption by End Use
EIA, U.S. Natural Gas Imports by Country
EIA, U.S. Natural Gas Exports by Country
Assumptions, Production
Given that dry gas production seems to have stagnated just below 65 bcf per day, as can be seen in the EIA chart below; that natural gas rigs have been falling for a while and shale wells deplete at as much as a 80% rate in the first year. By the end of 2011 natural gas production was already at the levels it stands today, near 65 bcf per day. Given all this, I modeled production increases for natural gas on a sliding scale taking year-on-year growth rates from the present 5.7% in the latest weekly numbers, to 0.1% in December 2012. These rates are generously optimistic. It's actually probable taking into account what I said before, that the growth rate in production will turn negative before the end of the year.
(Click to enlarge)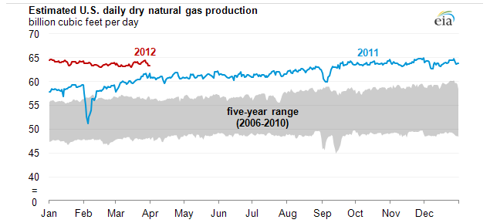 Assumptions, Consumption
I took different assumptions for each end-user demand component. These were:
In demand for electrical power generation, I considered that the present dispatch switching, which is making for 20-50% increases in demand for natural gas, would continue throughout 2012. I used a 25% growth rate over 2011 numbers for May, June, September and October; a 20% growth rate for July and August taking into account that capacity is strained in the hotter summer months, and a 15% growth rate in November and December 2012 taking into account that there was already some substitution taking place during 2011, by then. Keep in mind that these are conservative numbers - natural gas would be showing even steeper consumption increases right now if the weather hadn't been as warm during winter.
In demand by the commercial sector, I considered a drop of 5% during April, and flat over 2011 for all the other months except for December 2012, where I used the consumption from December 2010. The reason is that the usage by the commercial sector also has a significant heating component, so the December 2011 drop in usage would only be replicated in a repetition of the record warm winter temperatures 2011 saw, which is unlikely.
In demand by the residential sector, I used assumptions similar to the commercial sector, given that the residential demand is also mostly dictated by heating demand.
In demand by the industrial sector, I considered an average increase in demand of 3.9% per month, over the homologous 2011 periods. This increase is similar to what was observed during 2011 over 2010, and takes into account that there are more industrial activities where natural gas is a feedstock and thus sees increased usage when priced lower - space heating is less of factor (though still present).
Regarding demand for transportation, I used 2,900 mcf per month, consistent with the kind of increases being observed in the last few years. This end usage is still mostly a rounding error.
For lease and plant fuel I used a 120,000 mcf/month level, which is conservative as here too there's an uptrend in place.
For pipeline and distribution use, I used the consumption values from 2010 even though the differences to 2011 were rather minimal. This should vary with overall consumption, and given that 2012 from May onwards should beat 2011's, these values end up being conservative.
Finally, I used a net 140,000 mcf per month in net imports. Imports have been on a downtrend due to prices, and exports have been on a uptrend for the same reason, so again, the estimate is conservative.
The Outcome
Using the data and assumptions above, we get the following results for the months from May 2012 onwards:
(Click to enlarge)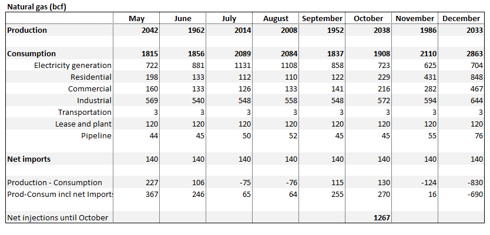 There are several important observations to be made from this table:
The increased demand from dispatch switching in electricity generation really eats up the increased production from the shale revolution. Not only does it do so, but it might be underestimated in this analysis, because of the distortion the unfavorable weather creates (the growth rate in natural gas usage would probably have been even greater under normal weather).
The natural gas production increase year-over-year is now disappearing because of the drop in rig counts. This happens against a backdrop of increased usage and thus hastens equilibrium in the market. Equilibrium will naturally be found at a higher price, because the rigs started going away at a higher price as well, and will require a higher price to come back.
The impact of lower or stagnated production against increasing demand is such that excluding the net imports, it's even likely that net withdrawals would result under a regular summer. With a hot summer - not modeled here - it would be likely that we'd see net withdrawals considering imports. Indeed, given the week-to-week variation in all the variables, such might happen even under a regular summer.
Finally, this model, optimistic in its production projections and somewhat pessimistic in demand, still sees only a 1267 bcf net injection taking inventories to around 3800-3850 bcf at the peak of the injection cycle, far from the 4100-4400 that are considered the demonstrated and theoretical storage capacities. So there's not only a good chance that storage capacity won't be exhausted, but also a chance that the market will be surprised by how little gas will be injected (though at the start of the cycle there can still be a good deal of injection).
Conclusion
Due to the incredible impact the dispatch switching of coal-fired generation for natural gas generation is having on increased natural gas usage, as well as the impact the low prices are having on drilling for natural gas, the market might come into equilibrium sooner than previously expected, so natural gas prices recognizing this reality might have significant upside even before the end of 2012. 2013 now seems certain to have higher prices as well, something I had already speculated on before. Obviously higher prices will alleviate both of these developments, leading to less coal substitution and to a resumption in drilling - but still this implies an equilibrium at higher prices.
Given this conclusion, I took a small long position in natural gas October 2012 call options at the $2.50 strike.
The implications for coal stocks such as Peabody Energy (NYSE:BTU), Alpha Natural Resources (ANR), CONSOL Energy (NYSE:CNX), Arch Coal (ACI) and James River Coal (JRCC) depend on how much natural gas moves. The rise in natural gas prices might not be enough to impact coal substitution or prices significantly (anything less than a 40% pop doesn't change the equation much). Still, if a coal panic doesn't happen in the next two months, the sector should be broadly safer from there on.
The implications for natural gas producers are on the whole more directly positive as natural gas prices are predicted to move up, though natural gas producers heavily reliant on shale gas, such as Chesapeake (NYSE:CHK), might have trouble with the depletion rates.
Disclosure: I have no positions in any stocks mentioned, and no plans to initiate any positions within the next 72 hours.
Additional disclosure: I am long Oct $2.5 NG options on futures.