Merck & Co (NYSE:MRK) is due to report earnings before the opening bell on April 27, 2012. Below we can see the results of Merck & Co over the last few earnings periods.
Who They Are:
Merck & Co., Inc. provides various health solutions through its prescription medicines, vaccines, biologic therapies, animal health, and consumer care products. The company was founded in 1891 and is headquartered in Whitehouse Station, New Jersey. Merck & Co trades an average of 13.2 million shares per day and has a marketcap of $116.5 Billion.
Book Value: $17.93
Float Short: 0.53%
What To Expect:
According to Zacks, on average, 14 analysts are expecting the same in earnings as the last quarter of $0.97. The reporting quarter's estimated mean earnings are $0.97 per share. The latest analyst estimates are coming in between $0.95 and $0.99 per share.
Recent Stock and Valuation Performance:
The current trailing twelve months P/E ratio is 10.1. The forward P/E ratio is 10.07. In the last month, the stock has decreased in price -1.01%, with a change from a year ago of 12.43%. When comparing to the S&P 500, the year to date difference is -6.61%. The short interest is relatively low at 0.53%.
Here are the last few quarters to get an idea how well they perform compared to estimates:
Click to enlarge.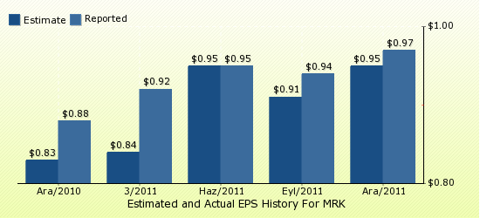 Reported earnings per share compared to the mean estimate. Differences are rounded.
Disclosure: I have no positions in any stocks mentioned, and no plans to initiate any positions within the next 72 hours.
Disclaimer: Robert Weinstein uses information believed to be correct, but is not guaranteed and is not independently checked for accuracy You may wish to use this article as a starting point of your own research with your financial planner.