How do you judge whether a company has a successful R&D program? Number of patents? Increasing market share? Inventing exciting products?
None of the above. A great R&D team creates products that drive profits for years to come. Take Apple (NASDAQ:AAPL), perhaps the most innovative company on the planet. From a shoe-string R&D budget came the iPod, iPhone, and iPad. Despite spending far less than Cisco (CSCO), Microsoft (MSFT), or Oracle (ORCL), Apple has consistently delivered greater yearly revenue and earnings growth. Apple gets more for less.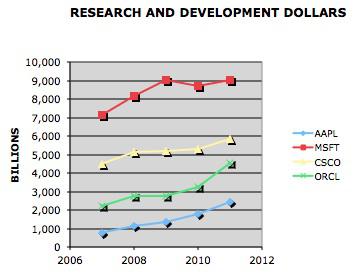 (Data courtesy of Morningstar.com)
Today's bench work, future profits.
Inventing great products takes time. Money spent in the lab doesn't show up in the bottom line right away, maybe not for many years, maybe never. Investing in R&D isn't for those who seek instant gratification.
That's why I've set up a graph comparing Apple's operating income to its lagging 2- and 3-year R&D expenses.
Apple has been getting a big bang for its R&D bucks. Moreover, those R&D dollars are becoming more productive. A dollar spent in the lab in 2008 and 2009 is associated with 2011 operating income of $25 and $31. A dollar spent in 2003 and 2004 is associated with 2006 operating income of $5.
Over the last 6 months, Apple generated $40 for every $1 spent in R&D 2 years ago, $52 for every $1 spent 3 years ago. Who said Apple's years of innovation are over? Apple has spent $1.6 billion in R&D during the last 2 quarters, not far from its 2011 total year budget.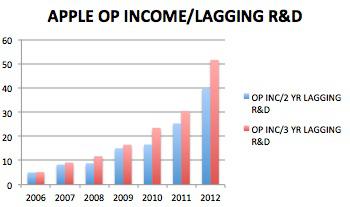 (Note: 2012 is Q1-2, 2006-2011 full years.)
Not everybody leverages their R&D.
Compare Apple to Microsoft. Microsoft has struggled to leverage its R&D: Over the last 8 years, a buck spent in R&D translates into $3 in operating income two years later. Microsoft has been stuck in the $3 range for years. Will Windows 8 propel profits? Unclear. Unfortunately for Microsoft, Vista and Windows 7 couldn't disrupt this pattern.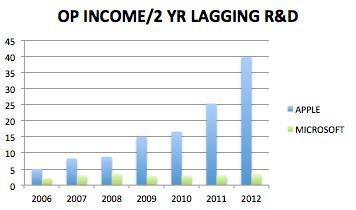 (Note: 2012 is Q1-2 for Apple and Q1-3 for Microsoft, 2006-2011 full years.)
Kudos to the R&D guys at Apple.
Each year R&D appears to be giving profits a bigger boost. (Obviously more than R&D played a role in giving Apple strong earnings -- marketing, execution, service to name a few.)
For every $1 spent in its 2010 R&D, Apple brought in $40 in operating income two years later. Probably the rest of 2012 won't see a 40:1 ratio: Q1 is usually Apple's highest income quarter. A 36:1 ratio is more doable, giving Apple a potential $64 billion 2012 operating income, or an astounding and perhaps a bit crazy EPS of $52. When it comes to leveraging R&D dollars, Apple is the master.
Is innovation over at Apple?
Not according to the above chart: Income is rising exponentially compared to the R&D input. Moreover, the company has been boosting its R&D budgets. Last year, Apple spent 36% more on R&D than in the previous year. If the money was well spent, Apple will be delivering sensational earnings in the years to come.
The bottom line:
Apple has been making extraordinary profits from its R&D team. There is no let-up in the trend. Innovation is alive and well at Apple. The stock remains a buy.
Disclosure: I am long AAPL.