Microprocessor development and licensing company ARM Holdings (NASDAQ:ARMH) has reported 2012 first quarter results and the company put up some nice growth numbers in the face of a moderate downturn in the overall semiconductor industry. The ARM Holdings' business model continues to generate a steady stream of revenue which can be converted to a growing stream of net profits. As discussed earlier from this corner, the problem with this stock as an investment remains the actual stock value.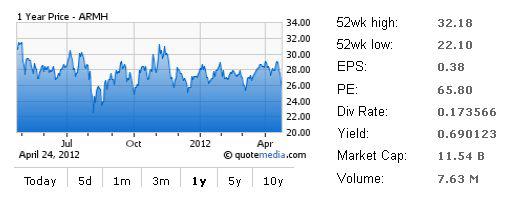 First Quarter Results Recap
For the quarter, ARM Holdings reported adjusted net income of 16 cents per ADS on revenue of $209 million. These results were handily better than the Wall Street consensus estimates of 14 cents per share and $201 million. Revenue results were 13% better than those reported in the first quarter of 2011 and net income was up by 23%.
The company generates revenue from two sources. Licensing fees are received when chip manufacturers buy the rights to manufacture a product designed by ARM Holdings. After a product is licensed out, royalties are paid on each chip produced and sold. In the first quarter, total license fees were up 20% and royalty revenue was 7.5% better than a year earlier. Total revenue for the first quarter was 4% below the results from the 2011 fourth quarter.
Analysis
ARM Holdings remains a company with an attractive business model which generates steady growth in a very cyclical industry. The company continues to design and sell new products to build the ongoing royalty revenue stream. Also, the company's products go into more and more of both tech and household products we use every day.
As an investment, the share price of ARM Holdings is very rich. Shares currently trade at 70 times 2011 earnings and 40 times the estimated 2012 earnings. With the current rates of sales and earnings growth, the shares of ARM Holdings should trade at a 25 to 30 trailing multiple and, at most, a 25 forward multiple. This means the share price will either drop to move in line with earnings or stagnate for a year or two until earnings catch up with the share valuation. The share price has been flat for the last 16 months, reflecting this view. Also, Monday morning after the very positive earnings release, the shares declined by more than 3% when trading opened on the London Stock Exchange. The company is U.K.-based, trading as American Depository Shares in the U.S.
Previous article: ARM Holdings To Drop 40 Percent In 2012, Shares Overvalued To Growth Prospects
Disclosure: I have no positions in any stocks mentioned, and no plans to initiate any positions within the next 72 hours.