Let me preface this by saying two things: (1) This is not a typical trade for the fund as Yahoo is not the typical growth story and (2) I am no rocket scientist on this trade, many others are doing the same.


Yahoo (YHOO) in many ways is a sad tale. They have one of the most sticky sites on the internet but have failed to monetize this to a level they could of (or should of). That said, at least they brought CEO Wang back so there is some down the road. But right now I don't care much about that - I just care that Chinese investors have no concern about valuation and will be thirsting for a hot tech IPO like Alibaba.com.
While the shares will trade in Hong Kong, that market has been on fire (up >50% since August) and the time to strike is now, when anything Chinese gets a valuation metric that makes little sense. So in that sense, great timing. (who knows, this IPO might mark the near term top of this incredible run in those markets?) I don't know, nor really care what Yahoo's stake in Alibaba.com will mean in the long run - this is going to be a trade.
Yahoo owns 39% of Alibaba.com and the stock is poised to IPO at HK$13.50 on Nov 6th. Yahoo has already made a run in anticipation of this IPO, rising from $28 to $34, but when the actual price of the IPO came out, investors sold off Yahoo, and the stock is now touching $30. That's where I come in. With the stock back down to its 20 day moving average, we have a bit of a safer entry point, and downside to $28 (50 day moving average) looks like the downside of this trade.
The original IPO price makes little difference to me (did we value EMC at the original IPO price of VMWare (NYSE:VMW)?) - the Chinese took a coal company up 90% on its first day, what do you think they will be doing to a premium internet company? One of the top two names in the country (along with Baidu.com) at that? I am fully confident in the Chinese ability to overvalue Alibaba.com. You will see a magnificent unholy spike, it's just a matter of degree. And how much Yahoo falls in line. I am going to see if we can get a nice 13-15% short term trade here (this would take Yahoo to $34-$34.50).
Again this is atypical of the fund's holdings which are more long term secular growers. But we have an opportunity here to take advantage of the Chinese propensity to value everything at 10x what it would be valued in the US, and a premium brand like Alibaba.com does not come along often.
I bought 800 shares near $30 for $24K. If the stock dips to $28 area pre IPO, I will buy more.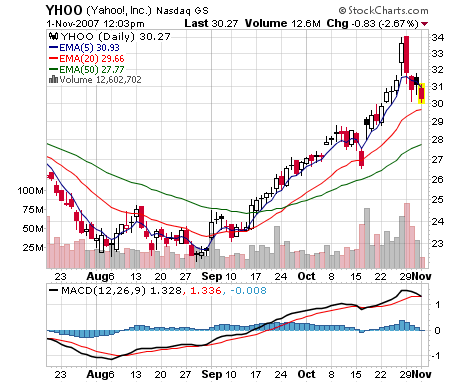 Disclosure: Long Yahoo, Baidu.com in fund; long Yahoo in personal account