KLA-Tencor Corporation (KLAC) is scheduled to report its third-quarter fiscal 2012 results on April 26, 2012. We see upward movement in analyst estimates in the build-up to the release.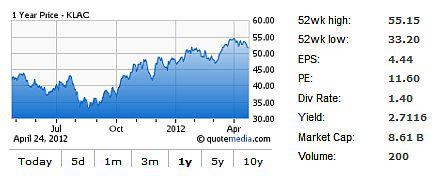 Prior-Quarter Synopsis
KLA-Tencor's second-quarter earnings exceeded the Zacks Consensus Estimate by 6 cents. The quarter's results were driven by better-than-expected gross margins and a lower tax rate, partially offset by revenue decline.
Revenue was down 19.3% sequentially but up 16.2% year over year. The sequential decline was due to overall market softness.
Gross margin was 58.3%, up 31 basis points (bps) sequentially, as the lower revenue was almost totally offset by lower inventory-related charges. The operating margins were down 700 bps sequentially to 26.2% due to higher-than-expected operating expenses.
Management Guidance
For the third quarter of fiscal 2012, KLA expects orders to be down 13.2% to up 2.6%, revenue of between $770 million and $830 million, opex to be flat sequentially, other income/expense to be a net expense of $10 million, a tax rate of 26% and a share count of 169 million. All resulting in a non-GAAP EPS of between $1.00-1.18.
For the third quarter, the Zacks Consensus Estimate is currently pegged at $1.09.
(Detailed earnings results can be viewed in the blog titled: KLA Has a Good Quarter.)
Agreement of Analysts
Out of the 15 analysts providing estimates for the third quarter, none revised the estimate in the last 30 days. Over the same period, one analyst made an upward revision for fiscal 2012.
The analysts expect a decent third quarter, with revenue and earnings coming in line with management's guidance. They believe that KLA-Tencor will benefit from the pickup in foundry capex spending in the near term, as Taiwan Semiconductor Manufacturing Co. (NYSE:TSM) and Global Foundries increase their proposed spending on process control tools.
Additionally, the eventual shift to 3D device structures in the memory space will also benefit KLA-Tencor over the next few years. The analysts believe that the challenges involved in these new device structures will spur additional process control sales.
Analysts also believe that spending on 28nm technology, particularly for yield improvement, is benefiting KLA-Tencor more than its peers. They expect orders to come in at the high end of the guidance range (down 13.2-2.6% sequentially) due to strength at foundries (where the company has 70%+ market share).
Magnitude of Estimate Revisions
In the past 30 days, there was no change in the Zacks Consensus Estimate for the third quarter, but it was up by a penny to $4.21 for fiscal 2012.
Over the 90-day period, the Zacks Consensus Estimate witnessed an increase of 29 cents for the third quarter and a significant jump of 66 cents for fiscal 2012. Therefore, positive sentiments appear to have outweighed the negative, post-second-quarter earnings.
Our Recommendation
KLA-Tencor is a supplier of process control and yield management systems for the semiconductor and related microelectronics industries.
In the near-term, we believe that KLAC will benefit from the pickup in foundry capex spending and the process technology changes occurring in the industry.
However, we cannot ignore the excess capacity that already remains at foundries, which increases the risk that any improvement in the market could be short-lived. Hence, we believe that significant growth in KLA's business is not likely until semiconductor demand gains momentum, driving foundries to capacity expansion.
Although KLA-Tencor is a leader in process control, it faces competition from other large equipment suppliers, such as Applied Materials Inc. (NASDAQ:AMAT), Novellus Systems (NVLS) and Hitachi High-Technologies Corporation (OTC:HICTF).
KLA-Tencor shares carry a Zacks #2 Rank, implying a Buy rating in the near term (1-3 months).