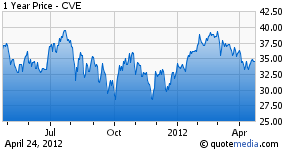 The market is in the middle of earnings season which is where investors can separate the wheat from the chaff. Earnings seem to be coming in better than expected, providing the market with needed support. The energy sector seems to be solidly beating reduced earnings expectations with Baker Hughes (BHI) being the latest stock in the sector to pop significantly after it beat downbeat expectations on Tuesday. Cenovus (NYSE:CVE) also gave a solid earnings report on Wednesday morning as well. This stock is one of the small subset of selections that looks good both for both growth and dividend investors.
Key earnings highlights for CVE
Oil production increased 14% in the quarter Y/Y.
The company grew cash flow 30% in the first quarter Y/Y.
Cash flow from its refining operations grew 48% Y/Y.
An extensive stratigraphic test well program was completed in the first quarter with 426 gross wells drilled.
4 additional reasons CVE is good growth pick with a solid dividend kicker at under $35 a share:
This company was spun off from Encana (NYSE:ECA) in 2009 and it yields a little over 2.5%. Given its robust cash flow and rapidly growing earnings, I would look for the dividend payout to increase significantly over the next couple of years.
The stock is under analysts' price targets. The median price target of the 9 analysts that cover the stock is $45. S&P has a "Buy" rating and a $46 price target on CVE.
Earnings are going in the right direction. The company made $1.64 a share in FY2011. Analysts expect $2.12 in earnings in FY2012 and $2.49 in FY2013.
The stock is selling for 8 times operating cash flow. OCF should continue to improve as oil becomes a bigger part of overall production. It is roughly 60% Oil/40% NG now. The company expects NG revenues to be down to 15% of total sales by yearend 2012.
Disclosure: I am long BHI. May take long position in CVE in the next 72 hours