IBM (NYSE:IBM) recently announced a 13% increase to its quarterly dividend, from 75 cents to 85 cents, boosting its annual payment to $3.40 per share.
This is the ninth year in a row of double-digit percentage increases in IBM's dividend - and the new payout will be twice as high as it was just 5 years ago.
Here's a look at the dividend payments and the payout ratio going back to 2004.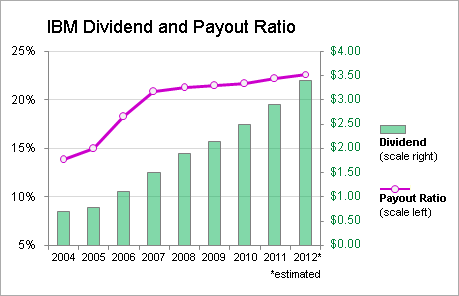 That payout ratio is still quite modest at under 25%.
And here's a chart that shows dividend yield levels against where the stock traded since 2009.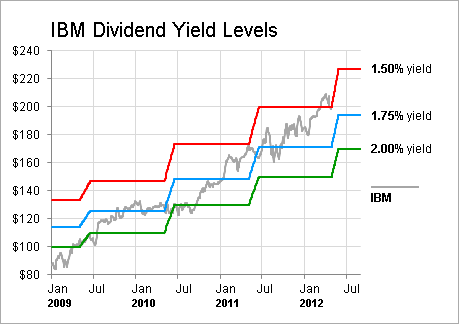 As you can see, right now if you wanted to buy the stock and get a yield of 1.75%, you'd have to wait for IBM to trade down to about $171.40. Now that new level is $194.28.
Also note that if IBM is trading at $200 today, that corresponds to a yield of 1.50%. But with the dividend increase, that 1.50% yield would be available at a price that corresponds to $226.68.
I'm on record as suggesting that IBM is fairly priced and that a lot of the future growth is already priced into the stock. But now I'm not so sure. If the company keeps boosting its dividend, say by 10% in each of the next three years, that would bring the dividend all the way up to $4.50.
So based on dividend yield levels - and the prospect for future dividend increases - IBM is a lot more attractive if it slips below $200 again.
Disclosure: I am long IBM.