Newly public companies rarely have their stories written in the first few months, or even the first year of trading. As one of the most prominent IPO's of 2011 Groupon (NASDAQ:GRPN) has received a great deal of coverage, both positive and negative. On balance, however, the coverage has tilted towards the negative side, and there has been a substantial impact on Groupon's stock price.

With such a fall in the stock since its IPO, is Groupon now a buy? That is the question we wish to explore. As a matter of disclosure, we hold no position in Groupon stock or options. We would like to remind readers that this article is not intended to recommend Groupon one way or another. We will be presenting a look at both the bullish and bearish theses on Groupon, and readers should draw their own conclusions from those.
Before we delve into the arguments surrounding Groupon, we first provide a brief overview of the company's financials (the data includes the effects of Groupon's fourth-quarter restatement, which we discuss below).
Groupon Financials
| | | | | |
| --- | --- | --- | --- | --- |
| | Q4 2011 | Q4 2010 | 2011 | 2010 |
| North American Revenue | $179.638 Million | $88.363 Million | $634.98 Million | $200.412 Million |
| International Revenue | $312.526 Million | $83.861 Mi | $975.45 Million | $112.529 Million |
| Total Revenue | $492.164 Million | | $1.61043 Billion | $312.941 Million |
| Operating Income (Loss) | ($14.972 Million) | ($336.129 Million) | ($233.386 Million) | ($420.344 Million) |
| GAAP EPS | -$0.12 | -$1.08 | -$1.03 | -$1.33 |
| Non-GAAP EPS | -$0.06 | -$0.53 | -$0.79 | -$0.63 |
| Operating Cash Flow | $169.077 Million | $51.919 Million | $290.447 Million | $86.885 Million |
| Free Cash Flow | $155.091 Million | $43.33 Million | $246.636 Million | $72.204 Million |
Bearish on Groupon: Accounting Issues
We will start first with the revised fourth quarter earnings. On March 30, Groupon announced that it is restating its fourth quarter earnings. Specifically, the company lowered EPS by 4 cents per share and lowered revenue by $14.3 million (both figures are accounted for in the financial figures above). The restatement was due to a shift in quarterly deal mix to higher priced deals, which have higher refund rates. As such, both Groupon's revenue and cost of revenue were affected by this due to the need to increase refund reserve accrual.
Groupon noted that its cash flows were unaffected by the restatement and affirmed Q1 guidance of $510-$550 million in revenue and operating income of $15-$35 million. Furthermore, the company noted that its auditor, Ernst & Young included a statement of material weakness related to its internal controls in its annual filing with the SEC. Groupon also noted that it is working to address these issues and is expanding its accounting staff and engagement with auditors.
This opens up a debate on other accounting elements of Groupon's business model. By its very nature, accounting is an imprecise science, at best. And although GAAP does provide a measure of standardization across different companies, it often does not truly portray how a company is doing. There is no one set of accounting practices that can paint an exact picture of how a company is doing, no matter how ordinary its business may seem. That being said, Groupon has had a history of unusual (albeit legal) accounting practices.
When the company first filed for its IPO back in 2011, it included a new way of measuring income: adjusted consolidated segment operating income. In that measure, known as adjusted CSOI, Groupon excluded several costs, such as marketing and acquisition-related expenses, arguing that those expenses will not be elevated indefinitely. Thus, the company believed that adjusted CSOI presented a better picture of its performance. Under pressure from both investors and the SEC, the company no longer gives prime weighting to that measure.
When it first filed for its IPO, Groupon used gross accounting to arrive at its revenue figures. For example, if Groupon sold a Groupon for $50, it would split that $50 with the merchant, keeping $25 for itself. But the company would book that $50 as revenue, and charge $25 as cost of revenue, or cost of goods sold. Thus, the company had a gross profit of $25, before operating expenses were added in. We believe that the net effect of this is a wash, at least in regards to income. This is due to the fact that under the net method, the cost of the Groupon (cost of goods sold) has already been accounted for.
Thus, there would be no real cost of goods sold, and the company's expenses would be the only figures to deduct from revenue. The FASB states that the issue of gross vs. net accounting relates to the fact that some investors value companies on multiples of revenue, not income. It notes that there is no real difference between the two methods in regards to income. We illustrate this below, using the hypothetical example of the $50 Groupon above.
Gross vs. Net Accounting
| | | |
| --- | --- | --- |
| | Gross | Net |
| Revenue | $50 | $25 |
| COGS | $25 | $0 |
| Operating Expenses | $5 | $5 |
| Income | $20 | $20 |
This accounting measure was controversial because it allowed the company to essentially alter its revenue by changing the kinds of deals it sold, even if net income would be the same at the end. Thus, growth could possibly be manipulated under the gross method. Groupon has also dropped this metric, and now records revenue on a net basis, while still reporting gross billings.
The third, and perhaps most concerning accounting issue we have identified with Groupon is one that relates to refunds (similar to the refund reserve issue that led to the company's refund restatement). Groupon openly states that customers may ask for refunds at almost any time. If a business that a customer bought a Groupon for goes out of business, Groupon issues a refund. And if a merchant refuses to honor a Groupon, the company also usually issues a refund.
While this may not be an issue related to the largest Groupon campaigns, it is a risk when it comes to deals relating to smaller businesses. In this case, Groupon is essentially acting like a retailer that does not account for gift cards. A retailer that sells a gift card to a customer treats it as deferred revenue, and recognizes it only when an actual sale has occurred. Groupon, however, does not currently report Groupon's outstanding as a liability, due to the fact that it is largely impossible to calculate that figure. It is possible that Groupon's restructuring of its accounting will lead to more clarity on this front.
Bearish on Groupon: Competition & User Retention
Another central aspect of the bearish thesis surrounding Groupon is competition. There are many daily deals sites, and although Groupon is the largest, it is certainly not the only one to have caught the attention of consumers. LivingSocial is Groupon's fiercest competitor, and the two companies are actively trying to be the undisputed leader in this space.
In addition, both Google (NASDAQ:GOOG) and Amazon (NASDAQ:AMZN) are trying to gain a foothold in the space, and it can be argued that they have far more financial firepower to invest in that business than either Groupon or LivingSocial. In addition, eBay (NASDAQ:EBAY) is rumored to be entering the daily deals space in 2012. Should they choose to ramp up their activity in the sector, Groupon could possibly lose its leadership position in the daily deals space.
Groupon also faces issues with customer and merchant retention. Bears argue that there is little incentive for customers and merchants to stay with Groupon once a particular deal has executed. There is little in the way of hard evidence when it comes to retention. Most stories are anecdotal in nature that happen to go viral. Some merchants love Groupon.
Others say it was a terrible experience, and say Groupon does nothing to promote repeat and loyal customers. Business Insider did a small survey of Groupon merchants and found mixed results. 60% of businesses considered their Groupon campaign a success, but more than half said that they will not do another one. In addition, the majority of businesses said that Groupon was equal to other daily deal sites, arguable a bearish factor for the company's stock.
The issues presented above are several of the main bearish arguments concerning Groupon. But the truth is that there is never one side to any stock. There is always a bearish argument, and there is always a bullish argument. Simply criticizing Groupon without exploring the positives of the company is not constructive. Nor is ignoring the negatives. Having laid out the bearish thesis, we now turn to the bullish arguments concerning Groupon.
Bullish on Groupon: A Value Stock in Social and High-Growth Technology
Merely providing a P/E ratio, or other valuation ratio and saying that a company is undervalued or overvalued is largely irrelevant. A company with a P/E ratio of 5 is not necessarily cheap. Nor is a company with a P/E ratio of 50 necessarily expensive. To gauge value, a company must be compared to either the markets, or its peers. And on that basis, Groupon offers value in the social and high-growth technology sector.
On a price-to-sales basis, Groupon is now cheaper than many companies in the S&P 500. According to our figures, Groupon trades at a price-to-sales ratio of 4.136. To calculate that figure, we adjusted Groupon's trailing 12 month sales by taking away Groupon's revenue for the first quarter of 2011 and adding it the midpoint of its projected first quarter 2012 revenue guidance of $510-$550 million (thus we arrived at adjusted trailing sales of $1.844907 billion). We compare Groupon's price-to-sales ratio to that of several of its social media and high-growth technology peers below. Data is taken from Yahoo! Finance unless otherwise cited.
Price/Sales Ratios for Social and High-Growth Technology Stocks
| | |
| --- | --- |
| Company | Price/Sales Ratio |
| Groupon (Adjusted) | 4.74x (4.136x adjusted) |
| Pandora (NYSE:P) | 5.15x |
| LinkedIn (LNKD) | 19.52x |
| Zillow (NASDAQ:Z) | 15.19x |
| HomeAway (NASDAQ:AWAY) | 8.52x |
| Zynga (NASDAQ:ZNGA) | 5.70x |
| Travelzoo (NASDAQ:TZOO) | 2.55x |
| Yelp (NYSE:YELP) | 16.01x |
| Google | 4.86x |
| eBay | 4.13x |
| Amazon | 1.78x |
On a price-to-sales basis, Groupon's valuation is not stretched, at least in relation to its social and high-growth peers (comparable data for its most direct competitor, LivingSocial, is not available as it is a private company).
As Evercore noted on Monday, Groupon now trades at just 10x its 2013 EBITDA estimates, half of the multiple Google offered when it attempted to buy Groupon in December 2010 (Evercore upgraded Groupon to Overweight, and despite a cut it its price target from $20 to $15, still sees 25% upside in the stock).
Groupon also present value relative to the rest of the sector on several other valuation metrics. The Reuters consensus estimate for 2012 earnings is a profit of 22 cents per share, implying a P/E ratio of 54.45x 2012 earnings. While that may be a large premium to the rest of the market, it is a discount to many stocks in the rest of the social media space.
Pandora has no P/E ratio, LinkedIn has a forward P/E ratio of almost 164. Zillow has a forward P/E ratio of almost 122. And HomeAway has a forward P/E ratio of around 50. Zynga has a forward P/E ratio of around 33. And Google, Amazon, eBay, and Travelzoo have forward P/E ratios of 13.77, 149.21, 16.88, and 15.89, respectively. While 54 times forward earnings may not be "cheap" by classical definitions, it is important to look at Groupon's valuation in the context of the rest of the social media space, where large P/E ratios are the norm.
On a price-to-free cash flow basis, Groupon presents even more value, according to data compiled by Credit Suisse.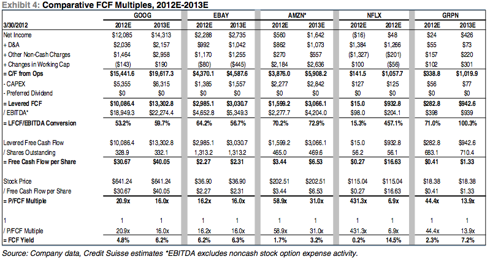 Groupon trades at a discount to many of its peers on this metric, and currently has a P/FCF ratio of 29.21, based on 2012 estimates. When 2013 free cash flow estimates are used, Groupon is cheaper than even Google, which is trading at 9x 2013 estimated free cash flow as of this writing compared to Google's 15x estimated free cash flow. It is much more difficult to argue that Groupon is overvalued at its current stock price when it trades at a discount to its sector and its peers on multiple metrics.
Bullish on Groupon: Competition Can be Kept at Bay & Customers Can be Retained
One of the central tenets of the bearish thesis on Groupon is the fact that competition in the daily deals space is fierce, and that customers have no reason to use Groupon versus its competitors. Yet to truly understand the dynamics of the industry, several factors need to be examined.
Already, Yelp and Facebook (NASDAQ:FB) have both withdrawn from the daily deals space due to an inability to gain traction. Furthermore, the fact that Groupon is already the largest daily deals company may in fact give it economies of scale that strengthen its competitive position, according to Credit Suisse.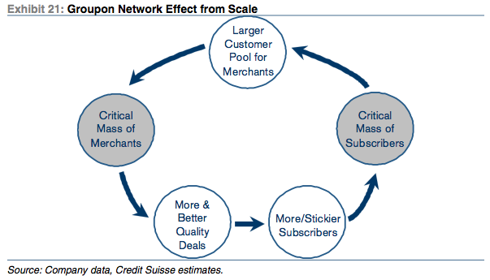 Merchants know that since Groupon has the largest subscriber base on any daily deals company, they can reach more customers that way. Therefore, they go to Groupon. Customers know that since Groupon has the most merchant partners of any daily deal company, they can get better deals from it than other companies. Therefore, there is an incentive for them to choose Groupon.
More customers leads to stronger relationships with merchants, which leads to more customers. Simply building a daily deals website and signing up some merchants is not enough to challenge Groupon. The lead that the company has in merchant partners and subscribers may not be possible for other companies to overcome.
Furthermore, competition is rarely the reason that Groupon users stop using the service. Credit Suisse's survey of Groupon customers shows that of the customer's that stopped using the service, only 8% said that they stopped using Groupon because its competitors were superior. The vast majority said that they could not find relevant deals, a risk that all daily deal companies face. It is impossible for Groupon, or any company for that matter, to please every customer and potential customer.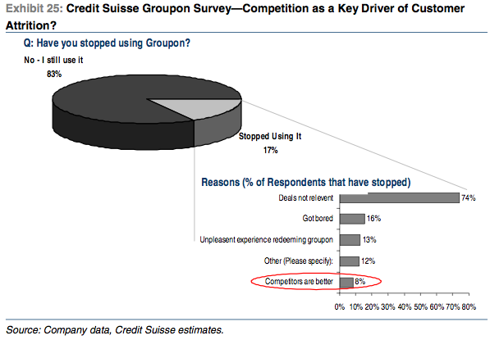 From the data above, it does not seem like competition is the main issue. Rather, it is relevance. And Groupon has been working to address that issue with new initiatives like Groupon Now! and Groupon Rewards, which is designed to increase customer loyalty, a key concern merchants have with Groupon. It appears that the company is going to great lengths to enhance its relationship with both customers and merchants.
Conclusions
Groupon is certainly a controversial company, and this article was designed to provide an overview of both the bearish and bullish arguments surrounding the company. It is inevitable that different readers will draw different conclusions from this article. Some people will see Groupon as too cheap to pass up, given its growth potential and valuation. And some will see it as an unsustainable company with too many competitors and accounting issues. For those who place value in such metrics, the Reuters average price target of 25 analysts covering Groupon is $22.53, implying upside of 88.38% from current levels.
As for our opinion, it is a bit more complex. We do believe that the Groupon business model is sustainable, but are not yet comfortable buying the shares. Why? Because we would like to see LivingSocial become a public company before we consider initiating a position in Groupon. Part of what makes Groupon so controversial is that it is the only major daily deals company to be public (there is much debate regarding whether or not Travelzoo is a Groupon peer).
As such, there is no real way to evaluate precisely how well Groupon is performing relative to its true competitors, namely LivingSocial. Once that company goes public, it will become much easier to see just how well, or how poorly Groupon is performing. For now, however, Groupon will continue to attract the interest of the investment community, and we see no signs that the debate surrounding the company will go away. Our goal with this article was to present the bearish and bullish arguments for Groupon in a balanced way, and we hope that readers will be able to make an informed investment decision regarding Groupon based on that.
Disclosure: I am long P, FB, GOOG.
Additional disclosure: We are long shares of FB via our holdings of GSV Capital (GSVC) and the Firsthand Technology Value Fund (SVVC). In addition, we are long shares of GOOG via a mutual fund that gives it a weighting of 2.24%.