Domestic auto production continues to recover from the disaster of 2008/2009. It appears domestic sales should come in at 14mm to 15mm vehicles in 2012, a substantial improvement from prior years. This should benefit the overall vehicle manufacturing ecosystem. One stock that looks interesting here after being beat down by two disappointing earnings reports is Modine Manufacturing (NYSE:MOD). In addition to vehicle production, it should benefit from strength in the industrial and farming sectors.
Modine Manufacturing - "Modine Manufacturing Company engages in the development, manufacture, and marketing of heat exchangers and systems for use in on-highway and off-highway original equipment manufacturer (OEM) vehicular applications, and to various building, industrial, refrigeration, and fuel cell markets". (Business Description from Yahoo Finance)
7 reasons MOD has significant upside from $7.50:
The median analysts' price target for the three analysts that cover the stock is $14 a share. The low estimate is for $12 and the high target is for $16 a share.
Insiders have been net buyers of the stock over the last three quarters.
The stock has a forward PE of under 7, which is significantly under its five year average (36.6). The stock has suffered the last two quarters mainly because of weakness in Europe (37% of sales), but this seems fully priced in the stock at this point.
The stock is selling at book value and just 22% of annual revenues.
The stock has a ridiculously low five year projected PEG (0.17).
The company is undergoing an earnings recovery. Modine made 63 cents a share in FY2011, it should make 75 cents in FY2012 (closes within month) and analysts have it making $1.14 a share in FY2013.
The stock has long term technical support at these levels (See Chart)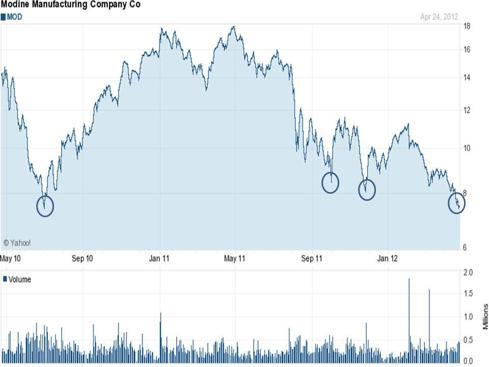 Disclosure: I have no positions in any stocks mentioned, but may initiate a long position in MOD over the next 72 hours.