I am reading a lot these days about the strong prospects for companies involved in grid-scale energy storage solutions. Massive power outages during the heat wave of 2006 exposed the inadequacy of the current grid structure to support unusually high levels of energy demand. Obviously if we can store excess energy available during lower use periods to feed back to the grid during peak use periods this would help better regulate the supply. There are several storage technologies with potential applications in the space. I am going to attempt to participate in this hotly anticipated boom by purchasing shares in Active Power (NASDAQ:ACPW).
Attractive Technology Comparatively
There are a variety of companies and technologies vying for share in this attractive and growing segment of the market. This is detailed in a recent Lux Research Report titled Grid Storage under the Microscope: Using Local Knowledge to Forecast Global Demand that estimates global demand for these solutions to total $113.5 billion by 2017. The coming boom is also eloquently addressed in a series of articles by SA contributor Jonn Petersen including one called Understanding The Grid-Scale Energy Boom, where he concludes:
That leads to an inescapable conclusion that manufacturers of advanced lead-acid battery systems like Enersys (ENS), advanced lead-carbon battery systems like Axion Power International (OTC:AXPW), zinc bromine battery systems like ZBB Energy (ZBB), lithium-ion battery systems like A123 Systems (AONE) and flywheel based systems like Active Power will all be competitive in the grid-scale energy storage space and each of their technologies will have a more than ample base of potential customers.
With such a large opportunity, many different companies will obviously attempt to capitalize by offering solutions, and as John says there are likely to be several winners. At this time I am most intrigued by Active Powers as an investment for several reasons. The company has already built a successful niche with its data center solutions, it is close to profitability and the current stock price reflects very low expectations. In support of this thesis, the company reported better than expected first quarter earnings results on April 24,2012. Enersys is probably also a good choice but too conservative to me and the others too far from profitability.
Cautious About Repeating Past Mistakes
As investors it is important to examine both our successes and failures to avoid repeating past mistakes. Portfolio management is a constant struggle to maximize the utility of our limited investment dollars by deploying it to mostly positive return scenarios. I must admit that as I evaluate Active Power as an investment it reminds me of past mistakes. It appears to be a cheap stock with exposure to a hot growth area with a good balance sheet and improving fundamentals, but it also meets the profile of other promising technology companies that failed me. Perhaps it is the lingering odor of an earlier investment in another flywheel technology company, Beacon Power (OTCPK:BCONQ) that fuels my trepidation, or it could simply be that many 'value' technology stocks I have previously embraced have continued to get even cheaper, like Thermogenesis (NASDAQ:KOOL). So, to help myself make a good decision, I have made a list of the pros and cons.
Pros
Industry - First off I am looking for a way to invest in grid-scale and other forms of energy storage and regulation solutions and the company gets a check mark for offering relevant industry exposure. The company has actually established an attractive niche supplying mission critical backup energy solutions to data centers. From the 10-K:
Our products and solutions are designed to deliver continuous conditioned ("clean") power during power disturbances and outages, voltage sags and surges, and provide ride-through power in the event of utility failure, supporting operations until utility power is restored or a longer term alternative power source, such as a diesel generator is started. We believe our products offer an advantage over those of our competitors in the areas of power density (less space) and energy efficiency, total cost of ownership, system reliability, modular design, and the economically green benefits of our solutions.
It is a growing market as defined in the company s 10-k:
According to a 2011 report on the world UPS market by IMS Research, the global UPS market was estimated to be nearly $8 billion in 2011. IMS Research projects the market will increase to more than $9 billion in 2013 and is expected to grow to nearly $10.5 billion by 2015 with a compound annual growth rate of nearly 8%.
Valuation - The stock is cheap. The company's current market valuation is around $65 million, expectations from only two analysts is for almost 25% revenue growth next year to almost $110 million in revenues and roughly breakeven results. Expectations for this year continue to come down but four analysts still expect an average of $87 million in revenues and a minimal loss of .05/share. This continues a long term trend as revenues have more than doubled over the last five years and grown nine times since 2005. The company just raised almost $10 million from institutional investors leaving the company with close to $20 million in cash and only $5 million in debt on a revolving line.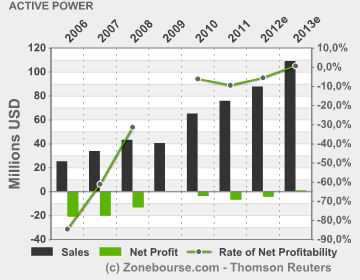 Leadership - I don't know how great a CEO Doug Milner will be and honestly I don't find his resume that exciting but hell he managed over 4000 employees at his last gig and he has to be better than the last guy that could not generate profits in spite of continually increasing revenues. The quotation below sounds promising and relevant, doesn't it?
Milner drove overall strategy and global operations for the $1 billion Power Systems Group, a business unit of Invensys plc.
Strong Customers - The company's technology is proven, having shipped some "3,200 flywheels in UPS system installations, delivering more than 800 megawatts of power to customers in 42 countries around the world with more than 110 million runtime hours of operation." Those shipments were to a long list of impressive customers including an OEM relationship with Caterpillar (NYSE:CAT) and an IT partnership with HP (NYSE:HPQ) which combined to contribute 40% of the company's revenues in 2011.
Insider Buying- As I indicated previously the company recently sold $9.7 million worth of stock to a long time investor.
Cons
Valuation - The stock is cheap and often stocks are cheap for a reason. Sub $1/share stocks are rarely good investments and if things don't improve soon the company could be forced to consider a reverse stock split to maintain a $1 minimum share price and keep its Nasdaq listing. Reverse splits are generally poor investments.
Disappointing Financial Performance - Things were looking up for Active Power 12 months ago when the stock was 3 times higher and the company was generating profits. After the last quarter, analysts were downgrading the stock and questioning the financial prospects for the company.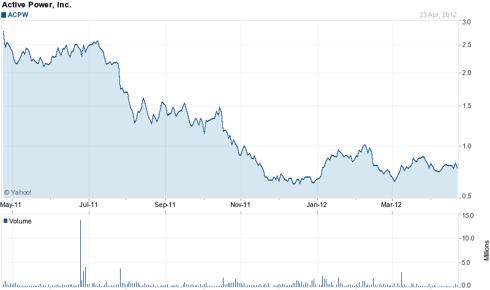 Source: Yahoo Finance
Leadership - While I praised the change at the top above in pros, the new CEO doesn't bring a ton of public company leadership experience to give me supreme confidence that this is the guy to deliver results and right the ship. If prospects were so rosy perhaps the board could have found someone with a bit more experience delivering shareholder value.
Conclusions
Active Power appears to have a very reliable green technology with exposure to a vital and growing area of the energy market. The stock has fallen so far and the valuation so low that very little has to go right for it to double from current levels and still be relatively inexpensive. Based on the strong risk/reward profile at current levels, I am going to give the new CEO the benefit of the doubt and endorse Active Power as my best way to play the coming boom in grid scale energy storage and power regulation solutions.
Disclosure: I am long ACPW.